Are you considering a roofing solution that offers durability, energy efficiency, and cost-effectiveness? Look no further than EPDM roofing, a popular choice for flat and low-slope roofs. This guide provides a comprehensive overview of EPDM roofing, covering everything from its definition to a comparison with other roofing materials. We will also delve into proper maintenance and potential challenges to give you a complete understanding of this roofing option. Let's dive in!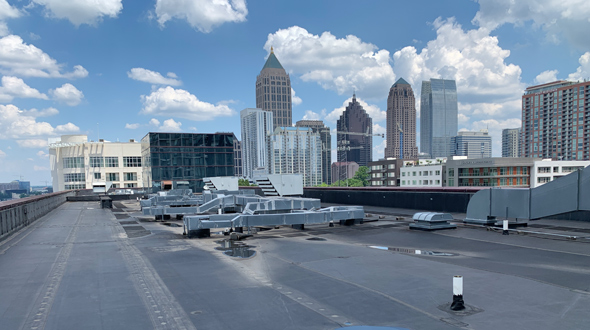 Short EPDM Summary
EPDM roofing is a cost-effective, long-lasting synthetic rubber material with superior wind, hail, temperature, and UV radiation resistance.
An EPDM roofing system offers an estimated lifespan of 30-50 years, providing long-lasting protection and energy savings when properly installed and maintained.
Different installation methods are available depending on the project's complexity. Proper maintenance helps prolong its effectiveness.
EPDM roofing membranes are known to shrink over time when exposed to intense sunlight, which can lead to failing seams and potential leaks.
Understanding EPDM Roofing
For more than four decades, EPDM roofing systems have been a popular choice for low-slope roofs of commercial buildings, multi-unit properties, and residences. EPDM roofing is a synthetic rubber material that comes in a range of widths, thicknesses, and colors. Black and white are the most commonly used colors for this flat roof system.
The EPDM roofing membrane comes in 45 mils, 60 mils, 75 mils, and 90 mils sheet thickness, about the same thickness as a trash bag. The width of the sheets can range from 5 to 50 feet, while the length can reach up to 200 feet. This roofing material is specifically designed for low-slope roofs, which cannot accommodate traditional asphalt shingles due to their minimum pitch requirements.
What is EPDM?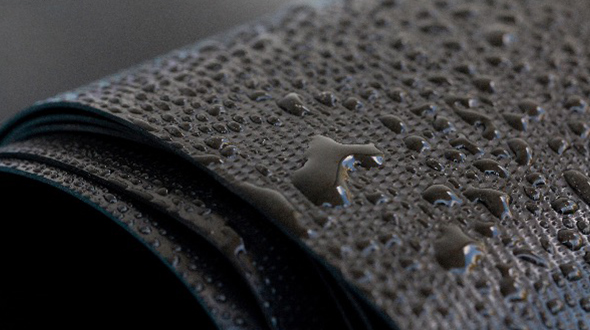 EPDM, or ethylene propylene diene monomer, is a robust and cost-efficient synthetic rubber roofing material composed of ethylene and propylene. An EPDM rubber roof is known for its longevity, with some roofs lasting up to 50 years when maintained to perfection. The lifespan of the average fully adhered EPDM roof is estimated to be between 25 and 35 years.
Various factors contribute to the longevity of EPDM roofing, such as climate conditions, proper installation, maintenance, and degree of direct sunlight exposure. However, its flexibility, lightweight nature, and superior resistance to wind, hail, extreme temperatures, and UV radiation make EPDM rubber roofing appealing for flat roofs. EPDM rubber roofing is popular for both flat-roof residential and commercial properties.
Benefits of EPDM Roofing
EPDM roofing offers many benefits for flat roofs. Some advantages include cost-effectiveness, robustness, weather resistance, resistance to fire, flexibility in low temperatures, and energy efficiency. Additionally, EPDM roofing is known for its superior durability and lengthy lifespan. EPDM commercial roofing can provide long-lasting protection and energy savings when properly installed and maintained.
While black EPDM roofs tend to absorb heat from the sun, which can reduce the material's energy efficiency, white EPDM roofs are more effective at reflecting the sun's rays. This is an essential consideration when choosing the suitable EPDM roofing material for your building.
Types of EPDM Roofing Systems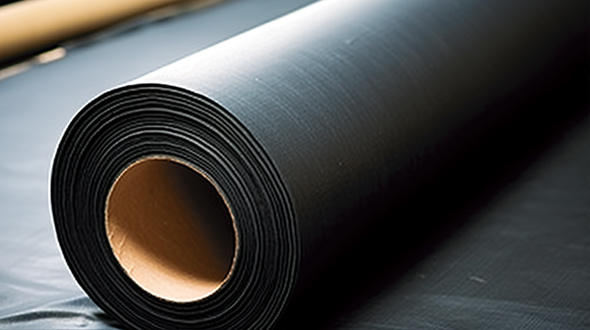 Per our Atlanta-based EPDM roofing installation team, three main types of EPDM membranes are available in the market: reinforced, non-reinforced, and pre-taped. Each class offers unique benefits, depending on the specific needs of your roofing project.
This section will explore the differences between these EPDM membrane types and their respective applications.
Reinforced EPDM Membrane
Reinforced EPDM membrane is stronger and more durable than non-reinforced membranes. It is constructed with a tough polyester reinforcement sandwiched between two robust EPDM membranes. Due to its enhanced durability and puncture resistance, the reinforced EPDM membrane is suitable for mechanically attached and fully adhered roofing systems.
A popular example of a reinforced EPDM membrane is 'Mule-Hide Standard Reinforced', designed to offer superior resistance to roof tears, punctures, and wind forces.
Non-Reinforced EPDM Membrane
On the other hand, the non-reinforced EPDM membrane offers increased flexibility and reduced weight, making it easier to install and more cost-efficient. This type of EPDM membrane is suitable for various applications, including low-slope roofs, pond liners, and other waterproofing uses.
However, it is essential to note that non-reinforced EPDM membrane is not as robust as reinforced EPDM membrane and is more susceptible to punctures and tears.
Pre-Taped EPDM Membrane
Pre-taped EPDM membrane is a time-saving option for expediting the installation process. This membrane type comes with pre-applied tape, allowing faster and easier installation in the field. One example of a pre-taped EPDM membrane is 'Firestone RubberGard EcoWhite EPDM Pre-Taped', which features factory-installed seam tape, providing a more efficient installation process and reducing labor costs.
The benefits of a pre-taped EPDM membrane include quicker and simpler installation, decreased labor costs, and enhanced water tightness.
Installation Methods for EPDM Roofs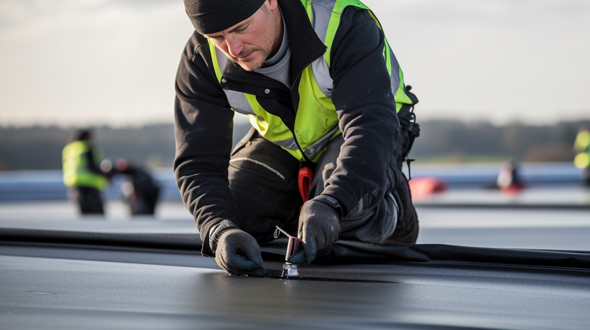 EPDM roofing systems have three main installation methods: fully adhered, mechanically fastened, and ballasted systems. Each technique offers unique advantages and is suitable for different roofing situations.
This section will explore these installation methods in detail, providing you with the knowledge to decide on the best installation method for your EPDM roof.
Fully Adhered System
A fully adhered system is a long-lasting EPDM installation method that uses adhesive to secure the membrane to the entire roof surface – this type of installation results in a seamless roof, often providing enhanced durability and superior waterproofing.
However, it is important to note that fully adhered systems require professional installation and can be more expensive due to the cost of adhesive. The installation process for a fully adhered system includes cleaning the surface, applying the adhesive, and laying down the membrane.
Mechanically Fastened System
Mechanically fastened systems are a cost-effective EPDM installation method that uses screws and plates to attach the membrane to the roof structure, followed by sealing the membrane with a special adhesive to guarantee a watertight seal.
To mitigate the potential for fasteners to become loose over time, it is essential to select the appropriate type of fastener and ensure proper installation. This method can be advantageous when the installation is in cold weather conditions.
Ballasted System
A ballasted system is a low-cost EPDM installation method that uses heavy materials, such as gravel or pavers, to hold the membrane in place. This type of flat roof system is loose-laid, meaning the roofing materials, including the insulation and roof membrane, are not affixed to one another or the low-slope roof deck.
Ballasted systems offer energy savings, lower installation costs, and protection from damage caused by ultraviolet light, tree branches, and hail. However, they have higher maintenance costs throughout their lifespan and can be challenging to inspect and repair, as the stones or pavers must be removed to access the roof membrane.
Factors Affecting EPDM Roofing Costs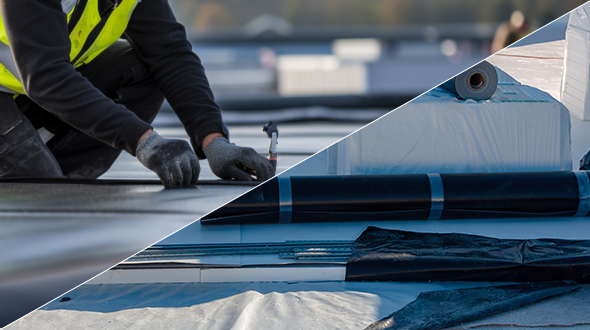 The cost of EPDM roofing is influenced by various factors, including material and labor costs, installation complexity, roof pitch, accessibility, location, insulation type and thickness, and whether an old roof needs removal.
In this section, we will discuss these factors in more detail and provide you with a better understanding of the costs associated with EPDM roofing installation and replacement.
* Note: 1 square = 100 square feet
EPDM Material Costs
The cost of EPDM roofing materials varies depending on the type of membrane, thickness, and additional accessories required. Generally, the cost of EPDM material for roofing ranges from $3 to $6.50 per square foot (or $300 to $650 per square). The approximate cost of accessories and tools for EPDM roofing installation typically ranges from $350 to $450.
Pricing Example: the EPDM roofing membrane material cost for a 1,000-square-foot property would cost approximately $5,000.
EPDM Labor Costs
The cost of labor for EPDM roofing installation depends on factors such as time of year, project complexity, location, and whether the old roof needs to be removed. Labor costs associated with EPDM roofing can range from $4.25 to $14.50 per square foot (or $425 to $1,450 per square), including installation.
Pricing Example: a 1,000-square-foot EPDM roofing project in a mid-sized city may typically incur a labor cost of approximately $7,500.
Comparing EPDM to Other Flat Roofing Materials
When choosing the right roofing material for your building, comparing the advantages and disadvantages of different materials is essential. In this section, we'll compare EPDM roofing with other popular flat roofing materials, such as TPO and PVC.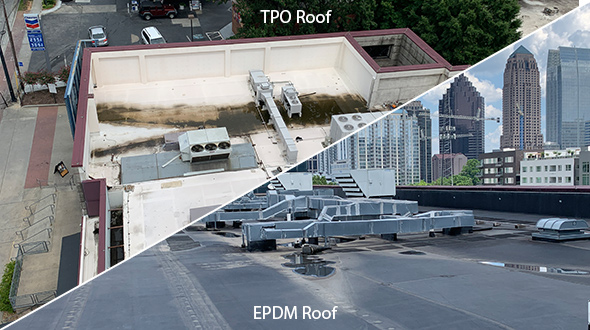 These comparisons will help you choose the best roofing material for your needs.
TPO vs. EPDM
TPO and EPDM are popular choices for flat roofs but differ in cost, durability, and energy efficiency. TPO is a thermoplastic material offering greater puncture and tear resistance than EPDM, making it a more durable option. Additionally, TPO and PVC in white or light gray colors provide superior energy efficiency, as they can deflect the sun's rays compared to black EPDM roofs, which tend to absorb heat from the sun.
TPO roofing membrane costs typically range from $1.50 to $4.50 per square foot, making it a more economical choice in certain situations.
PVC vs. EPDM
PVC is another thermoplastic membrane known for its strength and durability, making it a popular choice for roofing materials. PVC is more durable than EPDM and can withstand extreme temperatures, sunlight, and strong winds. The PVC roofing membrane typically costs $2.50 to $8.50 per square foot.
When comparing PVC to EPDM, it is essential to consider factors such as strength, flexibility, and cost to determine the best roofing material for your building.
Proper Maintenance for EPDM Roofs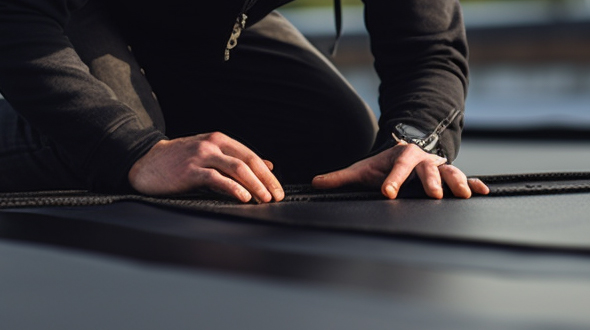 EPDM roofs require marginal maintenance, making them attractive to property owners. Some roofs only necessitate an acrylic paint job every decade to retain their color intensity.
To ensure the longevity and performance of your EPDM roof, cleaning and inspecting it annually is recommended. By conducting regular inspections and addressing potential issues early on, you can extend the lifespan of your EPDM roof and avoid costly repairs.
EPDM Roofing Disadvantages, Problems, and Solutions
While EPDM roofing offers many benefits, it has a few disadvantages. In this section, we'll discuss common challenges EPDM roofing systems face and potential solutions to address these issues, ensuring you get the most out of your EPDM roof.
EPDM Shrinkage and Leaks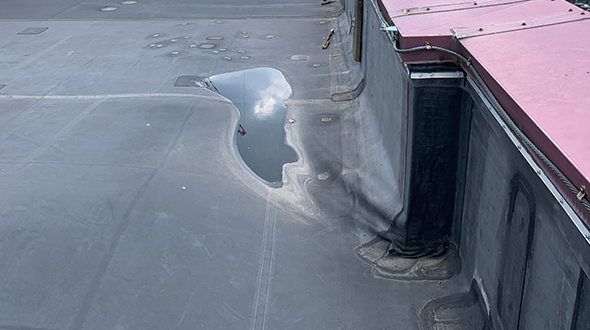 One common issue EPDM roofing systems face is shrinkage, which occurs when the roof material shrinks over time due to exposure to direct sunlight. Shrinkage can lead to flashings being detached from the sides of the building, resulting in cracks and splits on the material's surface, which may cause water intrusion and internal leaks. A roof replacement might be necessary to address the problem if sufficiently damaged over a prolonged period.
To mitigate and pro-actovely address shrinkage-related potential damage, consider employing a thicker EPDM membrane, a reinforced EPDM membrane, or a pre-taped EPDM membrane.
EPDM Failing Seams
Like any roofing system, EPDM is not immune to potential issues, with membrane seam failures being a primary concern. These failures can arise from various factors, such as poor installation, improper seam preparation, inadequate adhesive application, or thermal expansion/contraction stresses. Challenges emerge when seams separate or lose integrity, leading to water leaks and compromised insulation.
To mitigate such risks, installation by trained professionals is crucial. Utilizing manufacturer-recommended adhesives and seam tapes, ensuring proper surface cleaning, and employing seam testing methods during and after installation can significantly reduce the likelihood of seam failures. Regular inspections, timely repairs, and addressing issues promptly are essential practices to maintain the integrity of EPDM roofing and extend its service life.
EPDM Membrane Punctures
Puncture resistance is another factor to consider when selecting an EPDM roofing material. Although EPDM is known for its excellent resistance to tearing, punctures can still occur, particularly during installation or when the roof is exposed to sharp objects. To improve puncture resistance, consider incorporating external fleece reinforcement, which can significantly enhance puncture resistance. This reinforcement can be applied to the underside of the membrane, providing an additional layer of protection for the membrane against punctures.
EPDM Liquid Incompatibility
With EPDM, you must be aware of its incompatibility with asphalt-based products. It is imperative to avoid using roof cement flashing and asphalt-based roof coatings, including aluminum roof coatings and oil or gas liquids. These substances can compromise the integrity of the EPDM rubber membrane by triggering chemical reactions that result in deterioration, causing the EPDM membrane to weaken and deteriorate.
To manage this challenge, opt for EPDM-compatible materials for repairs or maintenance. If unsure about compatibility, consult the roofing material manufacturer or seek guidance from roofing professionals with expertise in EPDM systems. This proactive approach ensures the longevity of the EPDM and minimizes the risk of costly repairs and a shortened lifespan.
EPDM Roof Summary
In conclusion, EPDM roofing is a versatile and cost-effective solution for flat and low-slope roofs. Its durability, energy efficiency, and marginal maintenance requirements make it an attractive choice for commercial and residential buildings. By understanding the different types of EPDM membranes, installation methods, and potential challenges, you can choose the best roofing material for your specific needs. With proper installation and maintenance, your EPDM roof can provide long-lasting protection and energy savings for years.
Frequently Asked Questions
What is the disadvantage of EPDM?
EPDM is incompatible with asphalt-based oil and gas liquids and is very inert, making it a disadvantage for some applications. Also, intense sunlight exposure can cause an EPDM membrane to shrink.
What is the difference between EPDM and TPO roofing?
TPO roofing is a white single-ply membrane commonly used in commercial and residential roofing, while EPDM is a black synthetic rubber membrane typically seen in commercial and medical facilities.
Both materials are durable and long-lasting but have different advantages and disadvantages. TPO roofing is more cost-effective and easier to install, while EPDM is more resistant to UV rays and chemical exposure. Both materials are also fire-resistant and can be used for many different purposes.
How long will an EPDM roof last?
EPDM roofs, on average last 25-35 years but can last for 40-50 years when properly installed and well-maintained, providing excellent value for the investment.
This makes them an excellent choice for commercial and industrial buildings, as they require minimal maintenance and are highly durable.
How often should I clean and inspect my EPDM roof?
It is recommended to clean and inspect EPDM roofs annually to ensure they remain in good condition.
What are the main types of EPDM membranes?
EPDM membranes come in reinforced, non-reinforced, and pre-taped varieties, providing a range of options to suit any application.