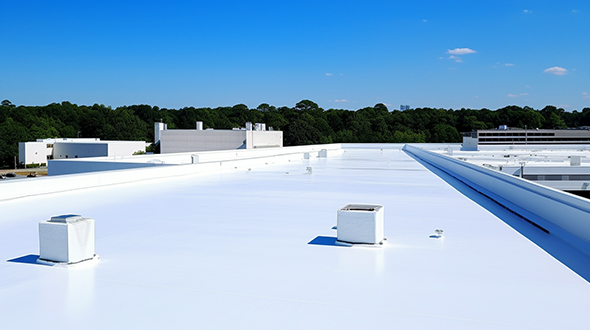 Have a project for our TPO roofers in Atlanta? If you are looking to repair a roof leak or considering a new TPO roof for your commercial or residential property, we can help. TPO (thermoplastic polyolefin) roofing systems are popular for flat-roof properties. Customers considering a TPO roof installation often ask, "What sets TPO apart from other roofing materials like EPDM or PVC?" Below we will explore TPO roofing, its composition, what types of TPO repairs we perform, and the TPO installation process. By the end, you'll understand why TPO is a top choice for flat roofs and commercial buildings, and whether it's the right roofing system for your project.
What is a TPO Roofing System?
TPO roofing systems are a single-ply roofing membrane made of synthetic material and reinforcing scrim that provides a durable and cost-effective solution for commercial buildings and flat-roof residences. Its three-layered membrane comprises a TPO polymer base, a polyester-reinforced scrim, and a TPO compounded top ply. Thermoplastic, in layman's terms, means it becomes plastic upon heating and hardens upon cooling. TPO roofing membrane is typically sold in thicknesses of 45 mil, 60 mil, and 90 mil. This is about the thickness of a heavy-duty trash bag. A thicker roof membrane is more durable and should be considered for roofs that will experience higher traffic (i.e., workers routinely servicing rooftop mechanical units).
TPO Roof Repair in Atlanta
The most cost-effective and first step in repairing your TPO membrane roof system is a routine visual inspection and proactive maintenance program. During the probe and assessment, our technician may identify areas of concern, and in preparation for repair, use solvent and light abrasion to remove embedded dirt and restore your membrane's weldability. Whether performing spot repairs or coating applications, manufacturers' guidelines suggest thoroughly cleaning and rinsing the TPO. Several TPO roof repairs can be done, but the common repair issues most Atlanta TPO roofs see include degrading seams, failed flashings, or a punctured membrane. A TPO patch is a common fix for areas that have been punctured or cracked.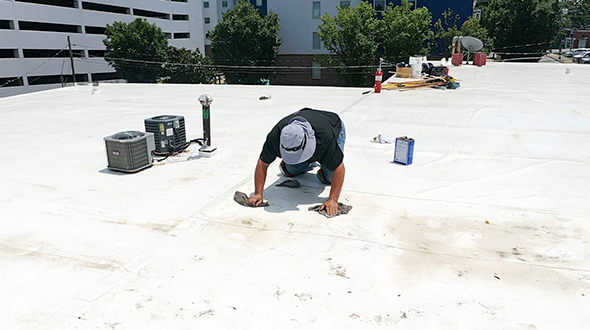 In some cases, small hot air welders can be used to make minor repairs to the seams of your TPO roofing. Parapet walls and roof edges typically have failed flashing that requires re-flashing. Mechanical fastener defects, roof drains, and scuppers can be problematic and cause TPO roof repairs to Atlanta properties. Underside patch placement and reverse-side welding are less frequent techniques to prolong TPO that has evident deterioration and will soon require TPO installation and a new roof.
TPO Roofing Installation in Atlanta
The installation process for a TPO roof replacement is crucial to its performance and longevity. A high-level overview of installing TPO roofs in Atlanta involves preparing the roof substrate and decking, choosing the right insulation type and thickness, attaching the membrane, then sealing the seams. Concrete, plywood, and metal substrates are viable decking where a TPO roof system can be installed.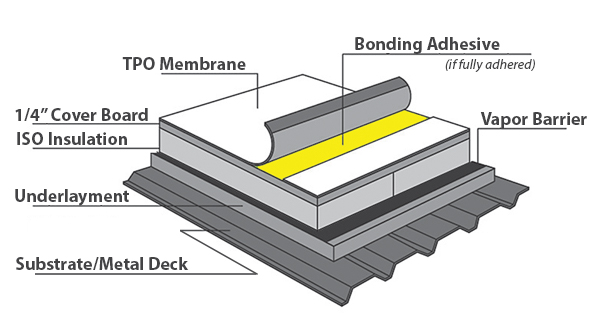 Before installing a TPO roof, the existing substrate must be appropriately prepared. This involves cleaning, repairing, and priming the substrate to create an even surface for optimal adhesion. Priming the substrate is a crucial step in the installation process. After the substrate is prepared, polyiso insulation sheets are installed over the decking. Several insulation thicknesses and R-value options are available for use with TPO roofing. The type of insulation selected depends on the existing roof type, necessary insulation levels, as well as the specific needs of your building.
Once the surface is prepared and the insulation foam is installed, the TPO membrane can be attached. The TPO membrane can be mechanically fastened or adhered using an adhesive system. Each method offers advantages and is chosen based on factors such as the building's structure, climate, and budget. Once attached, binding the seams is the last step, as the heat-welded seams create a watertight seal that prevents leaks and protects your building's interior.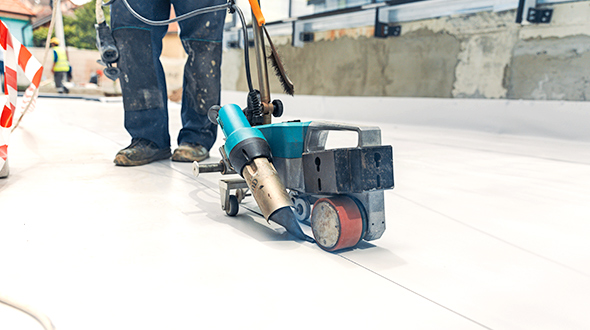 The layers of a fully adhered TPO roofing system from top to bottom are as follows:
TPO membrane
Bonding adhesive (if fully adhered)
Cover board (optional – recommended on roofs with constant foot traffic)
ISO insulation
Vapor barrier (optional – roofs over concrete decks should always have a vapor barrier)
Underlayment (optional – installed when an improved fire-resistive rating is required)
Roof decking
Some of the above components are optional and not required. Proper installation is crucial to the longevity and performance of a new TPO commercial roofing system.
TPO Advantages & Disadvantages
Advantages: While TPO roofing is more expensive than some roofing materials, it offers several advantages that make it a popular choice for commercial buildings and residential properties. One of the main advantages of TPO roofing is its energy efficiency. The reflective properties of the TPO membrane help lower energy expenses by deflecting the sun's UV rays, keeping the interior cooler. Secondly, TPO roofing is known for its resistance to mold and some puncturing, contributing to its durability and long-lasting performance. Another advantage of TPO roofing is its eco-friendliness. Since it is a single-ply roofing membrane, it requires fewer manufacturing materials, resulting in less waste during production. Its UV resistance, heat-reflective properties, and flexibility make it popular among roofers, commercial contractors, and property owners.
Disadvantages: Despite its many advantages, TPO roofing does have some drawbacks. As mentioned earlier, the lifespan of TPO roofing is shorter when not well maintained. TPO typically lasts around 15-25 years when installed correctly. Additionally, TPO roofing comes in small-width rolls, resulting in seams every six to eight feet. These membranes experience contractions and expansions, and the seams are often where the roofing system becomes loose, enabling water leaks. In addition to more seams, TPO membranes can have varying qualities depending on the manufacturer. It is essential not to get swayed by price only but to choose a manufacturer with a long history and reputation. Lastly, UV ray overexposure degrades the adhesives that attach the membrane and insulation to the substrate, causing the seams to separate and lose the watertight seal. The disadvantages of TPO include requiring regular maintenance, smaller widths mean more seams and points for leak potential, and extreme UV exposure ages the TPO faster.