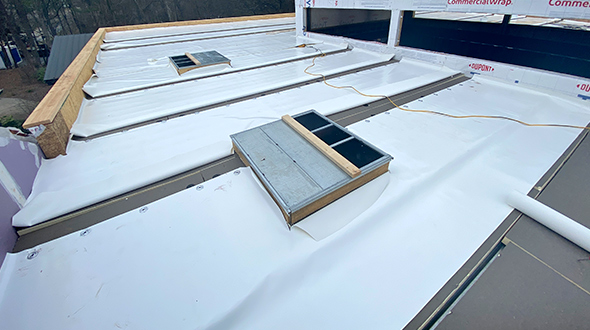 Looking for a roofing solution that combines increased durability, energy efficiency, and resistance to chemicals and fire? The PVC roofing system and membrane might be the answer you've been hoping to find. Below we'll explain the PVC system, outline its benefits and disadvantages, and guide you through the process of choosing the right roofing system for your restaurant, commercial, or industrial building.
The PVC Roofing Membrane Material
PVC roofing systems, or polyvinyl chloride roofing systems, have been gaining popularity as a durable and reliable choice in commercial and industrial buildings. PVC roofing systems are comprised of three primary components: the top sheet, reinforcement scrim, and base sheet. The top sheet is a performance layer that is exposed to the environment. It can be affected by various things, such as wind-borne dirt, airborne contaminants, UV radiation, and foot traffic.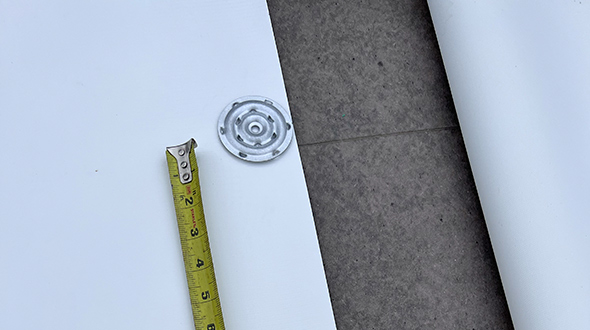 Next, you have the PVC membrane, which consists of two PVC plies that sandwich a polyester reinforcement sheet. The base sheet serves as the foundation, providing strength and stability to the PVC roofing system. Sandwiched between the top sheet and the base sheet is the reinforcement scrim, a weft-inserted, anti-wicking fabric. The PVC roofing material consists of polyvinyl chloride, a form of plastic, and other additives that strengthen and give it a high tear strength rating.
PVC Roofing Installation in Atlanta
The installation methods for PVC roofing are similar to that of other single-ply, flat roof membranes. PVC roofing systems and membranes can be installed using fully adhered, mechanically fastened, or ballasted methods. The seams of PVC roofing systems are joined together through heat welding, resulting in strong and durable connections.
The choice of installation method will depend on factors such as the specific needs of the project, as well as the expertise and preferences of the contractor.
PVC Roofing Repair in Atlanta
PVC roofing systems offer a low-maintenance solution for building owners, making them an appealing choice. To ensure the longevity and optimal performance of your PVC roof, it is advisable to perform regular inspections and cleaning, typically on an annual basis. By proactively addressing potential issues during these inspections, you can significantly extend the lifespan of your PVC roof and avoid costly repairs.
Maintenance needs for PVC roofs may vary; some roofs might benefit from a fresh coating to maintain color and reflectivity, while others may require seam repairs or patching. In the following sections, we will explore recommended maintenance practices and the most common repairs associated with PVC roofing systems.
Advantages of PVC Roofing Materials
Durability and Longevity – PVC roofing systems are known for their high tear and break strength, contributing to their durability and longevity. With proper maintenance, single-ply PVC roofing systems can last between 20 to 30 years, with an average lifespan of 25 years. This extended service life means that building owners can enjoy peace of mind knowing that their investment in a PVC roofing system will provide long-lasting protection and performance.
Chemical and Fire Resistance – PVC roofing systems offer exceptional resistance to chemicals and fire. They can withstand exposure to grease, fuels, air conditioning coolants, and other harsh chemicals. The PVC roofing membrane is also inherently fire-resistant and does not facilitate combustion. This combination of chemical and fire resistance makes PVC roofing membranes a safe and reliable option for various industries and environments – such as restaurants.
Energy Efficiency – One of the standout features of PVC roofing systems is their energy efficiency. PVC roofing materials exhibit high Solar Reflectance Index (SRI) values, which measure the ability of a roofing surface to inhibit heat transfer into a building when exposed to full sun. The higher the SRI value, the better the roofing material's energy efficiency. As a result, PVC roofing systems can help reduce energy costs by decreasing the energy needed to cool the building.
Disadvantages of PVC Roofing Materials
Climate Effects – For those in colder climates, PVC might not be the best option, as the frigid and icy conditions can make your PVC susceptible to shrinking, cracking, and punctures. Hence, it's recommended to avoid walking on your PVC roof is recommended when the temperature drops below 45 degrees. To deal with the cracking, try to schedule all your maintenance and repair tasks for a warmer winter day, or better yet, postpone them until the spring or summer season. Also, over time, PVC roofing membranes can shrink, leading to issues such as pulling at the seams and flashings. This can potentially lead to leaks if not addressed promptly.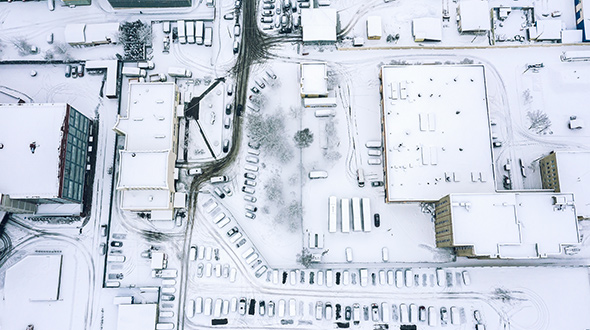 Problems Can Develop With Age – While PVC roofs are built to last up to two decades, it's important to factor in repairs once the roof hits the 10 year mark. Older PVC can be challenging to mend, and the hot air welds used for application and repairs don't work as effectively on aged roofs, and newer sealants tend to degrade more quickly. However, if your roof is still in overall great condition, skilled contractors should be able to overcome and navigate these issues effectively.
Compatibility Causing Repair Challenges – PVC roofing materials can react negatively with certain types of roofing products, such as asphalt-based products. This can limit the types of materials that can be used with a PVC roofing system. Moreover, PVC is produced by a variety of manufacturers, each using its unique mix of plasticizers to create distinct compounds. This results in difficulties when attempting to weld one brand's PVC membrane to another's, leading to potential complications during repair work on PVC membranes.
Consider This Before Installing a PVC Roof
Assessing Your Existing Roof – Before deciding on a PVC roofing system, it's important to evaluate your existing roof system for signs of wear or being fundamentally compromised. If your current roof is in satisfactory condition, you may be able to install and overlay a PVC roofing system without needing to replace components of your current roof.
Property Location and Climate – Factors such as local weather patterns, the amount of sunlight the roof will be exposed to, and temperature extremes should be taken into consideration. Accounting for location and climate will ensure that your PVC roofing system operates at its best and has a long lifespan.
Future Usage and Property Plans – Finally, it's essential to consider your future usage plans for the building when choosing a PVC roofing system. Factors such as the anticipated use, lifespan of the roof, maintenance requirements, and the potential for future modifications should be considered.
PVC Roof Summary
PVC roofing systems offer a durable, energy-efficient, and chemically resistant solution for commercial and industrial buildings. Some drawbacks of PVC to know and consider are that the membrane degrades as it ages, colder climates can cause cracking, and membrane incompatibility makes repairs harder. By carefully considering factors such as your current roof, location and climate, and future usage plans, you can select the right PVC roofing system for your building. Partnering with a qualified commercial roofing specialist will ensure proper installation and maintenance, providing peace of mind and a long-lasting roofing solution.