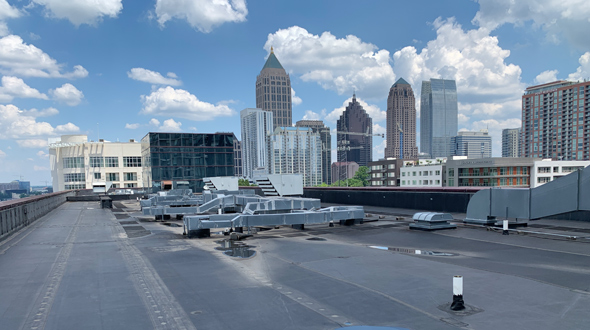 Are you looking for a roofing solution that offers considerable durability and energy efficiency? EPDM systems are a popular choice for flat and low-slope roofs for a few reasons. We'll explore the ins and outs of an EPDM roofing system, discuss the advantages and disadvantages, and compare it to other roof systems so that you can decide if it's best for your project.
The EPDM Roofing System Material
EPDM roofing systems have been popular for commercial buildings and low-slope multi-unit properties for over 40 years. EPDM, or ethylene propylene diene monomer, is a synthetic rubber material used for roofing membranes. EPDM roofing is available in various widths, thicknesses, and colors – with black and white being the primary colors used in this flat roof system. EPDM comes in 45 mils, 60 mils, and 90 mils sheet thickness, which is about as thick as a trash bag. Its width can be as thin as 5 feet or as wide as 50 feet, while the length can reach 200 feet. The EPDM roofing membrane is designed explicitly for low-slope roofs, in which traditional asphalt shingles cannot be used on low-slope roofs due to their minimum pitch requirements.
Types of EPDM Membranes
Three types of EPDM membranes and systems are available: reinforced, non-reinforced, and pre-taped. Each offers unique benefits; let's explore the differences between these EPDM membrane types and their respective uses for your project.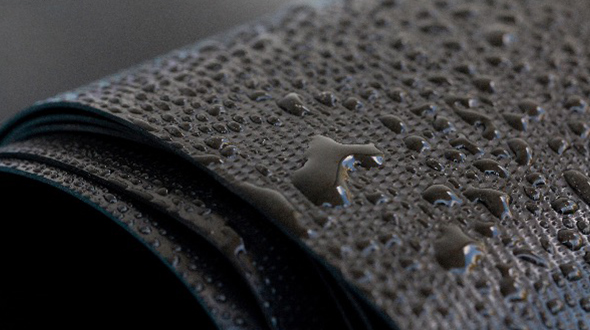 Reinforced EPDM Membrane
Reinforced EPDM membrane is stronger and more durable than non-reinforced membranes. It is constructed with a tough polyester reinforcement sandwiched between two robust EPDM membranes. Due to its enhanced durability and puncture resistance, the reinforced EPDM membrane is suitable for mechanically attached and fully adhered roofing systems.
Non-Reinforced EPDM Membrane
The non-reinforced EPDM membrane is more flexible and lighter in weight, making it easier to install and more cost-efficient. This type of EPDM membrane is suitable for various applications, including low-slope roofs and other waterproofing uses. However, this non-reinforced EPDM membrane is not as strong and more susceptible to punctures/tears.
Pre-Taped EPDM Membrane
The pre-taped EPDM membrane is a time-saver that expedites the installation process. This membrane system comes with pre-applied factory-installed seam tape, allowing a faster and more efficient installation and reduced labor costs. In addition to the quicker installation, a pre-taped EPDM membrane provides enhanced water tightness.
EPDM Roofing Installation in Atlanta
EPDM roofing systems have three main installation methods: fully adhered, mechanically fastened, and ballasted systems. Each technique offers an advantage and is suitable for different roofing situations. Let's explore each installation method in greater detail.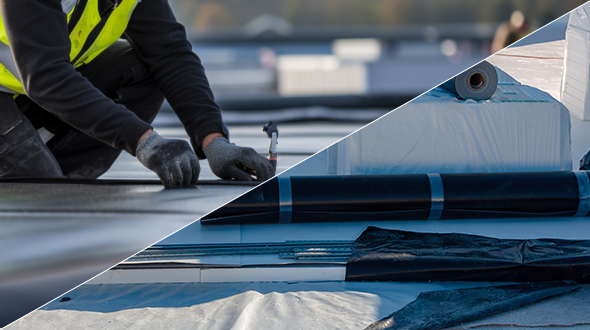 Fully Adhered EPDM
A fully adhered system is an EPDM installation method that uses adhesive to secure the membrane to the entire roof surface—this type of installation results in a seamless roof, often providing enhanced durability and superior waterproofing. It is important to note that fully adhered systems require professional and precision installation and can be more expensive due to the cost of adhesive and expertise. The installation process for a fully adhered system includes cleaning the surface, applying the adhesive, and laying down the membrane.
Mechanically Fastened EPDM
Mechanically fastened systems are a cost-effective EPDM installation method that uses screws and plates to attach the membrane to the roof deck structure, followed by sealing the membrane with a special adhesive to guarantee a watertight seal. To mitigate the potential for fasteners to become loose over time, it is essential to select the appropriate fastener and ensure proper installation. This method can be advantageous when the installation is done in cold weather, as adhesive requires a minimum temperature.
Ballasted EPDM
A ballasted system is a lower-cost EPDM installation method that uses heavy materials, such as gravel or pavers, to hold the membrane in place. The roofing materials – insulation and roof membrane – are not affixed to one another or the roof deck. Ballasted systems provide energy savings, lower upfront installation costs, and protection from damage caused by ultraviolet light, falling tree branches, and hail. However, they have higher maintenance costs throughout their lifespan and can be challenging to inspect and repair, as the stones or pavers must be removed anytime you need to access the roof membrane.
EPDM Roof Repair in Atlanta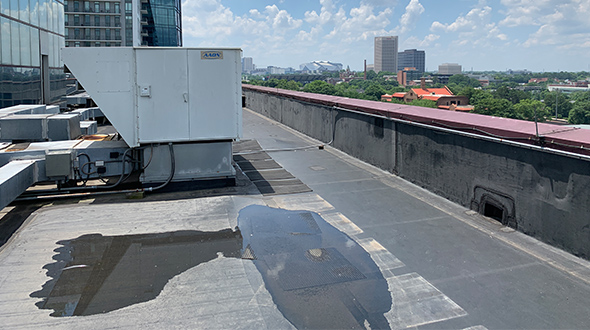 EPDM roofs require some but minimal maintenance, making them attractive to building owners. To ensure the longevity and performance of your EPDM roof, cleaning and inspecting it at least annually is recommended. By conducting regular inspections and addressing potential issues early on, you can extend the lifespan of your EPDM roof and avoid costly repairs. Some roofs only need a coating or paint job to retain their color intensity, while others require seams to be patched and sealed. Below, we will cover the suggested maintenance and the most common repairs.
EPDM Maintenance
While EPDM rubber roofs are highly durable, maintenance ensures they reach their expected lifespan. Routine cleaning is essential and of the highest priority preventative actions you can take to protect your investment. At a minimum, it should be annually but quarterly is ideal. You may want to implement a roof maintenance service, as removing leaves, sticks, and other debris are important. In addition, it is important to use a mild cleaner to eradicate any filth, buildup, or mildew, as EPDM is susceptible to mildew. An added benefit of the cleaning solution and treatment is that they contain anti-spore and lubrication chemicals, which prevent premature decay and keeps its' surface aesthetically pleasing.
Common EPDM Repairs
There are three common issues we see that require our Atlanta roofers to perform EPDM repairs, and they are:
1. Improper Installation – not all roofing contractors are trained and experienced in each EPDM manufacturer. The EPDM membrane comes on a roll and has seams and joints. The material can be improperly cut and adhered to areas like parapet walls, around drains, curbs, or pipes, enabling water to penetrate and cause leaks. Repairing this requires correctly identifying the improper installation and rectifying any cuts and adhesions.
2. Shrinkage – intense UV radiation and sunlight exposure can cause the EPDM membrane to shrink and pull away, which leaves room for water leaks. The effects of shrinkage are commonly seen in areas around flashing and parapet walls, so regular maintenance and inspection are necessary. Often overlooked by the untrained eye, our contractors can identify shrinkage and repair areas that are not far gone.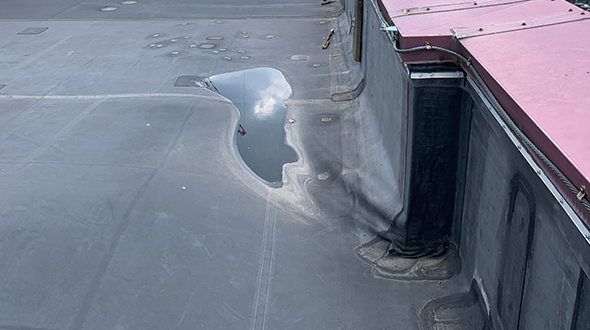 3. Degraded Seams – the joints where two rolls of EPDM come together to create a seam. Over time, the seams can pull apart even when properly installed. Shrinkage is often a contributing factor, as well as regular wear and tear. These joints may need adjusting and re-applying adhesive to address and repair seam issues.
Regular inspections, timely EPDM repairs, and addressing issues promptly are essential practices to maintain the integrity of EPDM roofing and extend its service life.
EPDM Advantages
EPDM is known for its longevity, with some roofs lasting up to 50 years. The lifespan of the average fully adhered EPDM roof is estimated to be between 25 and 35 years, but it has superior durability and can last for 40-50 years when properly installed and well-maintained. Various factors contribute to the longevity of EPDM roofing, such as climate conditions, proper installation, maintenance, and degree of direct sunlight exposure.
EPDM roofing is incredibly resistant to weather and durable. Other advantages include energy efficiency, cost-effectiveness, robustness, flexibility in low temperatures, and resistance to fire, chemicals, and wind. Its flexibility, lightweight nature, fire resistance, and superior resistance to wind uplift, hail impact, low temperatures, and intense UV radiation. White EPDM roofs are more effective at reflecting the sun's rays. EPDM is also highly resistant to weathering, ozone, and UV radiation, making it an ideal choice for outdoor applications. Managed correctly, EPDM commercial roofing can provide long-lasting protection and energy savings.
EPDM Disadvantages
While EPDM roofing offers many benefits, it has a few disadvantages. Black EPDM roofs tend to absorb heat from the sun, which can reduce the material's energy efficiency. Another issue EPDM roofing systems face is shrinkage. This occurs when the roof material shrinks over time due to exposure to direct sunlight. Shrinkage can lead to flashings being detached from the sides of the building, resulting in cracks and splits on the material's surface, which may cause water intrusion and internal leaks. To mitigate and rectify shrinkage-related potential damage, consider employing a thicker EPDM membrane, a reinforced EPDM membrane, or a pre-taped EPDM membrane.
Membrane seam failure is another concern. These failures can arise from various factors, such as poor installation, improper seam preparation, inadequate adhesive application, or thermal expansion/contraction stresses. Challenges emerge when seams separate or lose integrity, leading to water infiltration, leaks, and compromised insulation. To mitigate such risks, installation by trained professionals is crucial. Utilizing manufacturer-recommended adhesives and seam tapes, ensuring proper surface cleaning, and employing seam testing methods during and after installation can significantly reduce the likelihood of seam failures.
Puncture resistance is another factor to consider when selecting an EPDM roofing material. Although EPDM is known for its excellent resistance to tearing, punctures can still occur, particularly during installation or when the roof is exposed to sharp objects. To improve puncture resistance, consider incorporating external fleece reinforcement, which can significantly enhance puncture resistance by approximately 300%. This reinforcement can be applied to the underside of the membrane, providing an additional layer of protection for the membrane against punctures.
With EPDM, you must be aware of its incompatibility with asphalt-based products. It is imperative to avoid using roof cement flashing and asphalt-based roof coatings, including aluminum roof coatings and oil or gas liquids, as these substances can compromise the integrity of the EPDM rubber membrane. Introducing such materials and liquids can trigger chemical reactions that result in deterioration, causing the EPDM membrane to weaken and deteriorate.
To manage this challenge, opt for EPDM-compatible materials for repairs or maintenance. If unsure about compatibility, consult the roofing material manufacturer or seek guidance from roofing professionals with expertise in EPDM systems. This proactive approach ensures the longevity of the EPDM and minimizes the risk of costly repairs and a shortened lifespan.
EPDM Roof Summary
EPDM roofing is a versatile and moderately priced solution for flat and low-slope roofs. Its durability, energy efficiency, and minimal maintenance requirements make it attractive for commercial and other flat-roof buildings. Shrinkage, seam failure, and incompatibility with certain liquids are its' most notable disadvantages. However, your EPDM roof can provide long-lasting protection and energy savings for years with proper installation and maintenance.