Would you rather deal with costly repairs and replace your roof every 10-15 years, or have your existing roofing system maintained so it lasts well beyond 20 years? With routine checks covered under a commercial roofing maintenance program, you won't have ongoing and costly roof issues or need a premature full roof replacement.
Atlanta Commercial Roofing Contractors offer maintenance plans that help keep extensive and expensive roof burdens at bay, increase the odds that your roof reaches its full life expectancy, and ensure your warranty remains valid so that your roof remains covered and protected.
Why Preventative Maintenance is Critical
Eventually all roofing systems face leaks, cracks, and weathering. Any of these or other small issues that are left untreated can lead to a host of resulting consequences, major problems and expensive roof repairs.
Roofing systems serviced only when problems arise tend to have a significantly reduced lifespan, costing considerably more than a system covered by a proactive maintenance program. Active maintenance plans inspect annually, and perform minor repairs made before they become significant and avoidable problems.
Another benefit of a roofing system maintenance contract is the preservation of the system's manufacturer's warranties. These warranties sometimes include maintenance requirements, and ultimately serve to hold the manufacturer responsible for the quality of the roofing system's components when they are correctly installed and subsequently fail.
Maintenance plans ultimately can stave off the need for a total roof replacement for years, and save money along the way. Thus, Atlanta Commercial Roofing Contractors provides commercial roofing maintenance programs and roofing services, as listed below.
Commercial Roof Maintenance Program (Basic)
This 'Basic' plan offers the following benefits:
Annual roof and interior space survey (pre-winter)
Debris cleanup
Drain, gutter, and waterway clearing
The Basic Plan also includes:
Light roof maintenance
Documentation of the roof's condition
Quotes for any necessary major repair work
Commercial Roof Maintenance Program (Advanced)
The 'Advanced' plan offers the following benefits:
Semi-annual in-depth roof and interior space inspections (pre and post-winter)
Debris cleanup
Drain, gutter, and waterway clearing
Flashing inspection
Penetration inspection
Seam/Seal verification testing
This advanced plan also includes:
A thorough automatic inspection after a severe weather event
Light roof maintenance/repair (where needed)
Documentation of the roof's condition
Repairs to parts of the roof that do not meet the manufacturer's performance standards
Quotes for major repair work
Types of Roofing Systems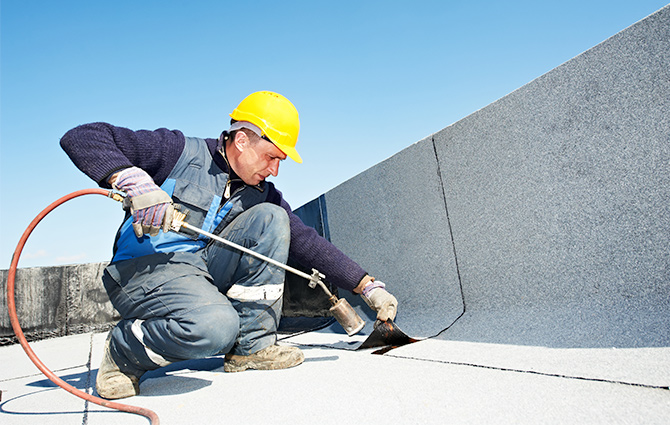 At Atlanta Commercial Roofing Contractors, we are qualified and certified to perform maintenance and repair for the following commercial roofing systems:
Metal
TPO
EPDM
Elastomeric
Modified Bitumen
Gravel BUR (Built-Up-Roofing)
Polyurethane and Silicon Foam
Tile
Shingle
As recommended by the National Roofing Contractors Association (NRCA), commercial roofing maintenance and repair should be performed a minimum of twice per year. Also, following any significant storm event such as hail, severe or extended periods of rain, hurricanes, tornados, and wind storms.
Roofing Maintenance Programs Do More Than Save Money
During and after a roof maintenance inspection, its condition, work that was done, and recommendations for future work are all added to the roof history documentation file. In cases where there is catastrophic damage or an insurance claim filing, this detailed roof history is invaluable and can be cross-referenced to support your claim and prove your case. By proactively servicing the roof, this adds value to your building, adds life to your investment, and makes your property more appealing to buyers or investors.
Also consider that your roof maintenance history records, documentation and file will offer the following benefits in addition to saving you money:
Makes budgeting and managing property financials easier
Helps accounting to plan tax-related depreciation figures
Makes the owner aware with the roofing system and valuable rooftop equipment
Benefit from Our Expertise – Request a Free Evaluation & Quote
Whether you are looking to extend your current roof life, or have questions about the best roofing system maintenance program for your roof, our team of professionals are ready to help.
The best roofing system maintenance program for your building depends on many factors, so get the knowledge and expertise you need to make the best decision.
To signup or for more information on the Atlanta Commercial Roofing Contractors maintenance plans throughout Atlanta, Georgia, reach us at (404) 220-9288.