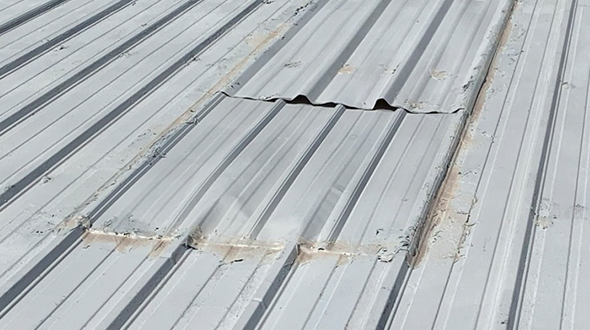 Avoid overlooking roofing issues that can be resolved and leaving yourself vulnerable to roofers preying on your ignorance. Knowing the more common roofing problems and how to fix them will help you get the repairs you need.
atlantacommercialroofingcontractors.com gathered the following information about 9 of the most common roofing problems and how to repair them.
1. Roof Leaks
A roof leak is typically a sign of a more substantial problem. Danger and the probability of structural erosion increase if the leak is left unaddressed. Regular inspections are the most effective defense against a leaking roof. Be vigilant, search for leaks (and signs of leaks), and regularly communicate with your contractor about your concerns and the roof's condition.
Solution – Typically, roof leaks are detected only after they have caused moderate or considerable damage to a home. This is one factor that makes roof leaks among the costliest roofing issues for property owners. Act preventively and be proactive in keeping your roof in good shape by scheduling regular inspections by your trusted roofing professional.
2. Chimney Crickets
Crickets are crucial to your chimney and roof's integrity and longevity. They efficiently channel water and debris off the roof and into your gutters. Due to their stature, chimneys naturally attract water.
Solution – The cricket is part of your chimney's flashing system that prevents your roof from leaking. Every chimney has different wall veneers like brick, stone, siding, or stucco, and each must be flashed differently to protect the roof. Proper flashing and a well-installed cricket are required to prevent leaks and cause the roof decking wood to rot from repeated water intrusion.
Find further reading on chimneys at atlantacommercialroofingcontractors.com/chimney-leak-repair/
3. Poor Roof Installation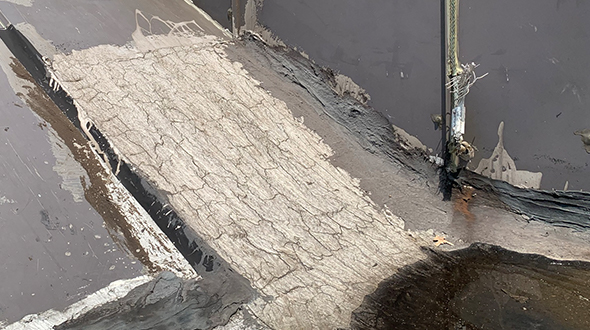 A properly installed roofing system will uniformly weather. With an improperly installed roof, you'll see different colored shingles, missing drip edges, or vents that were reused instead of replaced. You'll also detect a stark difference in how some areas of the roof age compared to others.
Solution – Make sure the roofing contractors you hire have an excellent track record and will provide you with top-quality roof installation. To avoid being left with a bad roof installation, thoroughly vet the roofing company you choose to hire.
4. Tree Impact
When a tree falls and lands on your roof, it will cause structural roof and building damage. However, as minutes pass, your roof's structural integrity can weaken and fail, causing the roof to eventually cave in, resulting in further structural damage and potentially life-threatening injury to you and your loved ones.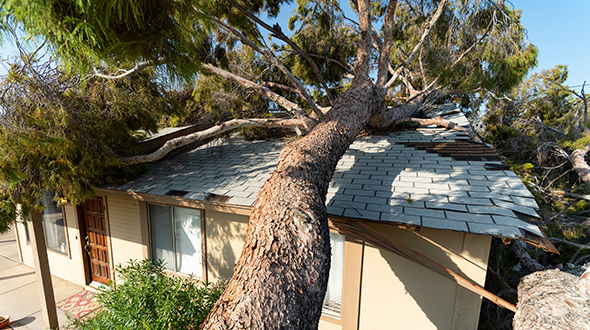 Solution – Act as quickly as possible to prevent any further damage from occurring (putting a tarp over the damaged roof and boarding up any shattered windows, etc.). Use a tarp or other waterproof covering to temporarily cover any openings. Your failure to mitigate further damage may negatively affect your insurance claim.
Tip: Call your insurance company immediately for instructions. This will help you preserve your insurance policy and coverage.
5. Freeze Damage
Snow and ice damage your roofing system by repeatedly thawing and refreezing as temperatures fluctuate. When snow and ice melt, water infiltrates small holes or gaps in your roof. When temperatures dip and that water refreezes, it expands, widening those holes and allowing more water through.
Solution – Getting rid of "ice dams" for good is relatively easy. You must maintain the roof at the same temperature as the eaves. You can do this by increasing attic ventilation, adding insulation, and having your roofing system inspected for air leaks that may unevenly warm the underside of the roof.
6. Pooling Water (Ponding)
Even the slightest ponding can have serious repercussions on your roofing system. The water's excess weight may cause severe structural damage to the building, especially if the added weight exceeds the safe weight the structure can carry. Even if it does not, increased weight can stress roof trusses and other crucial building components.
Solution – The easiest way to prevent water from ponding is to routinely clean the roof's drains, rain gutters, and downspouts. Removing debris like leaves, sticks, and branches allows water to flow freely from the roof. If you do not personally want to clean your roof, get a roofing maintenance program service to do so for you.
Tip: Regular roof and gutter cleanings are a great time for a routine inspection. If the cleaning is done by your roofing contractor, they can check and prevent small issues from becoming costly problems.
7. Roof Flashing
Flashing protects the most vulnerable parts of your roof, and any damage to this flashing is concerning. When flashing cracks, fails, or is bent upward, moisture can run inside the roof seams. This poses a significant problem during severe weather.
Solution – Typically, professional roofers will replace all step flashing on a new roof. Your roofer should not layer any new flashing on top of old flashing (this should have been removed and discarded). There should only be one layer of flashing on a roof at a time.
8. Broken or Missing Shingles
If your roof has one or more "seams" exposed to the elements, they may let in water. Other critical roof components include valleys or areas where two low parts of the roof's structure meet. Losing a shingle at a low point can result in water and debris collecting, significantly increasing opportunities for leaks.
Solution – If a shingle is cracked or torn, you don't necessarily have to replace it; repair it. Apply a thick bead of roofing sealant under the crack, press the shingle down and apply another bead of sealant on top of the crack. Then evenly spread the sealant with a putty knife.
Note: If your roof only needs a few shingles replaced or minor patches made, you can do it yourself or schedule a roofer to make those minor repairs for you.
9. Membrane Tears and Punctures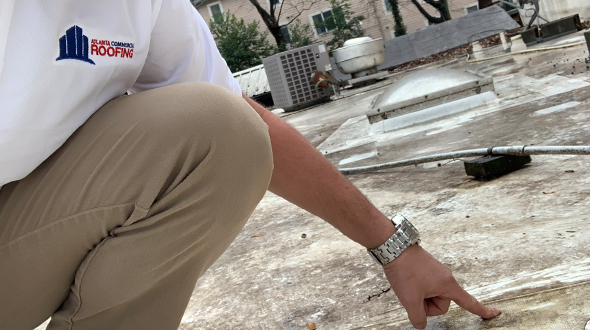 The most frequent problems with single-ply membrane roofing systems include punctures, tears, and seam failures. Single-ply membranes can eventually shrink, become brittle, and lose their elasticity; these factors apply irregular stress on the membrane's seams, resulting in failure.
Solution – Any hole or seam separation in a single-ply membrane can be quickly located and patched or resealed by a certified roofer.
Commercial and Residential Roofing Problems
In this article, you discovered nine of the most common roofing problems and how to get them quickly fixed.
The more you know about how roofs can malfunction and how they can be repaired will help you prevent more severe damages and potentially extend your roofing system's lifespan.
Not knowing how your roof can be damaged and fixed, can leave you vulnerable, and paying for repairs and a replacement that may have been avoided.
Sources:
ccpia.org/why-low-slope-roofs-fail/
floridapace.gov/6-signs-of-roof-damage/
Atlanta Commercial Roofing Contractors
Atlanta
,
GA
(404) 220-9288