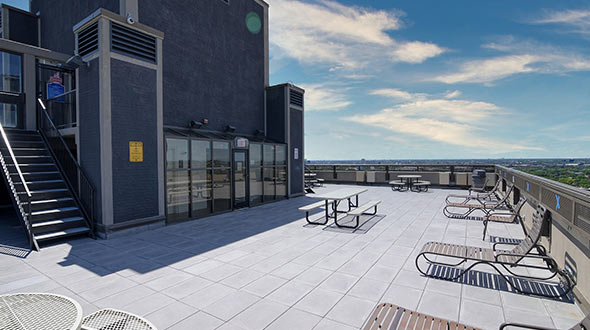 Prevent your commercial rooftop deck from being improperly installed, and discover design ideas and inspirations. By converting your roof or a portion of it into a deck, you can gain a recreation area, lounge or meeting space with a beautiful view.
atlantacommercialroofingcontractors.com outlined below keys to constructing a deck on your commercial rooftop, the steps to ensure it is done correctly, and answers to some frequently asked questions.
Rooftop Decks
Before investing your time and resources into planning a rooftop deck, there are some questions you will need to answer:
Are Commercial Rooftop Decks Permitted in My Municipality? – Contact your local zoning and development or planning department to inform yourself about ordinances for constructing a rooftop deck. Inquire about the following:
Are rooftop decks (open or enclosed) allowed in your municipality?
Is a building (or other) permit required for this project?
Are there any application or permit fees?
What documents must be provided with a permit application (blueprints, building/roof inspections, etc.)?
Note: Unlawful building/construction activities can result in costly fines, mandated removal of the construction, and further punitive actions
Will My Commercial Building Support a Rooftop Deck? – There are two numbers you need to know before initiating any type of construction or installation on your roof:
What is your roof's load capacity?
What is your building's load capacity?
Load capacity is broken down into several categories. These include:
Dead Load (permanent or static structural elements)
Live Load (produced by the use and occupancy of the building)
Environmental Load (wind, snow, ice, and rain loads)
Self-Weight (the weight of the building)
Before plowing ahead, read more about commercial roof load to ensure your new rooftop deck can be properly supported.
Plan Your Rooftop Deck Design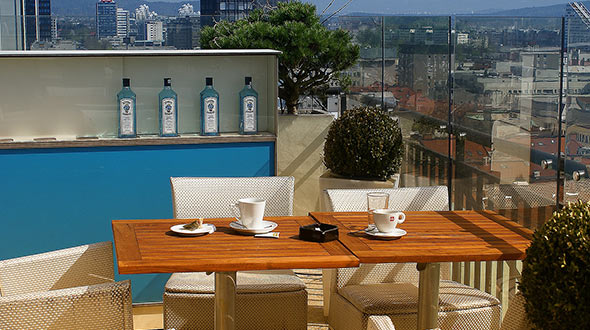 Gardens, gazebos, hot tubs, pools, etc. What are you looking for in a rooftop deck? Consider these elements:
Plants and trees (green roof)
A pergola
Seating/Lounging furniture
Recreational activities (games)
Water (pool, fountain, etc.)
Wet bar
Kitchen/Grill
Hire a professional designer to help you plan the details of your space, then run the designs by your engineer. The more you plan in the beginning and vet the project using experienced professionals, the better quality material and workmanship you will end up with.
Watch this video to see multiple deck configurations and ideas.
Rooftop Decking and Deck Framing – Of your building installations, a rooftop deck, will most likely be the most punished by sun and weather. When selecting your decking, take the following into consideration:
Composite or synthetic decking ranges from wood composites to plastic capped wood composites and cellular PVC. This decking is usually available in a variety of colors.
High-density hardwood is an excellent consideration for the rooftop. You can find numerous high-performance hardwood decking species.
Softwood decking is not as reliable on a rooftop deck. This decking is more likely to split, crack, and warp. Even the higher-quality softwood decking alternatives, like cedar, require a lot of refinishing. Otherwise, you can expect lots of splitting and warping.
Note: The thicker and more narrow the deck boards are, the better they will perform. Also, the more vertical clearance you have between the top of the roof and bottom of the deck, the better. Spacing between deck boards also plays a critical role in ventilation.
You'll find that several types of deck framing can be installed:
Sleepers are one way that builders have designed to mitigate moisture and the spread of rot. Sleepers are similar to wooden support framework that the deck rests upon.
Wood framing is the traditional option and is extremely low-cost upfront. However, this type of framework may exceed your roof load. Another downside is the potential for twisting, warping, and rotting.
Aluminum framing (joists) are high performance and perhaps the best option. While this framing requires a higher initial investment, it will not twist, warp, or rot.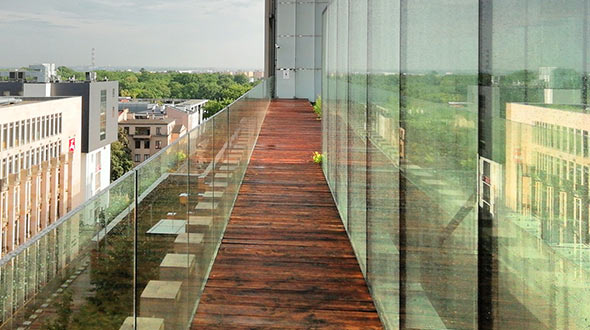 Tip: Request references from your contractors that you can visit. Seeing and walking on a finished deck will help you make informed decisions when selecting your project materials.
Assemble Your Deck Team – One of the more time-consuming activities of your rooftop deck construction will be vetting your contractors. You'll want to collect a minimum of three bids from multiple contractors, evaluating experience, pricing, guarantees, warranties, references, and overall qualifications. Consider the following:
If you don't already have a commercial roofing company, you will need one to scrutinize your roofing system, verifying that it is leak and problem-free. Some roofing companies are fully capable of installing a rooftop deck.
The engineer will help you determine if your roof and building can support your deck's additional weight.
A landscape architect will help you design and place plants, trees, shrubs, and their containers.
Shop around, whether you hire multiple contractors or locate a company that can work "concept to completed installation," take your time and choose wisely.
Frequently Asked Questions
Question: Does a Rooftop Deck Count as Square Footage?
Answer: Yes, when included in "Rentable Square Footage"(RSF), also known as "Useable Square Footage" (USF).
Question: Does adding a roof deck add value?
Answer: Yes. Adding a rooftop deck can add from $20,000 to $50,000 or more, depending on material, construction, and degree of luxury finishes.
Question: How much does it cost to build a rooftop deck?
Answer: For a basic installation, you can expect to see pricing between $20,000 and $25,000. For more luxurious or elaborate installations, pricing can easily exceed $50,000
Commercial Rooftop Decks
In this article, you discovered essential information about installing a rooftop deck on your commercial building, making sure it's done right, and answers to frequently asked questions.
Investing in a rooftop deck will add valuable square footage to your building while increasing its overall value.
If you leave your roof undeveloped, you are missing an opportunity to add value to your building and create a unique space otherwise considered "dead space."
Sources:
fwrc.msstate.edu/housing/images/decks.pdf
faculty.arch.tamu.edu/media/cms_page_media/4198/NS13-1codeloads.pdf
avso.org/interior-design-ideas/roof-terrace-design-ideas-examples-and-important-aspects