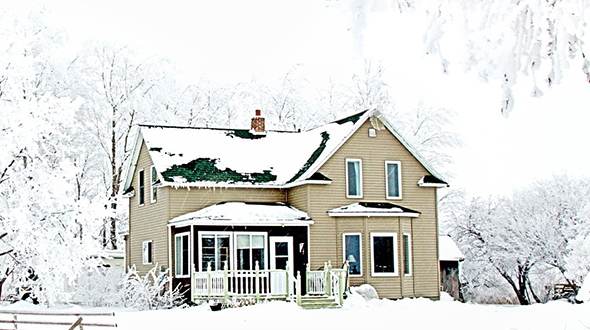 Prevent the harsh winter season from causing roof damages and costly problems. Knowing what challenges your roofing system can endure during the coldest months will help you take action to avoid them.
atlantacommercialroofingcontractors.com gathered information about some of the most common winter roofing problems and how to prevent them.
Roof Problems in Winter
To keep your home in its best condition through this and upcoming winter seasons, be mindful of the following winter roof problems and how to prevent them:
Condensation – Condensation occurs when water droplets form as warm air hits a cold surface. This typically happens in poorly insulated attics where the roof is colder than the air inside. Condensation causes damaging dampness and mold, leading to severe damage and dangerous weakness in the roof.
Prevention: Keep your attic well-ventilated and well-insulated to reduce the risk of condensation accumulation.
Ice Dams – Ice dams are among the biggest dangers to your roof's structural integrity due to their weight and typically leaking into your walls. These dams sit along the edge of your roofing system and its gutters, accumulating immense weight and pressure on the area.
Ice dams are caused when snow melts at the top of your roof and runs down to the edge, where it refreezes. Poor attic insulation is often the cause as heat escapes through the roof's top.
Prevention: Keep your attic well insulated. You can also limit ice dam formation by removing accumulated snow from your roof and keeping your gutters unobstructed.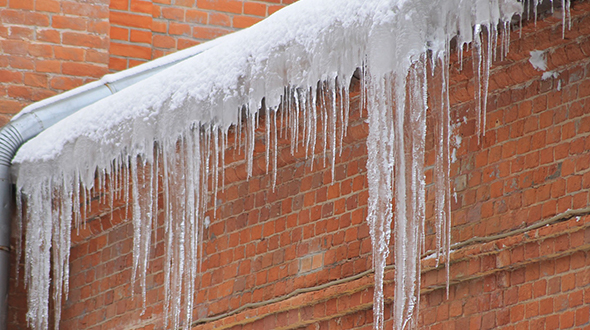 Icicles – Like ice dams, icicles occur when water thaws, runs down your roof, and refreezes as it moves over cooler lower sections. Water should run into gutters, but when they are obstructed, overflowing, or frozen, icicles can quickly form on their edges, posing a threat to anyone walking below.
Prevention: Make sure your attic space is well insulated and keep your gutters clean and functioning.
Leaking Flashing – Flashing can separate from a roof's edge or around a chimney for many reasons (storm damage, ice accumulation, etc.). When your roof's flashing isn't watertight, water and ice can find their way into the roofing materials and your structure.
Prevention: Inspect the flashing's condition in the fall and periodically throughout the winter. This way, you can spot any potential trouble or damage before it becomes a leak.
Wildlife Damage – Animals can cause incalculable damage if they get inside your house. Small holes in the roof or attic can grant rats, squirrels, and birds access. Once in your attic, these creatures may establish a nesting area and severely damage the interior or significantly widen entry points.
Prevention: Keep small animals out by frequently inspecting your attic and roofing system for small holes. Seal gaps and ensure tree branches are pruned at least six feet away from your roof.
Tree Damage – Winter storms and severe weather can critically damage any trees near your home, causing hazards like falling branches and trees falling entirely; it's crucial to inspect trees for decline, disease, infestations, and potential weakness.
Prevention: Have a professional tree service inspect your trees and take preventative actions (pruning or removal) to reduce the risk of catastrophic roof damage.
Debris in Gutters – Dirty or blocked gutters stop rainwater from flowing off your roof and down the drain, and can be attributed to several of the items we've discussed in this article.
Prevention: Keep your gutters cleaned and debris free throughout the year and in winter.
Winter Storm Damage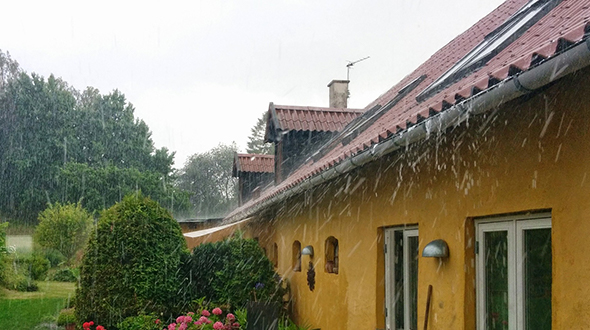 Roofs can suffer the worst conditions with strong winds, heavy snow, and hail (common in winter storms). Establish a maintenance contract with your roofing company that includes seasonal inspections, minor repair work, and emergency evaluations to ensure your roof will stay strong in winter storms.
Note: Snow might look innocent enough, but when it builds up, it carries tremendous weight. For weakened or leaking roofs, heavy snow puts your home at risk of significant damage.
If your home is old, it might be time to check if you need a new roof altogether. To keep your roof stable throughout winter, it's best to remove heavy snow as quickly as possible.
What temperature is too cold for a roof?
A properly installed roofing system can easily withstand prolonged periods of sub-zero temperatures. However, roof installation or repair should only be done when temperatures are 40° F (4° C) or above. Adhesives used in most modern roofing materials require warmer temperatures to properly activate.
How Many Years Should a Roof Last?
The average lifespan of a roofing system typically ranges between 25 to 50 years. However, a roof's life expectancy depends on the following:
The quality, durability, and type of roofing material
The quality of its installation
The frequency of inspections, seasonal maintenance, and repairs
Tip: A well-maintained roofing system can outlive its life expectancy by decades.
Cold Weather Roofing Problems
In this article, you discovered information and tips on some of the most common winter roofing problems and what you can do to prevent them.
Being proactive with your roofing maintenance and repairs will help you get through the winter months without incurring severe cold-related damages to your structure's roofing system.
Ignoring the need to take preventative measures with your roofing system can result in costly and avoidable damages and potentially lead to catastrophic roof failure.
Sources:
bct.eco.umass.edu/publications/articles/preventing-ice-dams/
sites.psu.edu/socialtrends/2022/11/16/is-your-roof-properly-maintained/
extn.msu.montana.edu/magazine/articles/4450
cpb-us-e1.wpmucdn.com/blogs.cornell.edu/dist/9/8787/files/2019/07/Attic-condensation.pdf
extension.psu.edu/winter-damage-to-trees-and-shrubs
Atlanta Commercial Roofing Contractors
Atlanta
,
GA
(404) 220-9288