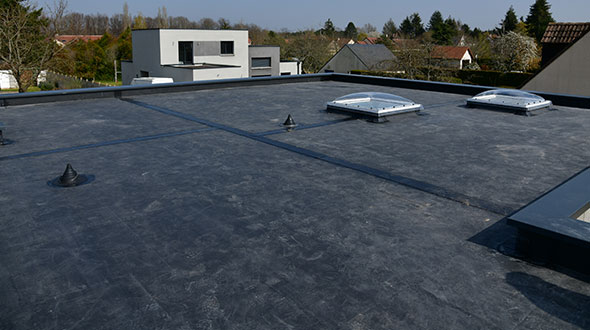 Avoid spending your resources on the wrong roofing systems for your flat roof or commercial property. By knowing how EPDM roofing systems can protect your commercial building, you can make informed decisions when installing or replacing your roof.
atlantacommercialroofingcontractors.com gathered information about the definition, installation, warranty, cost, and potential problems with EPDM roofing systems while answering frequently asked questions.
EPDM Roofing Explained – Production, Properties, and Benefits
EPDM (Ethylene Propylene Diene PolyMethylene) is a durable synthetic rubber roofing membrane composed of two primary ingredients, ethylene and propylene, derived from oil and natural gas.
The following will explain the composition, properties, and production of EPDM roofing systems for commercial and residential structures, including its use in the auto industry:
EPDM roofing material is classified as a single-ply membrane. However, most are comprised of two plies of material to produce one ply. This is done to prevent imperfections from occurring throughout the sheet.
There are two methods used to produce EPDM roofing material; calendaring or through a roller die extruder.
Sheet thickness is 45 mils, 60 mils, and 90 mils, which equates to about the thickness of a heavy-duty trash bag.
EPDM panels can be produced as narrow as 5 feet and as wide as 50 feet, while sheet length can reach 200 feet. This provides maximum coverage with minimal seams.
EPDM membranes are usually installed using deck adhesive, making them fully adhered (glued down) to the substrate. They can also be installed using a ballasted system or be mechanically attached to the substrate.
Overlapping EPDM seams can be sealed by applying adhesives, seam tape, or both.
EPDM membranes come in two primary colors, including black and white.
EPDM membranes are resistant to oil and chemicals expelled by commercial exhaust vents.
EPDM roofing material is naturally fire-resistant and is highly UV resistant.
EPDM roofing systems are highly resistant to wind uplift.
The life expectancy of EPDM roofing systems is between 22 and 35 years
The EPA recognizes that ballasted EPDM roofing systems can be a very effective means of lowering rooftop surface temperatures, reducing air conditioning requirements within the structure.
Play this video to see the manufacturing process of EPDM membranes.
While popular in the roofing industry, the principal application of EPDM is within the automotive industry. It is used to manufacture components like weatherstripping, coolant hoses, brake components, and motor oil.
EPDM Roofing Installation and Warranty
The installation of your EPDM roofing system, when properly installed, is a fast and non-intrusive process.
Installing an EPDM membrane is accomplished by fully adhering it (gluing down), and/or mechanically attached or ballasted; the following factors influence the quality of the roofing system's installation:
Low roof slope for efficient draining
Correct installation and fastening of insulation (when used) to deter bulging and sagging
Correct application of adhesives to the substrate
Proper use of seam adhesive
Drip edge seamlessly connected around the perimeter of the roof
In addition to quality installation, a warranty is advantageous and very valuable when the installation or components of your roof may fail. There are two types of warranties to consider when installing or replacing any roofing system:
Contractor's Warranty – This warranty covers workmanship and installation of your roofing system by the contractor. The company is guaranteeing its work for the roof's lifetime.
A contractor's warranty should contain the following:
A list of covered items
What can void the warranty
When/If the warranty expires
The above installation and warranty information underscore the necessity to thoroughly vet contractors.
Note: There is no industry standard regulating the duration of a contractor's warranty.
Manufacturer's Warranty – This warranty covers defects in the material used in your roofing system. Once installed, your contractor should provide you with a warranty certificate(s).
An example of material failure would be premature shrinkage. Unless it is determined to result from poor or improper installation, a claim should be leveraged against the manufacturer's warranty.
EPDM Roofing Cost
Collecting estimates for any roofing system can be an overwhelming experience. There is often a significant disparity from one quote to the next, which validates the need to collect at least three bids from reputable roofing contractors.
Prices for installing an EPDM roof system vary depending on the size/complexity of the roof, time of year, material brand, material quality, method of installation, and the amount of labor involved. Expect to see pricing in the following ranges:
Tear-off – Unless your new roof is installed over your current roof, the old one will be removed. This process can cost between $100 and $200 per square (1 square = 100 square feet).
Suppose this cost is bundled in material and installation pricing. In that case, you can request that it be detailed separately in your estimate(s).
EPDM Material – will fall between $75 and $450 per square
EPDM Installation (Labor) – can range from $350 to $750 per square
Maintenance Contract – These commercial roofing maintenance programs prices vary from contractor to contractor
Using the price ranges above, you can expect to see bids, including tear-off, material, and installation for a 1,000 square foot roof between $5,250 and $14,000.
Tip: In the roofing industry, installations are generally more expensive in the spring and summer months. Schedule your installation for the off-peak season (early spring and fall) if/when possible.
Disclaimer: The above prices are in no way meant to represent actual bid values and only serve as estimated market price ranges.
EPDM Roofing Problems
Most problems occurring with EPDM roofing systems can be traced back to the roof's installation. The following are commonly reported issues: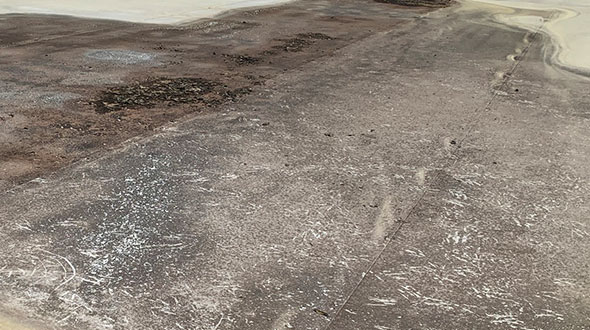 Improper roof slope causing water pooling and degradation of materials
Seam separation from improper application of adhesives
Insulation improperly fastened or installed
Incorrectly installed flashing
Membrane tears from wind-driven debris
You can avoid problems caused by poor installation by contracting a roofing company with extensive training and experience with EPDM roofing systems.
Tip: Always request references from roofing contractors and followup with those references.
People Also Ask
Can you walk on an EPDM roofing system?
Yes. EPDM is designed to withstand light foot traffic. If you have areas on your roof with heavy foot traffic, have those areas reinforced to avoid rupturing your membrane.
Does EPDM need to be glued down?
Yes. EPDM membranes are fully adhered or "glued down."
Which is better, EPDM or TPO?
Depends on the intended use and functionality of the property. Both systems have similar qualities. However, TPO is slightly more puncture resistant and can have a more comprehensive warranty.
Does EPDM shrink?
Yes. Despite its durability and reliability, over time, EPDM naturally shrinks.
How good is EPDM roofing?
EPDM roofing materials are extremely durable, resists mold, damages, and is easily repaired. With larger panels and fewer seams, it is very rare for an EPDM roof to leak prematurely.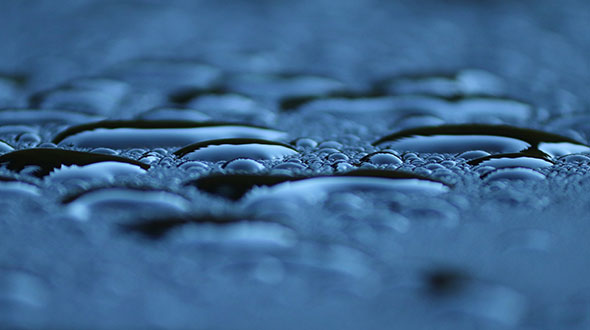 EPDM Information Revealed
In this article, you discovered essential information about the definition, installation, cost, warranty, and issues with EPDM roofing systems.
By knowing how EPDM roofing systems are produced, installed, and maintained, you can make informed decisions about having it installed on your building.
When you rely solely on what a roofing contractor says or presents, you are leaving yourself vulnerable to costly repairs after having inferior quality materials poorly installed on your building.
Sources:
epdmroofs.org/what-is-epdm/why-epdm/
homeadvisor.com/cost/roofing/rubber-membrane/
tporoofing.org/comparative-guide-to-tpo-vs-epdm-roofing/
energystar.gov/products/building_products/roof_products/other_types_roofing_that_can_save_energy