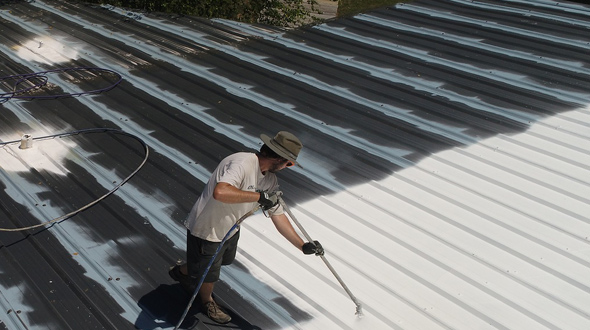 Avoid the unnecessary costs of roof replacement when a roof coating may solve your roofing problems. Knowing how roof coatings are applied to existing roofing systems can help you save money while extending the lifespan of your roof.
atlantacommercialroofingcontractors.com gathered the following information and tips about roof coatings and their advantages when applied to your roofing system.
What Are Roof Coatings?
Roof coatings are monolithic, fully adhered, fluid-applied roofing membranes. Roof coatings are typically applied to cover, protect, and extend the lifespan of a structure's roofing system. Many roof coatings are elastomeric, having elastic properties that allow them to stretch and constrict to their original shape without suffering any damage or deformities.
Are Roof Coatings Worth it?
Yes. Coatings are often seen as an economical way of increasing a roof's reflectivity. Thus, reducing a structure's cooling and heating costs. However, a coating is not always necessary if enough insulation is installed with the original roofing system.
Applying a roof coating can add extra protection to a roofing system's components, adding years or decades to its lifespan.
Considering the lowered air conditioning and the building's roof preservation, applying a roof coating is worth the investment as it will likely pay for itself over time.
What Are Types of Roof Coatings?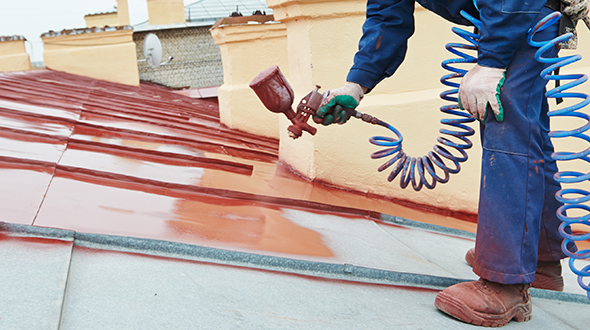 Depending on the type, size, and geographical location of your roofing system, one of the following roof coatings may be applied to your roof:
Metal Roof Coating – Metal roof coatings stop leaks, eliminate stubborn rust, and turn hot metal surfaces into a cooler energy-saver. This could be considered metal roof restoration when preparations are made before this weather and heat-shielding coating is applied.
Note: Commercial metal roof coatings start saving you money immediately. Since it is a reflective roof, it can reduce roof temperatures by 30%. This means that heat isn't transferred to your building, which significantly reduces energy use.
Flat Roof Coating – Flat roofs are typically plagued with leaking, ponding, drainage problems, and rapid deterioration. Whether your current roofing system is hot-tar, modified bitumen, built-up, single-ply, metal, or polyurethane foam, you can apply a roof coating that adds up to 20 more years of useful roof life.
Rubber Roof Coating – Silicone roof coatings are the preferred choice regarding UV protection and resistance to ponding water on rubber roofing systems. They erode much slower than other coatings without becoming brittle or hard.
Extend your existing roof's lifespan while adding energy efficiency and extra protection for your commercial, industrial, agricultural, or residential structure. Rubber roof coatings can efficiently solve current problems and prevent them from recurring.
Elastomeric Roof Coating – These roof coatings are applied to your roofing system as a liquid. After application, the acrylics dry to a seamless, clean coating that significantly extends roof life.
Note: Correctly installed elastomeric roof coatings are practically weatherproof and can keep your property shielded from most weather conditions. The coating material is elastic, so it can expand and contract as the weather and temperature change.
Cool Roof Coating – Cool roof coatings, or cool roof paint (as it is known in the roofing industry), is a coating that's applied to a variety of roofing systems to better reflect sunlight, keeping buildings cooler on the inside and significantly reducing energy costs.
Tip: Reducing a structure's air-conditioning usage will naturally extend its cooling equipment's lifespan, decreasing maintenance costs and saving you even more money.
When considering a roof coating, be mindful that mechanical fixes to your roofing system are always a better choice than coatings to stop leaks or repair cracks. If you discover leaks, cracks, or other damages, replace and repair them before applying a coating or sealant.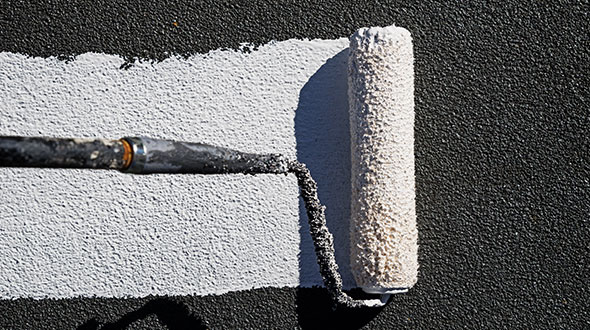 Roof Coating Installation Costs
According to homeadvisor.com, you can expect to pay anywhere between $0.65 and $5 per square foot for an installed roof coating or sealing. Variables can include:
Type of roof
Type of coating or sealant
Condition of the current roof
Geographic location
Coating a flat or low-sloped roof is a common way to extend the life of your roof while reducing maintenance expenses and cutting down on cooling costs.
Note: Costs for roofing material and installation vary significantly and are heavily influenced by demand, supply chain interruptions, inflation, and fuel/transportation expenses.
Roof Coatings
In this article, you discovered essential information and tips about different types of roof coatings and their inherent benefits.
Installing a roof coating over your current roofing system can save you significant money in air conditioning costs and reduce your roof's maintenance needs over time.
Not installing a roof coating can leave your roofing system more vulnerable, in need of constant repairs, and requiring a premature roof replacement.
Sources:
heatisland.lbl.gov/resources/roof-coatings
homeadvisor.com/cost/roofing/seal-a-roof/
energy.gov/energysaver/cool-roofs