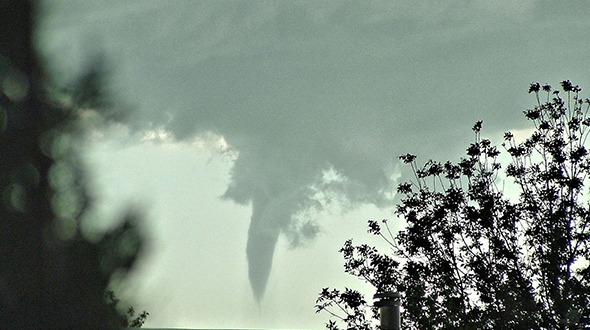 Avoid losing your life or home when a tornado rips through your neighborhood. Knowing how to protect yourself and your home from the destructive forces unleashed by a tornado will help you prevent life-threatening injuries and the loss of your home.
atlantacommercialroofingcontractors.com gathered the following information and tips on how to build or upgrade your home to withstand the intense winds and debris clouds generated by a tornado.
How a Tornado Destroys a Home
EF-2 and EF-3 tornadoes with 111 mph-165 mph winds can obliterate your home in four seconds. Flying debris can shatter windows and create other openings in exterior walls. Once such an opening is made, air enters the home and pressurizes it like over-inflating a balloon, potentially blowing off the roof and collapsing the remaining structure.
Few, if any, above-ground structures can survive an EF-4 or EF-5 tornado with 166 mph and greater winds. Underground shelters are designed and advised for this scale of destructive force.
Ways to Tornado-Proof Your Home
What steps can you take to protect your home from tornadoes? The following precautions, upgrades, and tips (some mandated by building codes in high-risk areas) are similar to those you would take in preparation for hurricane season:
1. Install Impact-Resistant Windows
Install impact-resistant windows. Such windows are considerably more expensive to buy but can be customized to the space and provide better protection than ordinary windows. Depending on where your house is located, these windows may be required by local building codes.
If impact-resistant windows are not an option, you can install hurricane shutters, which can also be completely customized (sizes, materials, and colors) to fit any residence.
Note: Some people believe they should open their windows and doors to normalize interior and exterior pressure during a tornado, but that's the wrong thing to do. Doing so makes the inside of the house pressurized, like inflating a balloon until it pops. The air pushes off the roof or a wall and causes the structure to collapse or be blown away.
Roofing materials should be rated to resist high winds, and the system should be secured to the structure using hurricane clips, which create a stronger (more stable) connection between the roof and the house.
Hurricane clips are required by building codes in hurricane-prone regions. When repairing, upgrading, or replacing your roof, ensure all roof and wall framings are secured with hurricane framing clips. All other materials should be wind-rated and impact resistant.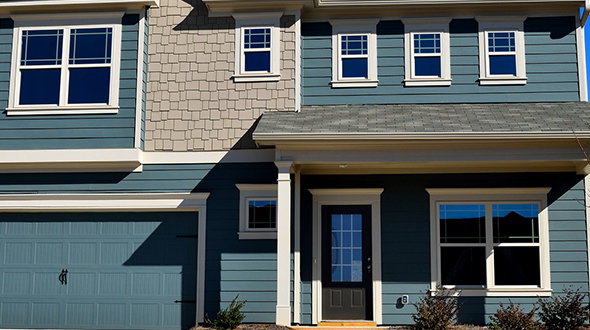 3. Secure the Home's Doors
Ensure that entry doors have a two-inch deadbolt lock mechanism and three hinges, with screws long enough to secure the door and frame to the wall framing. A door secured in this fashion is more likely to resist intense winds and wind-driven debris impacts.
Note: Your garage door, the largest potential opening in your home, is another vulnerable component. If the garage door fails, is left open, or is taken out, it compromises the structure of your home. Install wood or metal reinforcements for added structural support.
4. Install a Storm Shelter
When deciding where to locate or construct a home storm shelter, consider the envelope of the structure. The basement is the safest location, followed by the center of the home (anywhere with little potential for compromised doors and windows).
Note: A tornado's duration and aftermath are entirely unpredictable. Prepare your home shelter by stocking it with essentials like a battery-powered radio, a flashlight, spare batteries, water, and ready-to-eat food like energy bars (anything you don't have to cook).
Tip: Be sure to safely store a few hundred dollars in cash. ATM machines may not work if there is a power failure along with the tornado.
What is the EF Scale?
The Enhanced Fujita Scale or EF Scale, used since February 1, 2007, is used to assign a tornado a 'rating' based on its estimated wind speeds and damage.
When tornado-related damage is surveyed, it is compared to several Damage Indicators (DIs) and Degrees of Damage (DoD) which help better define the range of wind speeds the tornado likely produced. From that, a rating (from EF0 to EF5) is assigned.
| | | | |
| --- | --- | --- | --- |
| SCALE | CLASS | WIND SPEED MPH | DESCRIPTION |
| EF-0 | weak | 65-85 | Gale |
| EF-1 | weak | 86-110 | Moderate |
| EF-2 | strong | 111-135 | Significant |
| EF-3 | strong | 136-165 | Severe |
| EF-4 | violent | 166-200 | Devastating |
| EF-5 | violent | > 200 | Incredible |

Note: Dr. T. Theodore Fujita first introduced The Fujita Scale in the Satellite and Mesometeorology Research Project (SMRP) Research Paper, #91, published in February 1971 and titled, "Proposed Characterization of Tornadoes and Hurricanes by Area and Intensity."
Tornado-Proof House
In this article, you discovered life-saving information and tips on how to build or upgrade your home to resist the destructive forces of tornadoes.
Investing in your home's infrastructure and preparing for severe weather events like tornadoes can keep you and your loved ones out of harm's way and sheltered in a safe location.
Ignoring the potential of a deadly hurricane strike in your neighborhood will leave you unprepared and vulnerable to life-threatening weather conditions and injuries.
Sources:
weather.gov/tae/ef_scale
depts.ttu.edu/nwi/Pubs/FScale/Fujita01.php
basc.pnnl.gov/information/design-windstorm-and-tornado-protection
ready.gov/sites/default/files/2020-04/tornado-protection_selecting-refuge-area-in-buildings.pdf