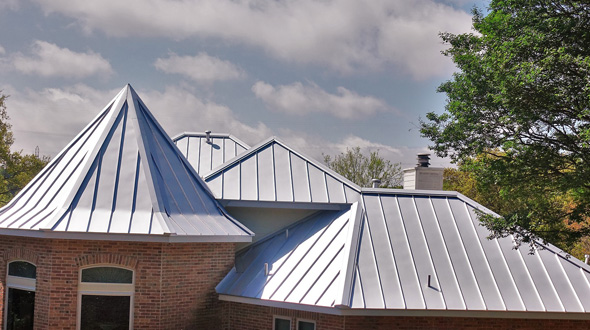 What if it were possible that a roof can last up to 70 years? Whether for a school, apartment building, church, commercial building, or even your home, metal roofing systems will consistently outperform other options as related to its lifespan.
The advantages of metal roofing far outweigh the disadvantages. When the time comes to replace your roof, consider the benefits and getting a quote for a metal roofing system.
Atlanta Commercial Roofing Contractors gathered the following list of advantages and disadvantages for metal roofing, and answers frequently asked questions about it.
Advantages of Metal Roofing
With such options like vertical seams, standing seams, snap lock systems, multiple designs, and a vast selection of colors to choose from, metal roofing has come a long way in the past few decades and has become a popular choice for both commercial and residential buildings.
The following are some of the primary advantages metal roofing can offer:
Durability – When installed and properly maintained, metal roofing can last as long as the structure it covers (40 to 70 years or more). It is also highly resistant to large volumes of rainwater, rot, mold, and mildew.
A maintenance contract is always suggested, as the better maintained a roof is, the longer it will last and more durable it will be.
Product Warranty – While warranties may vary, there are companies that will cover a metal roof installation for up to 50 years.
Fire Resistance – Metal roofing materials are noncombustible and resist approaching fire.
Energy Efficient – As the sun's radiant heat is reflected by metal roofing, less energy is required for air conditioning.
100% Recyclable – While other roofing materials cannot be recycled, all metal roofing material is completely recyclable.
Adaptable – Since metal roofing can come in virtually any shape and boasts a wide color selection, it can be installed to meet the aesthetic needs of any neighborhood or region.
Paint Finishing – With many manufacturers, the finish on your metal roof is typically covered by a 30-year limited warranty.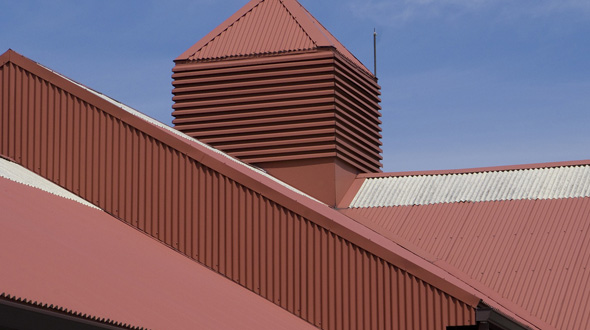 Roof Pitch – Metal roofing materials can be installed at a minimal roof pitch without failing or leaking. Generally, you'll find a 3-by-12 standard in which for each foot, the roof rises 3 inches.
Roof Weight – The weight of the roof to be installed can have a significant impact on the engineering of the support structure below it. Metal roofing weighs on average one-tenth of materials such as conventional or concrete tiles.
Roofing Installation Time – Because metal roofing materials come in multiple large sections or panels, an experienced contractor can install the roof quickly and easily.
Wind and Hail – Metal roofing is an excellent choice in regions that experience high winds and frequent hail storms. Many of these regions will have a gauge (thickness/weight) requirement for the installation of a metal roofing system.
Unexposed Seams – Due to the way metal roofing material interlocks, the seams are often not exposed. This dramatically reduces the chance of moisture reaching the roof deck, and likewise reduces the possibility of having leaks.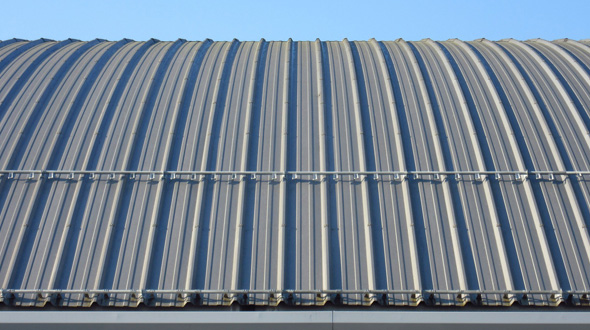 Disadvantages of Metal Roofing
While the advantages of metal roofing are many, there are a few disadvantages. As stated above, metal roofing has come a long way, and manufacturers have made improvements to address much of the following:
Price – Considered the most significant disadvantage, metal roofing can cost from $200 – $600 per 100sq. feet, which is the cost of other premium roofing materials.
This disadvantage is lessened by the durability and longevity of metal roofing. As previously stated, a well installed and maintained metal roofing system can last as long as the structure below it.
Denting – The necessity to go to the roof may come about to service chimneys, satellite dishes, HVAC units, generators, or vent pipes. Depending on how the roof was installed and the support structure below it, the plumber or technician may wind up denting your roof.
Likewise, if the gauge of the roofing is too low in a region prone to hail storms, severe denting and damage may occur during violent hail storms.
Noise – It's metal, and like the drum in a band, it can get loud during rain or hail storms. However, the use of plywood sheathing and sound-reducing insulation during installation is an effective method of noise control.
Poor Installation/Leaks – If a metal roofing system begins to leak, it is likely that the installation was not performed correctly. Exposed fasteners, screws driven in the wrong place, and the use of improper washers to seal them can all result in leaks.
Manufacturer's instructions need to be followed precisely by experienced and professional roofing companies.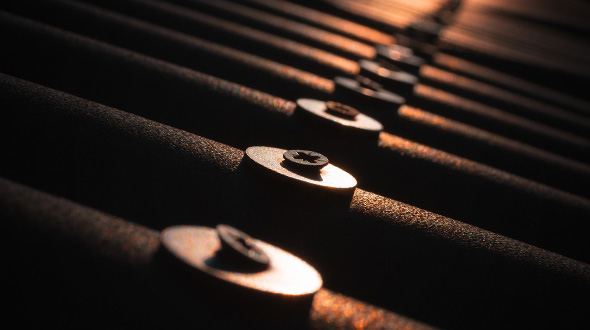 Repairs – Since metal roofing is installed in large panels, replacing damaged panels or parts can be more difficult than doing so with other roofing systems.
Lightning Strikes – There is an urban myth which states that metal roofs are more prone to lightning strikes than other types of roofing. While this assumption is inaccurate, for your peace of mind, a lightning protection company can easily ground your metal roof.
Expansion and Contraction – Metal reacts to the hot and cold temperatures. When it gets hot, metal expands, and when it gets cold, it contracts. This "see-saw" effect can cause fasteners to come loose and eventually fail. However, newer materials are taking this movement into account and using fastening systems which accommodate it.
Insulation – Unless the roofing system is installed over an insulating material, metal roofing offers very little value as an insulator.
Fire – As stated in "advantages," Metal roofing is excellent at resisting approaching fires. The same cannot be said for fires that start within the structure though.
Firemen sometimes have to cut through a roof to effectively extinguish a fire. With metal roofing, this process is much more difficult and time-consuming in a situation where time is of the utmost importance.
People Also Ask
Q: Do Metal Roofs Need Maintenance?
A: Yes – All roofing systems need maintenance. Metal roofing systems, however, do not require maintenance as often as other roofing systems. Periodic inspections can be made to determine the need for any repairs or maintenance.
Q: Are Metal Roofs Noisy?
A: No – When installed with strong sheathing and noise resistant insulation, metal roofing systems can reduce noises from rain, hail, etc. much better than other roofing systems.
Q: What Is The Best Color Of Metal Roof For Energy Savings?
A: Light colored roofing systems reflect more of the sun's heat than darker colors. In fact, a light colored roof can be anywhere from 10 – 50 degrees cooler than a dark one.
Q: Are Metal Roofs More Energy Efficient?
A: Yes – In the summer months, they reflect the heat making it easier to cool the structure. During winter months, these roofing systems (when installed properly) provide excellent insulating properties.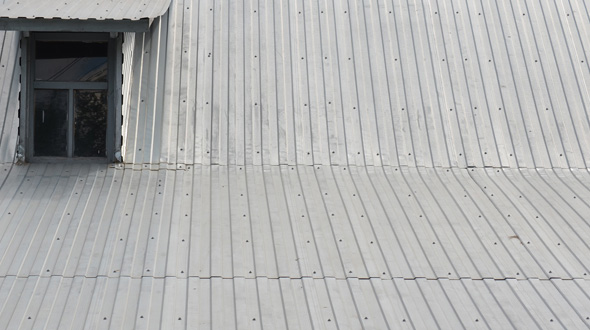 Q: Can You Install A Metal Roof On A Flat Roof?
A: Yes – Metal is one of the most widely used materials for flat roof systems.
Q: What Is The Minimum Pitch For A Corrugated Metal Roof?
A: 5 degrees. Below this number, the roofing system begins to present severe limitations. Manufacturers will typically not provide any guarantees when the slope runs below 5 degrees.
Metal Roofing Systems Last Longer
Schools, churches, apartment buildings, commercial and industrial structures all need a durable and lasting roofing system. Incredibly, metal roofing can deliver up to 70 years of protection to your building.
In this article, you've discovered the advantages and disadvantages of installing a metal roofing system, the importance of a maintenance contract, and found answers to common questions about metal roofing.
A financial commitment of this proportion requires you to weigh advantages, disadvantages, cost, and return on investment. As metal roofing systems offer incredible advantages, including the ability to last the lifetime of the building, they can be one of the best investments for your new roof.
Sources:
http://www.cchrc.org/sites/default/files/docs/metal_roofing.pdf
https://www.remodelingcosts.org/cost-of-standing-seam-metal-roof-plus-pros-and-cons/
https://en.wikipedia.org/wiki/Metal_roof
http://sccomm.uga.edu/recommendations/roofers.html
Atlanta Commercial Roofing Contractors
1075 Peachtree Street NE Ste 3650
Atlanta
,
GA
30309
(404) 220-9288