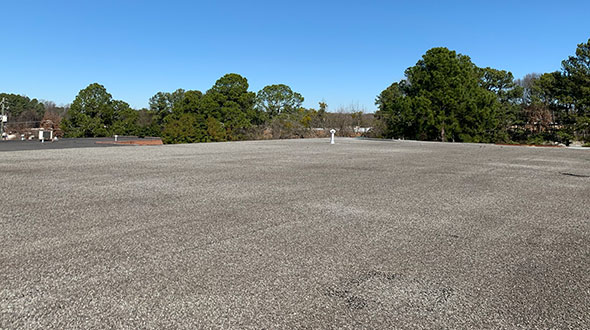 Avoid spending resources on the wrong roofing system for your commercial property, and learn the benefits and properties of a modified bitumen roof. By knowing its advantages and how modified bitumen roofing systems protect your property or commercial building, you can make informed decisions when replacing your existing roofing system.
atlantacommercialroofingcontractors.com gathered the most helpful information about the modified bitumen product, its installation process, the warranty, material cost, frequently asked questions, and the potential problems with modified bitumen roofing systems.
Modified Bitumen – Production Process & Properties
Modified Bitumen (MB) roofing is an asphalt-based roofing system similar to Built-up-Roofing (BUR), designed for structures with low-slope roofs. Modified bitumen roofing membranes appeared first in Europe in the mid-'60s and since have been used in the US and Canada since the mid-'70s.
This roofing system gains its durability from its structure, consisting of a five-layer combination of components, including:
Insulation – Provides thermal resistance and temperature stability.
MB Membranes – These membranes are composed of copolymer with polyester or fiberglass reinforcement.
Modified-Base sheets – These are modified fiberglass base sheets coated with MB asphalt.
Adhesive – Combined with a bonding agent, this waterproofing material is applied hot or cold.
Surface – The surface to an MB roofing system increases weather-resistance and shields the roof from ultraviolet rays.
Note: While EPDM roofing material is made from recycled rubber (tires), modified bitumen is made from asphalt and modifying polymer blends.
There are two principal types of MB roofing, including:
APP (Atactic Polypropylene Bitumen) – The use of a thermoplastic polymer gives the asphalt a plastic-like quality. APP modified bitumen increases UV light protection and has greater water resistance.
When APP is torch-applied, the plastic starts melting at 300°F and can be mopped across the roof's surface, making it easier for roofers to apply.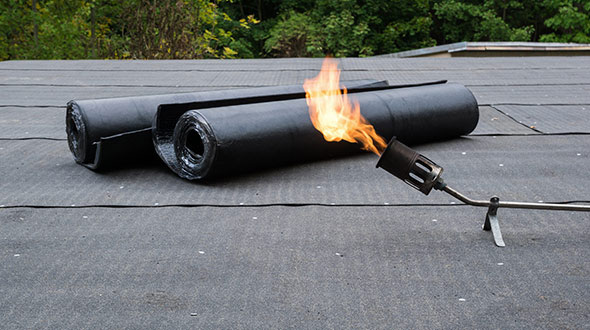 SBS (Styrene-Butadiene Styrene) – The addition of styrene-butadiene styrene to bitumen gives it a synthetic rubber modification. When heated, SBS becomes sticky and fundamentally different, lacking the liquid flow of heated APP. Since SBS doesn't melt the way APP does, it requires less heat, which makes it faster to install.
SBS systems can also be installed using cold adhesives, making it suitable for construction or roofing projects where open flames are prohibited.
Benefits of Modified Bitumen Roofing
Some benefits of a modified bitumen roof include:
Tear-Resistant – The principal advantage that MB roofing has over other commercial roofing systems is its tear resistance. This is due to the combination of fiberglass and/or polyester reinforcement layers under its surface. This trait makes modified bitumen roofing

an ideal choice for low-slope roofing with high foot traffic or rooftop equipment

.
Flexible – Flexible low-slope roofing is impact resistant and highly resistant to significant temperature shifts. MB can expand and contract without deforming or losing its structure.
Energy-Efficient – MB can be installed with a "cool roof" treatment like solar reflectance, resulting in reduced indoor cooling requirements.
Waterproof – Bitumen is naturally waterproof, and on a well-installed roof, MB is one of the most preferred commercial roofing choices.
Repair And Maintenance – Repair on an MB roofing system can be done quickly and efficiently using bitumen patches. Low-slope roofing failures usually occur on seals and flashing. However, with proper installation and a roofing maintenance program, such issues should be minimized.

Modified Bitumen Roofing Installation and Warranty
The installation of your modified bitumen roofing system, when properly installed, is a fast, non-intrusive process.
A modified bitumen roofing system can be installed using the torch method, asphalts, or cold adhesives. A standard SBS modified bitumen roof system is a two-ply system applied in rolls overlapping the edge of the previous roll. The following can influence the end result of the roofing system's installation:
Proper roof slope for efficient draining
Correct installation and fastening of insulation (when used) to deter bulging and/or sagging
Correct application of adhesives (when used) to the substrate
Proper overlapping of MB material
Drip edge seamlessly connected around the perimeter of the roof
In addition to high-quality installation, a warranty is advantageous and very valuable when the installation or components of your roof fail. There are two types of warranties you should consider when installing or replacing this or any roofing system:
Contractor's Warranty – This warranty covers the workmanship and installation of your roofing system by the contractor. The contractor can guarantee their work for a set time period (3, 5, 10-year period, etc.), or for the lifetime of the roofing system. A contractor's warranty should contain the following:
A complete list of covered items
What actions or events may void the warranty
When/If the warranty expires
The above installation and warranty information underscore the necessity to thoroughly vet contractors before starting roofing installation/replacement.
Note: There is no industry standard for the duration of a contractor's workmanship warranty.
Manufacturer's Warranty – This warranty covers defects in the material used in your roofing system. Once installed, your contractor should provide you with a warranty certificate(s).
An example of material failure would be premature seam failure or blistering. Unless it is determined to result from poor or improper installation, a claim should be leveraged against the manufacturer's warranty.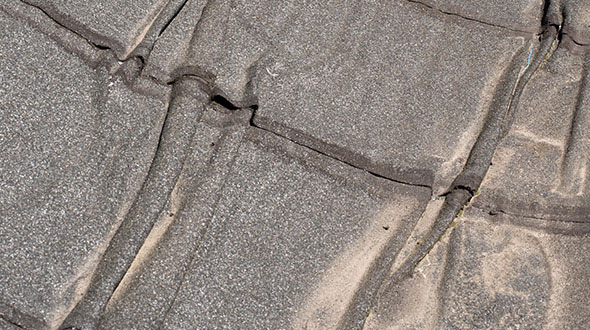 Modified Bitumen Roofing Cost
Collecting estimates for any roofing system can be a daunting experience. There can often be a significant disparity from one quote to the next, which validates the absolute necessity to collect at least three bids from reputable roofing contractors.
Prices for installing a modified bitumen roof system vary depending on the size/complexity of the roof, time of year, material brand and quality, method of installation, and the amount of labor required. You can expect to see pricing in the following ranges:
Tear-off – Unless your new roof is installed over your current roof, the old one will be removed.
This process can range between $100 and $200 per square (1 square = 100 square feet).
Tip: If this cost ends up bundled in material and installation pricing. Request that it be detailed separately in your estimate(s).
Modified Bitumen Material – will fall between $150 and $300 per square
Modified Bitumen Installation (Labor) – can range from $220 to $350 per square
Maintenance Contract – Commercial roofing maintenance program prices vary from contractor to contractor
Using the price ranges above, you can expect to see bids, including tear-off, material, and installation for a 1,000 square foot roof between $4,700 and $8,500.
Tip: In the roofing industry, installations are typically more expensive in late spring and summer months. Try to schedule your installation for the off-peak season (early spring and fall) if/when possible.
Disclaimer: The above prices are in no way meant to represent actual bid values and only serve as estimated market price ranges.
Modified Bitumen Roofing Problems
Most problems occurring with modified bitumen roofing systems can be traced back to the roof's installation. The following are commonly reported issues:
Improper roof slope causing water pooling and degradation of materials
Seam separation/defects from improper application of adhesives
Insulation improperly fastened or installed
Blisters that develop when moisture penetrates the material
Incorrectly installed flashing
Membrane tears/punctures from wind-driven debris
You can avoid problems caused by a poor installation by contracting a roofing company with extensive training and experience with modified bitumen roofing systems.
Tip: Always request references from roofing contractors and followup with those references.
People Also Ask
Can you walk on a modified bitumen roofing system?
Yes. Well-installed MB roofing is designed to withstand foot traffic. For areas that support building equipment or heavier foot traffic, the roof can be appropriately reinforced.
How long do modified bitumen roofs last?
Up to 20 years. The life of your roofing system is significantly influenced by the quality of its installation and maintenance program.
Can modified bitumen roofs be repaired?
Yes. When modified bitumen roofs are damaged, there are several ways they can be efficiently repaired.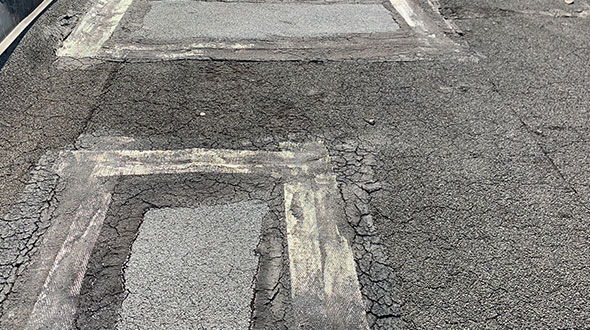 Modified Bitumen Information Revealed
In this article, you discovered information on the definition, installation, cost, warranty, and potential issues with modified bitumen roofing systems.
By knowing how modified bitumen roofing systems are made, installed, and maintained, you can make informed decisions about having it installed on your building.
When you allow yourself to rely solely on what one roofing contractor says or presents, you are leaving yourself vulnerable to costly repairs after having inferior quality materials poorly installed on your building.
Sources:
asphaltroofing.org/cold-adhesive-sbs-modified-bitumen-roofing-applications/
remodelingexpense.com/costs/cost-of-modified-bitumen-roof/
homeadvisor.com/cost/roofing/flat-roof/
citeseerx.ist.psu.edu/viewdoc/download?doi=10.1.1.4.1966&rep=rep1&type=pdf