Avoid investing your money in the wrong roofing system. Each roofing system has advantages and disadvantages you should be aware of before making this capital investment.
atlantacommercialroofingcontractors.com gathered detailed information about three of the common commercial roofing systems, and their benefits and disadvantages.
Metal Roofing System Pros and Cons
Metal roofing systems are built to last, and depending on your region and property type, could be the only roofing system your commercial building may ever need. Here are some of the pros and cons to consider before committing to a metal roof.
Metal roofing system pros:
Longevity – Correctly installed and maintained, metal roofing can last as long as the building it covers (70 years or more).
Weather Resistant – Metal roofing It is highly resistant to rainwater, rot, mold, mildew, and can withstand immense pressure from accumulated snowfall.
Product Warranty – While warranties may vary, some companies will cover a metal roof installation for up to 50 years.
Fire Resistant – Metal roofing materials are noncombustible and resist fire.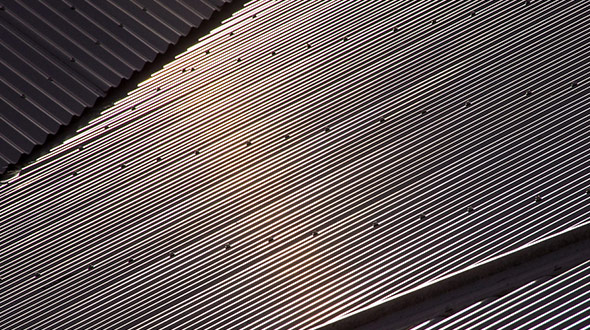 Some metal roofing cons include:
Cost – Probably the most significant disadvantage, a metal roofing system can cost anywhere from $900 – $1,200 per 100 sq. feet.*
When the durability and longevity of metal roofing are factored in, the investment is more than justified. As previously stated, a properly installed and maintained metal roofing system can last as long as the structure below it.
Denting – When the necessity arises to service chimneys, satellite dishes, HVAC units, or generators, the serviceman or technician may dent your roof.
Likewise, if the gauge (thickness) of the roofing is too low in a region prone to hail storms, severe denting can occur during violent hail storms.
Noise – Metal roofing systems without sufficient insulation can get loud during rain or hail storms.
If you're leaning towards a metal roof, read Metal Roofing Advantages and Disadvantages for a more in-depth article.
Built-Up Roofing System Pros and Cons
For more than a century, built-up roofing (BUR) systems have been a popular choice in the U.S. for commercial roofing systems.
This system is comprised of alternating layers of tar or asphalt and support materials layered on the roof, with the final one consisting of stone or gravel.
Built-up roofing system pros:
Longevity – A BUR system can last 30 to 40 years when properly installed and maintained.
Waterproof – There are no joints or seams; the roofing system is one continuous surface.
Low-Maintenance – After installation, minimal attention and servicing are required, as BUR systems are installed in large sheets with a low profile as compared to other roofing systems.
Cost – Installation and material costs can range between $500 to $800 per 100 sq. feet* or more depending on the number of layers and materials you choose.
UV Protection – BUR systems provide excellent ultra-violet protection, which reduces roof temperatures and prevents extreme temperature fluctuations within the building. UV protection also prevents the drying out and break down of roofing system materials.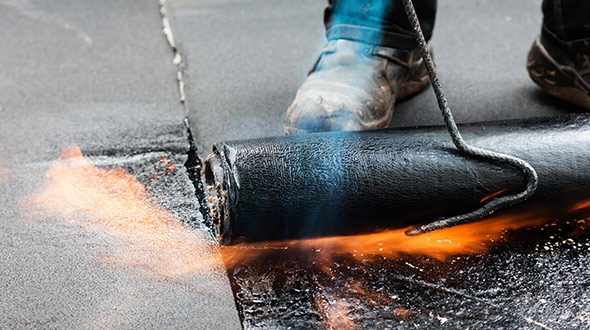 Some built-up roofing cons include:
Safety – During installation, hazardous fumes and vapors are present.
Weight – BUR systems add significant weight to a building's structure.
Learn more about commercial roof load-bearing capacity by reading atlantacommercialroofingcontractors.com/what-is-commercial-roof-load-why-you-need-to-know/
TPO Roofing System Pros and Cons
Thermoplastic Polyolefin (TPO) is a single-ply roofing system fully adhered and mechanically attached or ballasted to a roof.
TPO roofing system pros:
Longevity – TPO roofing has a (current) life expectancy of about 30 years. However, this roofing system has only been available for 30 years, and with significant improvements over the decades, TPO may last much longer.
Wind Resistant – When properly installed, TPO roofing systems receive high wind ratings.
Installation – TPO roofing system installation, when completed by an experienced roofing company, is fast, clean, and practically nonintrusive.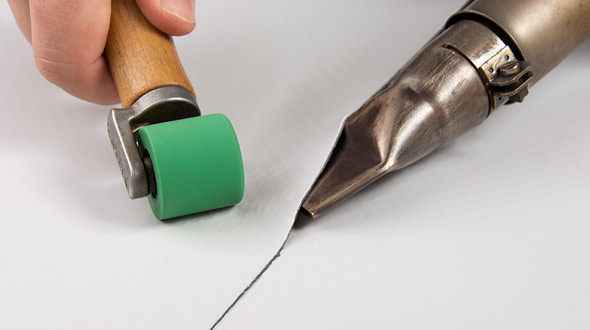 TPO roofing cons include:
Pooling Water – When the roof slope is too low, water may pool and cause an acceleration of the material's degradation.
Cost – Installation and material costs can range between $600 to $1,400 per 100 sq. feet* or more depending on tear-off costs and selected materials.
Seam Separation – Poor seam welding can result in seam separation, allowing water into the structure.
Read more about TPO roofing systems at atlantacommercialroofingcontractors.com/tpo-roofing-system-explained/
Commercial Roofing Types
Before committing thousands of dollars for a new roof, take the time to familiarize yourself with different types of available roofing systems for your building.
In this article, you discovered information about 3 commercial roofing system options, their durability, price ranges, and other essential pros and cons.
Avoid making a poor decision when selecting a roofing system for your commercial building. Learn as much as you can about available commercial roofing systems in your area, and your local roofers,
*Costs related to roofing materials, tear-offs, and installations mentioned in this article are approximations NOT QUOTES. Visit atlantacommercialroofingcontractors.com for further information.
Sources:
everybodyneedsaroof.com/thermoplastic-membranes
asphaltroofing.org/bur-multi-ply-built-up-roofing/
cchrc.org/sites/default/files/docs/metal_roofing.pdf