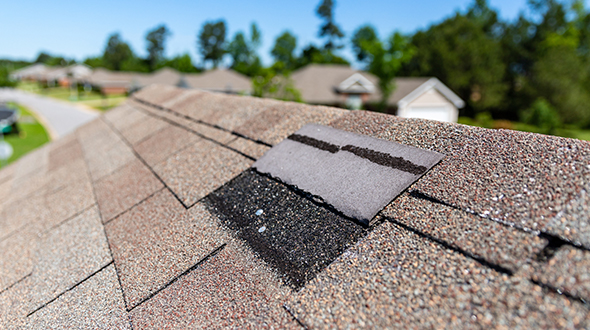 Avoid spending tens of thousands of dollars on a roof replacement when you may only need repairs. Knowing what damages to look for when deciding on a repair or replacement can help you make well-informed decisions.
atlantacommercialroofingcontractors.com gathered the following information to help you identify roof damage requiring repairs and those more extensive damages justifying full replacement.
Is It Better to Repair or Replace a Roof?
Answering the following questions will help you develop a more financially sensible plan.
How Long will you stay in the Home – If you're not in your long-term family home but plan on being there for a while, it may not be reasonable to replace your roof. However, when it's time to sell your home, you could find it hard to sell depending on the age, upkeep, and condition of your roof.
If your plan is to stay in your home and your roof has already had several repairs, or it's somewhere between 15 and 20 years old, have a professional roofer inspect it. Find out if there is anything that needs attention. If everything looks OK, I would highly suggest that you get on a regular maintenance schedule, where an expert gets on your roof to thoroughly inspect it at least once a year, if not twice. This will ensure that you get the full life expectancy out of your roof.
If it is your plan to sell your home in the near future and your roof is showing signs of damage or just looks bad, you'll have a significantly hard time selling it. If this is the case, then installing a new roof may be your best option. Once you put it on the market, the curb appeal of a new roof will help sell your house. Upon selling, you'll get a return of approximately 60 to 68% of the replacement cost.
How old is your roof? – For asphalt shingles, there are a lot of variables to consider when deciding to repair or replace your roof, and its age is of the most critical factors. If you are unsure of its age, a local roofing contractor can tell you how much life you have left in it.
Telling signs of an aging roofing system may include:
Shingles are missing
Shingles curling or buckling
Shingles are bald
Moss covering large areas of your roof
Roof sagging
Blistering shingles
Shingle granules collecting in the gutter
Make sure to have multiple roofing companies come out to inspect your roof and talk with you. Homeowners are often told that their roof needs to be replaced or a ridiculously large number of expensive repairs when they actually may not. There are those that will sell you a roof whether you need it or not, regardless of the condition or the age of your roof.
I Can't Afford a Replacement Now – For some, a roof replacement just isn't possible because it's not in their budget. In such cases, your roofer may be able to work with you, making necessary repairs until your budget can handle it.
Should I Have My Roof Repaired – Yes. Repairing your roof is going to be the most cost-effective way to resolve the problems you are experiencing. These repairs can significantly extend the life expectancy of an older roof and get you through until it's time to tear off your old one and replace it with a new roofing system.
If you are experiencing any of the following, roof repair should be at the top of your priorities:
Air Gun Nailing Mistakes
Nail pops
Leaks around the Pipe Boot
Leaks Around the Chimney
Missing shingles
Fascia Replacement
Punctures and Holes
Cracking and Blistering
Poor Installation
Tree Damage
Weather Damage
Granule Loss
Splitting
Shrinkage
Poor Maintenance
Ventilation Problems
As reported by Forbes, a minor roof repair could run between $150 to $1,500 and between $1,500 and $7,000 for a major repair.
According to HomeAdvisor, to reroof a house will cost a nationwide average of $8,429, with the majority of homeowners spending between $5,580 and $11,517. Prices for roof repair, and roof replacement will fluctuate depending on the following:
Size
Roofing Material
Pitch
How the Roofing System is Into
Products and Supplies
Code Requirements
Penetrations, Chimneys, Skylights, etc.
Note: Prices for metals, wood, and other components used in roofing that are considered commodities may increase or decrease depending on the current market values.
Roof Repair Benefits
It's a lot less expensive to repair a roof than it is to replace one. There are components on your roof that don't last as long as your roof system does.
Roof repairs help you get more life out of your roof.
Ask your roofer what types of repairs you can do instead of replacing it. If there's no reason to replace it, add to the life of your roof with a repair. It's that simple.
Roof Replacement Benefits
A new roof increases your home's curb appeal.
A new roof composes 40% of your home's curb appeal. Curb appeal is going to get your house noticed either negatively or positively. With a replacement, it will fall in the positive category.
When you have an old, tired-looking roof and put on a new one, the house will look like a newer build. The replacement will make your house look sharp and well taken care of.
A roof replacement gives you peace of mind.
Once you replace your roof, you can go out of town without constantly checking the weather back home. There won't be any damages or leaks to greet you when you walk back in the door.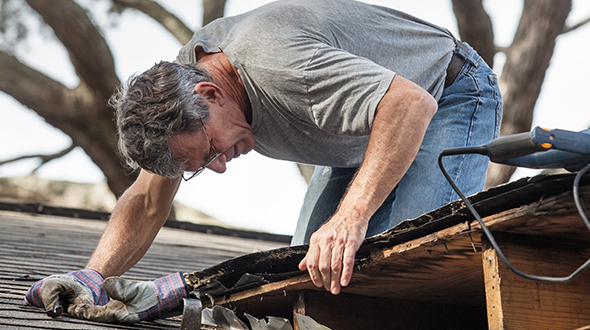 Note: When you should replace your roof depends on several factors, such as wear and age, the quality of the installation, and your home's vulnerability to damage in the future.
Roof Repair or Replacement
In this article, you discovered the differences between roof repair and roof replacement. How each can benefit you, what price range you can expect to pay, the benefit of having a maintenance program.
When deciding on making repairs or replacing your roof in its entirety, knowing key roofing points and information will help you talk to your roofing professionals when requesting quotes for their services.
Not knowing how to protect your interests or request the right services for roof repair or replacement can leave you vulnerable to unethical roofers only wanting to do "big."
Sources:
consumerreports.org/cro/roofing/buying-guide/index.htm
homeadvisor.com/cost/roofing/install-a-roof/
forbes.com/advisor/home-improvement/how-much-does-roof-repair-cost/
naahq.org/news-publications/when-it-time-replace-roof