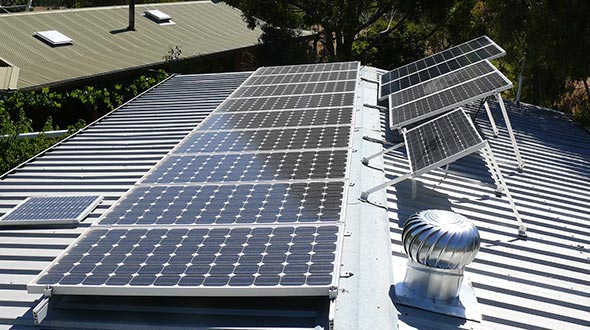 Avoid paying expensive and erratic electric bills for the operation of your commercial building. Knowing the benefits of installing solar panels on your building will help you make informed decisions when it's time to switch to solar.
atlantacommercialroofingcontractors.com gathered information on the pros and cons of installing solar panels on your commercial building and answers some frequently asked questions.
Solar Panels for Commercial Buildings
Your commercial building's flat or sloped roof could be equipped with solar panels, transforming that space into a revenue saving "powerhouse." Here are the pros of installing solar panels on your commercial building:
Solar Panels Help Your Business Save Money – While installing and setting up solar panels can be quite expensive, these costs are quickly offset by incurring dramatically reduced electricity costs and maintenance fees.
How Much Will Solar Power Reduce My Electric Bill – According to energysage.com commercial property owners can reduce their electricity bill by nearly 90% after installing solar panels.
Converting Your Building to Solar Brings Immediate Marketing Benefits – Installing solar panels on your building allows you to include "green company" in your marketing strategy and branding. As more countries encourage their populations to be less dependent on fossil fuels, your solar panels will make your business a part of a global movement.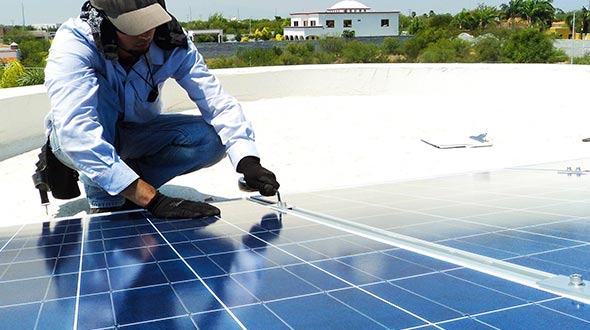 Immediately Increase Your Property Value – Once you install solar panels on your commercial building (or in a solar panel garden), your property value instantly increases.
Solar panel capacity is measured in kilowatts, and each kilowatt can be valued in the thousands of dollars. Depending on the capacity of your solar system, your commercial property value may significantly increase. These values vary from state to state.
Installing Solar Panels Unlocks Access to Financial Benefits – The cost of switching to solar energy has dramatically decreased over the past decade and continues to fall as the market expands. Installation and equipment costs can also be offset by state and federal tax credits, rebates, and incentives.
Find policies and incentives by state at dsireusa.org and learn more about federal tax credits at energystar.gov/about/federal_tax_credits/solar_energy_systems
Billing Tenants for Their Energy Usage – If your commercial building has tenants, you can use virtual net metering (VNM) to generate extra revenue by recording the amount of solar energy they use and billing them accordingly.
Solar Panel Garden – In cases where your roof (flat or sloped) is too small or cannot support the extra load, solar panels can be installed in a field, parking lot, or other ground space. These ground-level installations are referred to as solar panel gardens.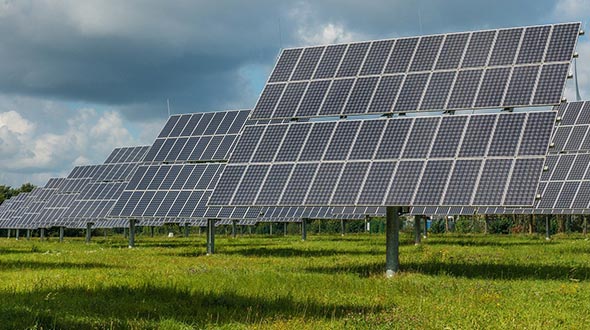 Be aware that additional weight / roof load can be problematic and must be considered, read What is Your Commercial Roof Load and Why You Need to Know to determine if adding a solar panel garden is feasible.
Further Energy Savings – If your solar panels produce more energy than your building uses, that excess energy can be stored in batteries or fed back into the power grid. When excess energy is fed back to the power grid, your utility bill receives a credit calculated by the number of kilowatt-hours you gave back.
How Long Do Commercial Solar Panels Last – Commercial solar panels generally have a lifespan of 25 to 30 years. Even after this time, the panels do not stop producing energy. They produce significantly less energy than they did in their prime.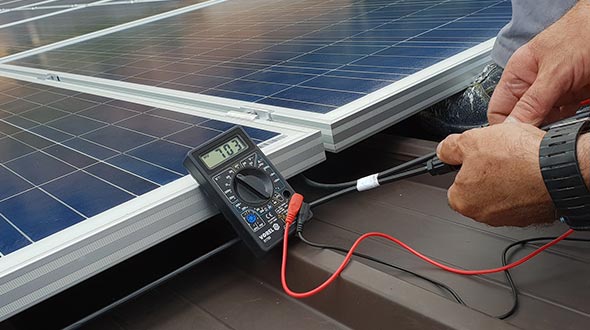 Commercial Solar Panel Installation Cons
While there are numerous advantages to installing solar panels, there are some potential disadvantages, which include:
How Much Do Commercial Solar Panels Cost – While your initial investment can be recovered within a five year period or less, solar panel installation is relatively expensive.
Before incentives and/or rebates, a commercial solar panel system installation can range in cost from $50,000 (25kW) to $200,000 (100kW) and $500,000 (250kW). These costs vary depending on material quality and installation labor.
Note: When installing a solar panel system on an existing structure, the electrical system will have to be reconfigured. In some cases, your roof may need to be upgraded, reinforced, or replaced to support the system.
Weather Systems – Solar energy can still be collected on cloudy or rainy days. However, solar system efficiency (dependent on sunlight) is dramatically reduced during these times.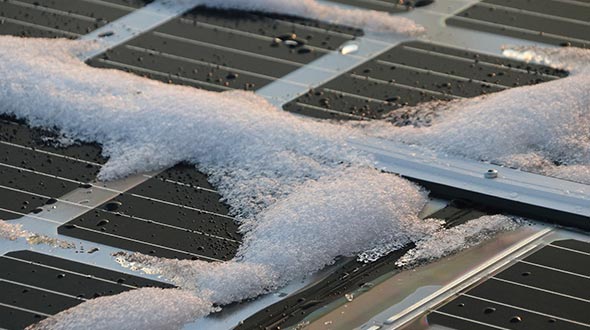 Space Requirement – The more energy you want to produce, the more solar panels you will have to install. If the number of solar panels you need exceeds your roof's size or load capacity, you may have to split the system between your roof and a solar panel garden.
Location Obstructions – Your system may not reach its intended capacity if your location is surrounded by tall trees or buildings.
Before installing a solar panel system, you should carefully consider the system's pros and cons, have a technician perform a full review of your building, electricity requirements, and look for any obstacles that may render your investment a poor one.
Rooftop Solar Panels
In this article, you discovered significant advantages and disadvantages of installing solar panels on your commercial building's roof.
Installing a solar power system can benefit your company's image, reduce your dependency on natural resources, and save significant amounts of money over time.
Your reluctance to convert to solar power will result in your company's complete dependence on your local power grid and the ever more expensive energy it provides.
Sources:
cpuc.ca.gov/general.aspx?id=5408
sfenvironment.org/sites/default/files/fliers/files/solar_at_multitenant_buildings-virtual_net_metering.pdf
energy.gov/sites/prod/files/2020/01/f70/Guide%20to%20the%20Federal%20Investment%20Tax%20Credit%20for%20Commercial%20Solar%20PV.pdf