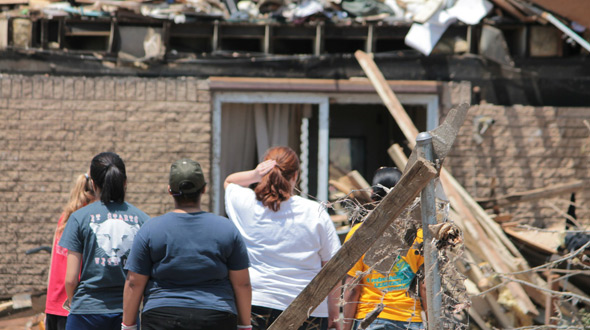 Is your commercial roof damaged and leaking from storm damage? When the time comes for the insurance company to pay for repairs, know how storms damage commercial roofing to ensure you are getting your maximum payout.
atlantacommercialroofingcontractors.com gathered information on damages caused by different weather events and how to stop your insurance company from underpaying your claim.
Storms and Commercial Roof Damage
Depending on the severity and duration of a storm, the extent of damages to your commercial roof may vary. The following are types of storms that can cause catastrophic losses:
Roof Damage from Rain Storms
Heavy rainstorms put a roof to the test, exposing its vulnerabilities and flaws. During a rainstorm, be on the lookout for:
• Leaks in the corners of the structure.
• Water coming through vents, skylights, and other roof penetrations.
• Wet spots in the ceiling.
If there is a problem with the roof's drainage, water may pool on the roof, adding weight to the roofing system and accelerating deterioration of roofing materials, leading to the failure of the roofing system.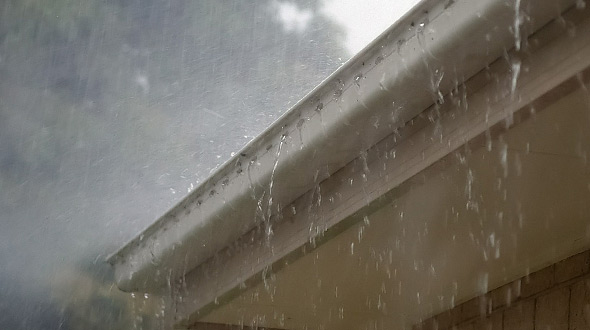 Roof Damage from Wind Storms
Wind storms are capable of causing both hidden and visible damage to your roofing system, such as:
• Lift (This is suction created as wind blows over your roof).
• Blowing equipment over, breaking, puncturing, or tearing portions of the roofing material.
• Blowing damaging debris onto and across the roof.
• Causing overhanging trees to scrape or fall onto the roof.
The majority of wind damage doesn't become evident until the next rainfall, when water leaks through the roofing system.
Roof Damage from Hail Storms
Hail storms are fast, violent, and accompanied by high wind. They can cause significant damage to roofing systems, structures, vegetation, vehicles, or anything left unsheltered. After a hail storm has passed look for the following:
• Pockmarks, dents, and cracks along seams, fastening points, and flashing.
• Damage to gutters and downspouts. Large cracks or dents can compromise their function.
• Damage to equipment mounts and roof penetrations.
• Fallen trees, branches, and other debris potentially cracking, puncturing, or tearing roofing material.
• Significant accumulations of hail adding weight to the roofing system.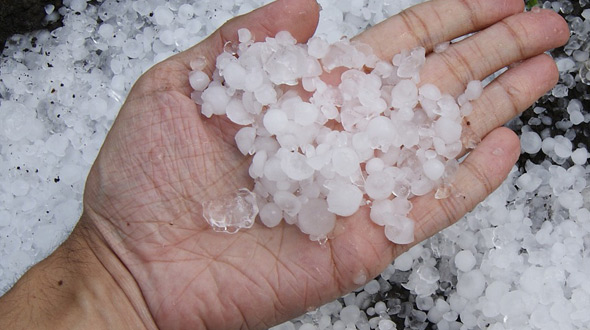 Pea-sized or marble-sized hail may not cause any obvious damage. Sizes reaching that of a dime or a quarter can cause significant damage. However, when the size of the hail reaches that of a golf ball or a softball, catastrophic damages are likely to occur.
Roof Damage from Tornadoes
The concentrated winds and updraft of a tornado are capable of turning any, and everything unanchored into a lethal projectile. Rated on the Enhanced Fujita (EF) scale from 0 to 5, tornadoes may cause the following damages:
• Partial or complete removal of a roofing system.
• Lift and damage to membrane seals and flashing.
• Gutters and downspouts ripped away.
• Equipment unanchored and dragged across the roof.
• Projectiles (trees, road signs, vehicles, etc.) thrust onto the roof.
• Partial or total destruction of the building.
To learn more about the Enhanced Fujita scale, visit spc.noaa.gov/efscale/
Roof Damage from Hurricanes
Potentially the most damaging of storms are hurricanes. They pack the winds of tornadoes with the destructive force of the heaviest of rain storms.
• Partial or complete removal of a roofing system with catastrophic flooding as a result.
• Lift and damage to membrane seals and flashing.
• Gutters and downspouts overloaded and potentially ripped away.
• Wind-driven rain can be forced beneath roofing material and flashings causing interior damage and leaks without damaging the roof covering.
• Projectiles can be thrust onto the roof.
• Blockages in the draining system may cause water to accumulate, overloading the roof weight capacity, and collapsing it.
Hurricanes are ranked from Category 1, with winds of 74-95 mph, to Category 5, with winds of 157 mph or more. Category 5 hurricanes are capable of severely damaging a city's entire infrastructure, making areas uninhabitable for weeks or even months.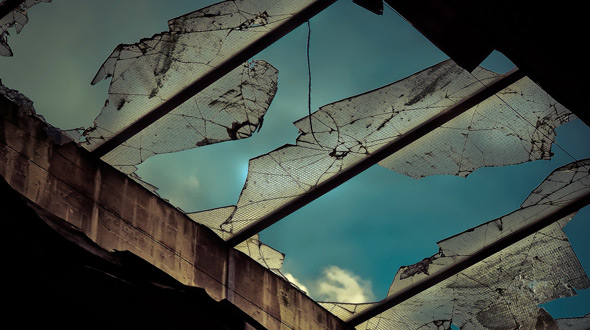 Visit the Storm Prediction Center, as preemptive action and awareness of hurricanes, tornadoes, and storms can help protect and prepare your property for violent weather damage.
Roof Damage from Extreme Heat Waves
Heat waves can cause a particular type of roof damage. Extreme or prolonged periods of heat can cause roofing material to expand, and as temperatures cool at night, the expanded materials contract. As this process of expansion and contraction repeats, the following damages may occur:
• Cracking or loss of flashing seal
• Opening of seams or welds
• Tearing, shrinking, or pulling apart of roofing membranes
While all roofing systems are vulnerable to shrinkage, TPO, EPDM, and some PVC membrane systems are particularly susceptible and suffer more significant heat-related damages.
Learn more about this and "5 Must Know Commercial Roofing Problems and Solutions"
at atlantacommercialroofingcontractors.com/5-must-know-commercial-roofing-problems-solutions/
Insurance Claims after Storm Damage
After a storm has passed and damages are detected, it's time to act. The longer you wait to file a claim, the more you risk having your claim underpaid or denied.
The following will help you file an insurance claim for a storm-damaged commercial roof:
Documentation of the damage – Hire a professional roofing contractor to perform a roofing system inspection, and document every aspect of the damage with photos, video, and narrative descriptions.
Filing the claim – Once the inspection is complete, the roofer who performed the inspection can help you assemble the claim and submit it. This part of the process is straightforward and can usually be completed on your insurer's website or by contacting a claims representative.
Inspection by the insurer's adjuster – your insurer will send their own adjuster to evaluate the damage. When possible, invite your roofer to the inspection site to advocate and represent your interest to the insurance adjuster.
Approval, refusal, and negotiations – if the insurance company's adjuster approves your claim, you will receive damage compensation. If refused or only partially approved, your roofer or a public insurance adjuster can help you negotiate better terms before reaching a final settlement.
Commercial Roof Repair after Storm Damage
Knowing how storms damage a roof can help you file your claim and recover the money necessary to restore your property correctly.
In this article, you discovered how different severe weather events can damage a roofing system, the process for filing an insurance claim, and how to prevent your insurance company from underpaying your claim.
If your commercial roofing system is leaking after a storm, identify all potential damages, and promptly file your claim to ensure the proper repair and settlement is achieved.
Sources:
https://www.spc.noaa.gov/efscale/
https://www.weather.gov/mfl/saffirsimpson
http://citeseerx.ist.psu.edu/viewdoc/download?doi=10.1.1.558.184&rep=rep1&type=pdf