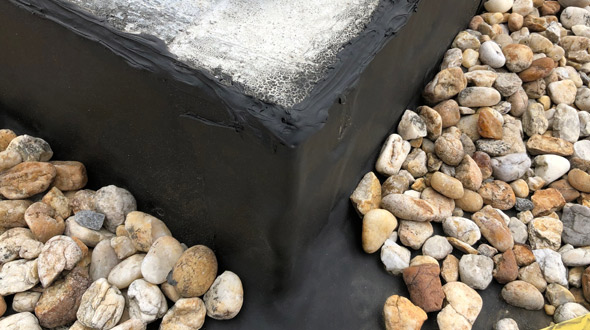 Don't let wet spots on your ceiling or streaks down your wall make your property look ugly and worth less money. Your leaky roof is often times the result of a failure in the roofing system's flashing.
Without sufficient flashing, a roofing system cannot repel the elements, will ultimately fail and begin to leak. When installing a new roof or repairing a current one, it is essential that the flashing be compatible with the roofing system and be installed properly.
atlantacommercialroofingcontractors.com examines the purpose, types, and application of flashing used in commercial roofing systems.
What Is Flashing?
Flashing is a layer of waterproof material that keeps water from penetrating your roofing system at joints, vents, exhausts or appliance connection points. While caulk is used to fill small gaps around doors and windows, it has an entirely different purpose, and shouldn't be confused with flashing.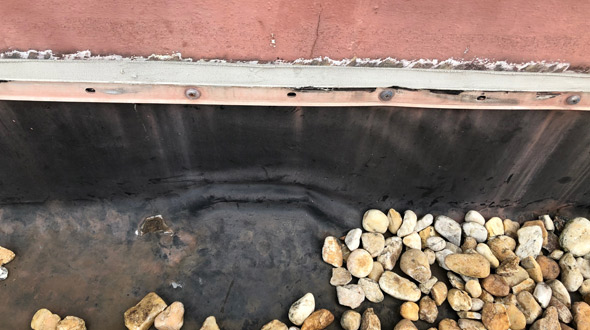 Water naturally runs downhill to the lowest point of gravity. For flashing to work correctly, all seams must be installed facing downhill. Properly installed, the upper edge of flashing should be covered or protected by tarpaper, TPO, or whichever membrane or material is used in the roofing system.
Flashing Material
Numerous materials can be applied as flashing. The two criteria commonly used when determining which material to use are:
1 – The material won't degrade from being in contact with other incompatible material.
2 – The material is impermeable to water.
The following materials are commonly used as flashing in both commercial and residential roofing systems:
Plastic and Rubber – While primarily used as caulk, plastic and rubber are excellent water-repellants when applied as flashing.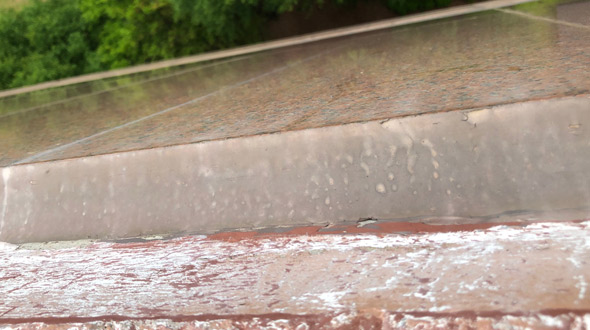 PVC and TPO – Both PVC and TPO are popular types of roofing systems, and the same material can be used as incredibly effective and durable flashing.
Roofing Felt – Asphalt-saturated roofing felt can be used as flashing, but is not as durable as other options.
Aluminum – Durable, easy to form, and somewhat inexpensive. When left in contact with alkaline material like concrete, or treated lumber, aluminum flashing will corrode.
Galvanized Steel – Not as durable as other options, but it is very inexpensive.
Copper and Lead-Coated Copper – More difficult to bend and form than aluminum, but much more durable. Copper flashing is typically used during the installation of solar panel piping, wiring and sensor connections.
Lead – Because of its super-flexibility and durability, lead is a popular choice in the roofing industry (a favorite of masons for chimney flashing). There are potential health risks, but the use of lead flashing continues, and when properly installed can last for up to 200 years.
While most flashing is sold in rolls that vary in thicknesses and can be cut, bent, and shaped at the job site. Pre-molded flashings are also available for standard-sized exhaust pipes, vents, and fittings.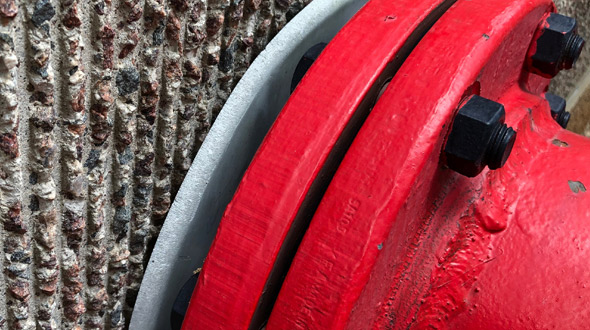 Flashing Types for Roofing Systems
The following are the names and descriptions of different types of flashing used in commercial and residential roofing systems:
Ridge Flashing – This flashing is applied at the "peak" of a dually sloped roof.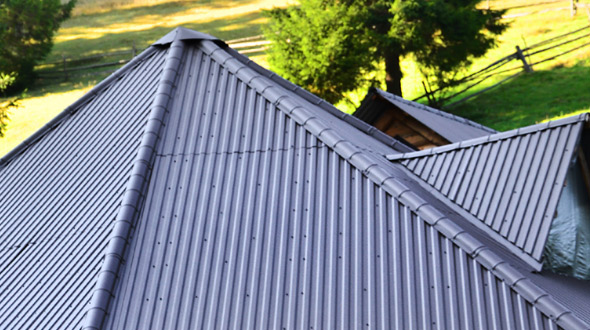 Bargeboard – This is the flashing along sloped roof edges.
Wall Abutment – This is where roof edges meet walls.
Corner Flashing – This flashing is used where walls meet, and it runs from roof to floor.
Inverted Corner Flashing – This flashing is used when the corner of a structure meets a wall. Instead of wrapping around the corner as in "corner flashing," it is applied to the structure and the wall in an "inverted corner" from roof to floor.
Eaves Flashing – This flashing runs along the length of flat edges of a roofing system.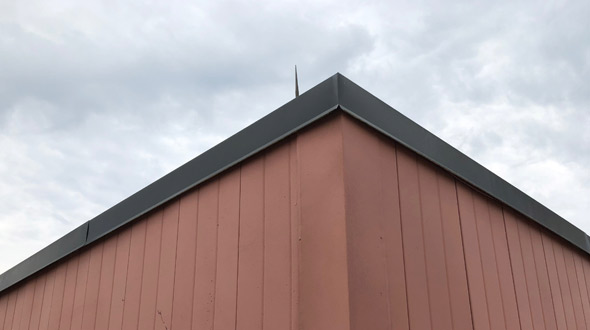 Drip Cill Flashing – This is the flashing which runs along the lower perimeter (at the foundation).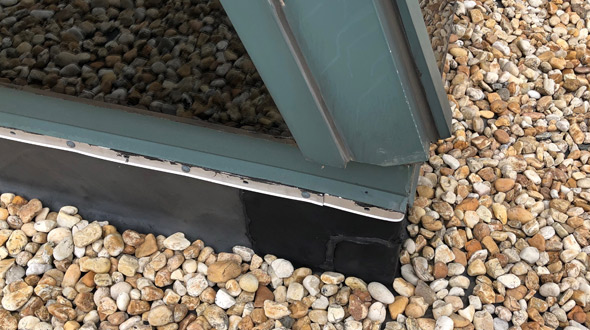 Valley Flashing – The point where two downward slopes meet is where valley flashing is applied.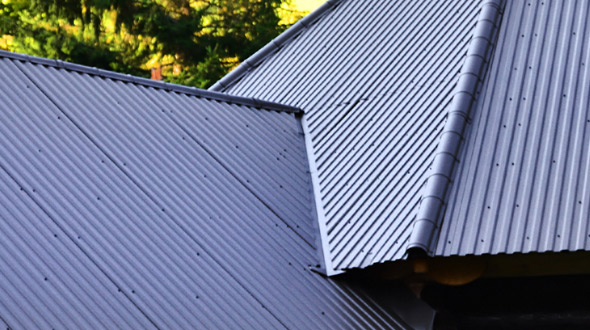 Step Flashing – Commonly used in place of wall abutments or chimney and skylight flashing (on slopes), step flashing is the downward overlapping alternate layering of roofing and flashing material.
Metal Edge Flashing – Also known as "drip edge flashing," this is installed around the perimeter of a roofing system to direct the flow of water off of it without entering the structure . To learn more about commercial edge flashing and coping visit disastersafety.org/ibhs/commercial-roofs-flashing-coping/
Saddle Flashing – This is the flashing used where joists meet walls or other support structures, wrapping around connection points to form a water-tight seal.
Vent Pipe/Exhaust Flashing – This flashing provides a water-tight seal at the point where vent or exhaust pipes protrude through a roof.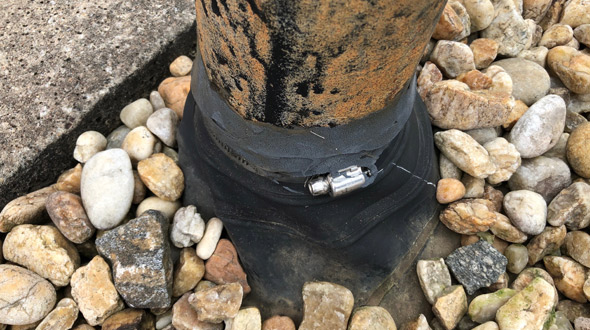 Cap Flashing – This flashing is usually composed of metal and is used to shield the upper edges of membrane base flashing along the top of a wall or column.
As you can see, flashing is a critical element in a roofing system. There are a few more essential components that comprise a complete roofing system. To learn these, and for more commercial roofing information and tips, visit atlantacommercialroofingcontractors.com/info/
Roof Flashing Weatherproofs Your Structure
Don't let your building unnecessarily look run-down and develop water damage from preventable water infiltration and leaks. Keeping the elements outside is what a successful roofing system does, and it dramatically relies on properly applied flashing.
In this article, you discovered what roofing system flashing is, what it is used for, the different types, and its application.
The use of the wrong flashing material on a roofing system may lead to leaks and its ultimate failure. Save money and avoid unexpected interruptions of your business by having the appropriate flashing material properly installed in your commercial roofing system.
Sources:
http://web.mit.edu/parmstr/Public/NRCan/CanBldgDigests/cbd069_e.html
https://www.nachi.org/flashing-part1-12.htm