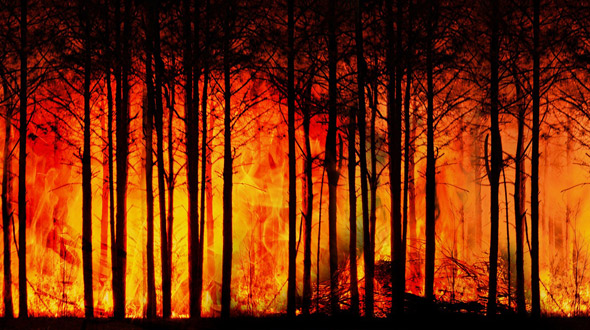 Over 9 billion dollars worth of damage was done in the California wildfires in 2018 alone. In the previous year's fires, 8,000 homes, more than 200 commercial buildings, and 40 irreplaceable souls were lost.
Wildfires are becoming more commonplace and destructive, and all measures you can take to protect your property should be known.
As environmental conditions deteriorate, atlantacommercialroofingcontractors.com advocates learning the causes, facts, and ways to protect your property against wildfire.
Wildfire Information
When a fire ignites in a forest or in the fields, little time is needed for it to gain momentum and grow to monstrous proportions. Weather, winds, and combustible vegetation all contribute to the movement and ferocity of a wildfire.
The following information will shed some light on wildfires:
Wildfire Definition – An uncontrolled fire occurring and spreading in wildland areas, which can reach and destroy residential, community, and commercial property.
These fires may also be referred to as forest fires, brush fires, wildland fires, grass fires, or vegetation fires.
What Causes Wildfires? – Of all the potential causes of wildfires, human carelessness is the most frequent cause.
While lightning strikes, heat from the sun, and power line arcs are potential causes, the following activities are the most frequent reasons for wildfires:
• Arson (the intentional ignition of a fire)
• Discarded Lit Cigarettes
• Camp Fires Improperly Extinguished
• Improper Burning of Debris
• Controlled Fires that Escape Control
• Playing with Matches
• Lighting Fireworks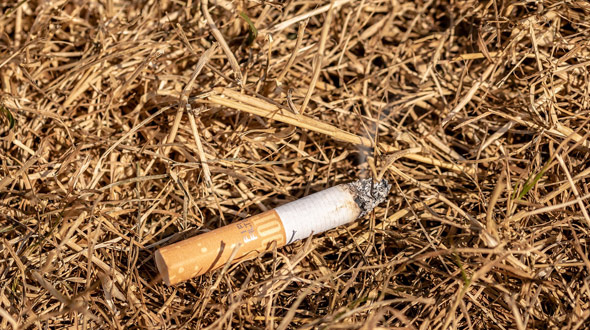 Wildfire Facts – The following information highlights essential facts about how wildfires benefit nature, how they spread and the damage they are capable of causing:
• Fuel for wildfires include all vegetation (grass, shrubs, plants, and trees).
• Wind plays a crucial role in the growth, direction, and speed of a wildfire.
• Embers can travel and ignite new fires up to a mile from the fire they originated from.
• Wildfires (under optimal conditions) are able to achieve speeds of up to 20mph.
• Wildfires can consume homes, commercial buildings, and any structure with combustible material.
• In 2018 alone, more than eight and a half million acres were burned by wildfires in the United States.
Watch this video to learn more about what fuels a wildfire.
Protect Your Property from Wildfires
While you cannot control the direction, speed, and size of a wildfire, there are measures you can take to harden your property and minimize potential damages.
The Roof – The most vulnerable element of any structure is the roof and regardless of anything else you do, a flammable roof will mean the difference between your property or building not surviving and surviving a wildfire.
As embers can travel vast distances, they may land on your roof and ignite a blaze that quickly engulfs and destroys the structure. If your roof is made from flammable material or is in need of repairs, consider re-roofing the property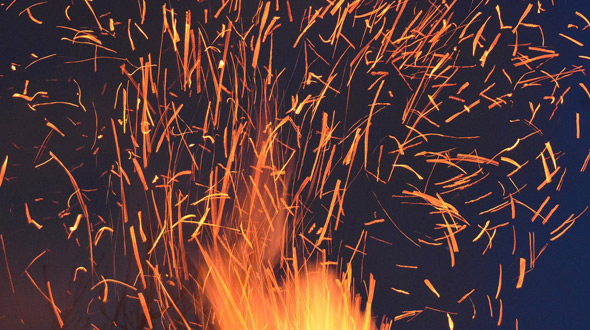 A roof constructed from non-flammable material with a high UL fire-resistance and smoke protection rating such as composition, asphalt shingles, metal, tile, or slate offer the best possible protection from embers igniting a fire on your roof.
Have your roof inspected by a professional to verify that there are no gaps, damaged material, or spaces between the decking and covering. The goal is to eliminate anything that could catch embers or burning objects.
Exterior Vents – Embers can get in through vent openings. Use a non-flammable eighth-inch metal mesh to cover them. For vents in eaves and cornices, baffles should be used as mesh covering will not provide enough protection.
The Gutters – leaves, pine needles, and debris that collect in gutters can cause severe damages to your property in a few ways:
During heavy rainfall, water can accumulate in your gutters and potentially cause structural damage and leaks in your roof.
During an approaching wildfire, embers may find their way to the gutters and ignite the debris creating a dangerous scenario.
This problem can be curbed by installing aluminum gutters with leaf guards or gutter guards. Even with these precautions, your gutters should be inspected and cleaned on a frequent basis.
The Walls – Combustible siding materials will defeat the purpose of installing a non-flammable roof. Fireproof your home or building by using non-flammable materials such as stucco, aluminum wall siding, fiber cement, or other material with a UL fire-resistance rating in accordance with building codes for your municipality.
For siding material such as these to achieve maximum efficiency, they must extend from the foundation to the roof and make a seamless connection to doors and windows.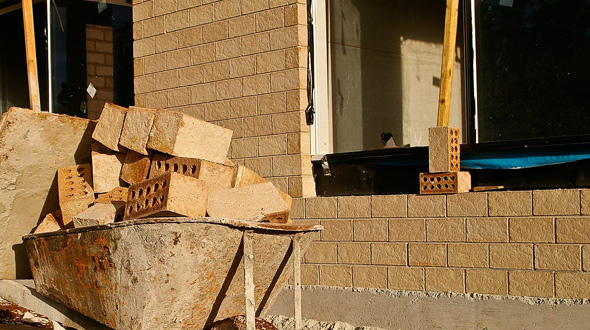 The Windows – As the radiant heat from a wildfire approaches, cracking glass windows and melting plastic skylights can become a significant liability by allowing entry to embers and igniting anything flammable.
Installing dual-pane windows (with one or both panes of tempered glass) will provide better resistance to increasing temperatures.
Make sure that window and door frame assemblies are fire-resistant as well.
Fireproofing The Perimeter – Anything organic can be considered fuel for a wildfire. Ideally, there should be a perimeter extending at least 5 feet from the structure in which combustibles have been reduced or eliminated.
The following will help you identify potential hazards:
• Wooden gates or fences should be attached to a metal or masonry barrier. If attached to the structure, they could carry the fire to it.
• Firewood stacks and propane tanks should be kept a minimum of 30 feet from the structure.
• Replace organic mulch with gravel or stone mulch within the perimeter.
• Trees and shrubs should be well-watered, seasonally pruned, and inspected annually for signs of drought, disease, or infestation.
• Grass must be kept healthy, well-watered, and cut. In areas prone to wildfires, alternative non-organic landscaping is recommended.
Resources for Immediate Wildfire Assistance
• If you are trapped in your home or business during a wildfire, call 9-1-1 for assistance and rescue
• Call the American Red Cross at (800) 733-2767 or to find a location near you, visit redcross.org/find-your-local-chapter.html
• For federal disaster financial assistance, visit usa.gov/disaster-financial-help
• Disaster assistance may also be applied for at disasterassistance.gov/get-assistance/find-assistance
Reduce the Effects of a Fire Disaster
The massive amount of damage that wildfires have caused out west and throughout the United States is staggering. Countless businesses, homes, forests, and lives have been lost.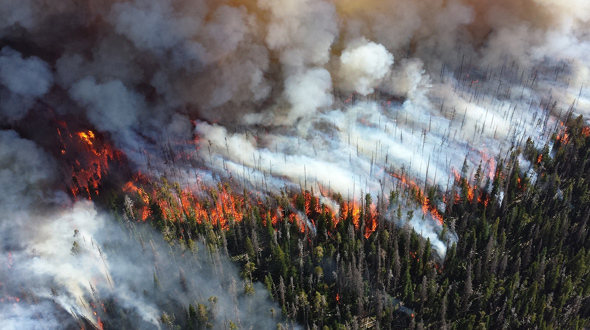 In this article, you discovered the definition, potential causes, and facts about wildfires, as well as measures to take to protect your home or business from becoming a wildfire statistic.
Wildfires are becoming more frequent, larger, and more deadly. If your property is situated in an area that is prone or has the potential for wildfires, your inaction to protect your assets could very well cost you everything.
Sources:
https://fas.org/sgp/crs/misc/IF10244.pdf
https://www.ready.gov/wildfires
https://disastersafety.org/wp-content/uploads/2017/03/WF_California_IBHS.pdf
Atlanta Commercial Roofing Contractors
1075 Peachtree Street NE Ste 3650
Atlanta
,
GA
30309
(404) 220-9288