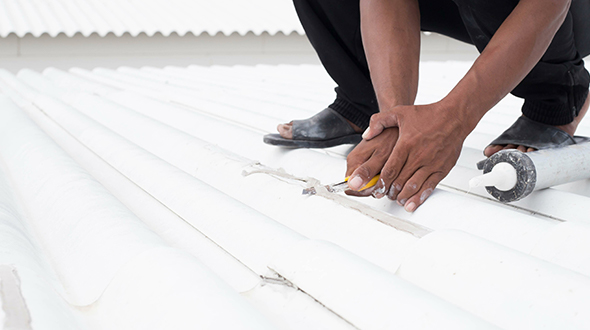 Prevent costly structural damages and messy repairs due to a leaking roof. Knowing how to find and fix a roof leak can save you considerable money and avoid unnecessary angst.
atlantacommercialroofingcontractors.com gathered the following information about how to pinpoint leaking areas in your roofing system and promptly repair them.
Leaking Roofing Systems
Whether you have a sloped residential roof, an industrial metal roof, or a commercial flat "membrane" roof, they have one thing in common: they all use gravity, slopes, and drainage systems to move water away from the roof.
A roofing system can fail when any of the following occur:
Membrane seals separate
Fasteners corrode
Roofing components suffer storm damage
Wind-driven objects perforate the roofing system
Falling tree impacts the roof and structure.
Wildlife interrupts the roof's drainage system
Gutters and downspouts are clogged by falling leaves
Hail, snow, or ice buildup damage the roof
The roofing system was poorly installed
Annual inspections are ignored
Minor repairs are put off
Water begins pooling
Fire damage
Roofing systems are engineered to protect the structure they cover. However, with time, water can find ways to circumvent your roofing system and leak into your structure. Here's how to find and fix a leak in your roofing system:
Leak Detection
Sometimes, roof leaks are blatantly obvious, leaving watermarks and stained ceiling tiles in their wake. However, roof leaks can start off unnoticeable and suddenly turn into a severe flooding situation. Here are some effective ways to detect roofing system leaks:
Drips
Ceiling tile stains
Water-stained/damaged wall
Excessive dampness/humidity
Tip: Most roofing system problems and leaks can be prevented by acquiring a maintenance program from your roofer.
How Do I Find a Leak in My Roof?
Once you have determined that your roofing system has a problem, head outside and visually inspect your roof:
Start with parts of the roof higher than the location of internal indications or stains
Look for any signs of roof penetrations
Inspect the roof's flashing for damages
Examine roof vents
If you see any damaged areas on your roof, tiles, corrugated iron sheets, membrane, or shingles, this could be the leak's origin. If your roofing system has multiple layers like built-up roofing (BUR) or modified bitumen (Mod-Bit), sneaky leaks can travel across your roofing system using gravity which keeps water moving downward and transpiration or evaporation to move it upward or horizontally.
Note: Water leaks can be highly elusive when they trace along rafters, support columns, or follow erratic paths before emerging as leaks. If you have trouble finding the source of your leak, call a professional roofer to help.
Tip: Membrane roofing systems (EPDM, TPO, etc.) typically have long-running seams where sheets overlap and are sealed together. Leaks can occur when these seams separate.
How Do I Fix a Leak in My Roof?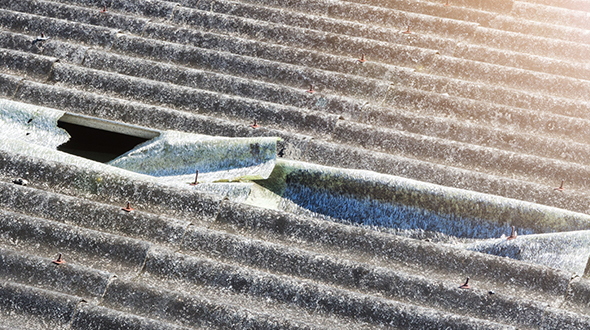 There are infinite ways your roofing system can start leaking and just as many methods to fix them. The following are quick fixes that can buy you time until a professional roofer can evaluate and repair the roofing system:
Fix Step Flashing – If your roof flashing rusts through or comes loose, water will run behind it and into the structure. Rusted, slipped, or damaged flashing needs to be replaced. That involves removing shingles, prying siding loose, then removing and replacing the step flashing.
Repair Small Holes – Tiny holes in roofing systems are sneaky because they can cause rot, a leaky roof, and other minimal damage for years before you even detect the signs of an active leak. You might find holes left over from a satellite dish base or antenna mounting bracket, or just about anything previously fastened to the roof.
Note: Any exposed or misplaced roofing repair nails or mounted fastening nails should be removed and the holes patched.
Tip: Small holes are simple to fix. However, the fix isn't to just inject caulk into the hole. This leaky roof problem will be corrected with flashing.
Repair Leaks around Chimneys – Flashing around chimneys can rust through and cause horrendous damage to the chimney and the building's structure. A quick and short-term fix is to slip new flashing under the old rusted flashing material.
Replace or Patch Shingles, Membranes, and Asphalt – Provided you have the necessary material to match, patch, or replace a part of your roofing system, you may be able to temporarily halt small roof leaks.
Note: For shingle roofs, once fastening nails are removed, the damaged shingle should slide out. Scrape away any residue cement and level or remove any protruding nails. Once the new shingle is in position, lift the corners of the overlapping shingles and fasten the top of the new replacement in each corner. Cover the nail heads with roofing cement and smooth the overlapping shingle edges.
Tip: If you do not have extra roofing material or components to repair your damaged roofing system, call a professional roofer to handle the repair and preserve the roofing system's warranty.
How Long Can You Ignore a Leaking Roof?
There is no definitive answer to how long you can ignore a leaking roof before causing severe and sometimes irreparable structural damage. Multiple variables can contribute to roofing leaks, structural damages, and roofing system failure. It is always recommended to play it safe and repair or get your roof leak fixed immediately.
DIY Roof Repair
In this article, you discovered how to detect and locate the source of a leaking roof and how to immediately fix it or get it fixed.
By promptly fixing leaks in your roofing system, you are preventing structural damages and helping your roof properly function up to and beyond its life expectancy.
Ignoring roof leaks of any size can result in costly structural damages, roofing system failure, and loss of business when your structure must be closed for repair.
Sources:
mit.edu/parmstr/Public/NRCan/CanBldgDigests/cbd179_e.html
kenosha.extension.wisc.edu/files/2010/06/Leaky_roofs.pdf
sites.udel.edu/csweeny/2021/08/16/roof-restorations-and-replacement-is-it-time/