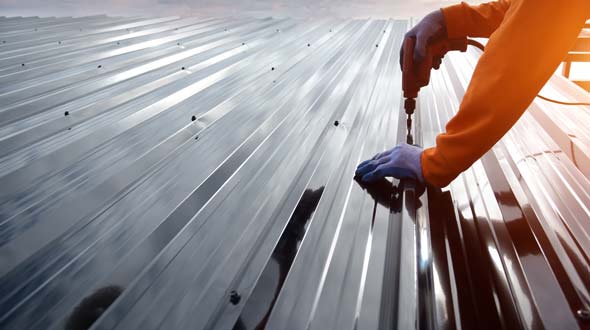 Don't unnecessarily pay to tear off your shingle roofing system if you are replacing it with a metal roofing system. Knowing how a metal roof can be installed over a shingle roofing system will help you make an informed decision and save money on your roof installation.
atlantacommercialroofingcontractors.com gathered the following information about how metal roofing systems can be installed over top of a shingle roof, its benefits, and its drawbacks.
Installing a Metal Roof over Shingles
Shingle roofing systems have a typical lifespan of 20 to 30 years when properly installed with good quality materials. Metal roofing, however, can last upwards of 50 years or more, making it a worthwhile investment. There are several Metal Roofing Advantages and Disadvantages, so consider the following when installing a metal roof:
Installation – Metal shingle systems are installed over a framework made of 2x2s. Such framework offers three significant advantages:
The framework/rafters is/are fastened directly to the deck (through the existing shingle roofing system), then standing seam sheets (running from top to bottom), or interlocking shingles/R-panels (installed horizontally like shingles) are fastened to the framework.
The framework creates a flat and straight surface even when shingles are curled, or the roof ridge is warped.
The framework also creates a ventilation gap helping prevent ice dams during winter months and works to cool the roof during summer months.
Ventilation holes are cut in the old roof above the soffit. This pulls air through the soffit vents (from underneath), helping remove moisture and heat from the roof.
Note: You may find metal roofing options somewhat overwhelming. From sizes to colors, selecting the roofing style and appearance may be more complicated than the actual installation.
How Much Does it Cost to Install a Metal Roof over Shingles?
While there are some variables when calculating installation costs for a metal roof over a shingle roof, here is what to expect when bidding out this project:
$-Varies – Shingle roof repairs (needed before metal roof installation)
$40 Each – 2" X 2" rafter installation
$150/square (1 square = 100sqft) Standing seam installation or
$120/square R-Panel installation
$5/square installed
$-Varies – Trim, gutters, and finishing
Tip: Regardless of the roofing system you plan to have installed, collect a minimum of three estimates, contractor references, and their maintenance program pricing and coverage.
Can You Put Metal Roofing Directly over Shingles?
Yes. In fact, here are some of the benefits of installing a metal roofing system over a shingle roof:
Convenience – Installing a metal roof over shingles is convenient because there is no tear-off mess or disposal of old/used roofing material.
Cost-Effective – You save on both labor and material. There is no tear-off and disposal cost, and the roofing system's substrate is already in place.
Sound Reduction – Metal roofing systems can be very noisy. A shingle roofing system under a metal roof acts as an excellent sound reducer.
Better Insulation – Having a shingle roofing system under a metal roof significantly improves the structure's insulation.
Increased Water Resistance – Effectively, your roof will have twice the protection when a metal roof is installed over shingles, significantly reducing the chances of leaks.
Wind Resistant – A well-installed metal roof over a shingle roof can withstand severe winds up to 120 mph.
Practicality – While shingles are a relatively inexpensive roofing material, they require more frequent maintenance and shingle replacement. Well-installed metal roofing not only minimizes the need for maintenance. It eliminates the constant need for damaged shingle replacement.
Value – A metal roofing system can also add curb appeal to a structure since they come in a wide variety of sizes, styles, and colors.
Note: If the new metal roof is properly installed over your shingle roof and your roofing contractor does everything correctly, this type of roofover can be done without issues. As mentioned, you can save up to 25% in labor by not tearing off your old roof, installing new underlayment, or paying fees to dispose of old roofing materials.
Watch this video about metal roof installation over shingles.
Do I Need Underlayment for a Metal Roof over Shingles?
If your metal roof is being installed over asphalt shingles, your roof already has an underlayment and likely won't need another. However, shingle expansion and contraction could eventually damage the back of the metal.
Note: While an underlayment may not be required for a metal roof over shingles, it is highly recommended for its capability to extend the lifespan of the roofing system.
Tip: In some municipalities, roofing codes will require underlayment installation, even if you are installing the roofing system over shingles.
Should You Install Metal Roofing over Shingles?
While there are many valuable benefits to installing a metal roofing system over shingles, there are some potential disadvantages. Consider the following:
Leaks and Rotting Wood – Before installing a metal roof over shingles, existing leaks and rotting rafters or decking in the shingle roofing system should be addressed and repaired. Leaving such problems unresolved can adversely affect the performance and lifespan of your new metal roofing system.
Note: Once water gets by your metal panels, it'll run down and across your old shingle roof. This water will keep running until it finds problem areas and begins leaking inside your home. Since these leaks originate from two different locations of two separate roofs, they will be hard to track down and repair.
Roof Weight – Inspect your existing roof for any signs it has exceeded its roof load. These signs will likely appear as sagging decking or buckling trusses. This is a common problem with roofing systems that have multiple layers of shingles or other roofing material.
Note: Municipal construction codes will often dictate how many "layers" of roofing may be installed on a structure before having to tear off the roofing system and start over from the substrate or decking.
Inspection Difficulty – Installing metal roofing over shingles presents a certain level of uncertainty regarding the integrity of the roof decking and structure, as it remains covered up by the shingle roofing system.
Metal Roof Installation over Shingles
In this article, you discovered information about installing a metal roofing system over an existing shingle roof, its benefits, and disadvantages.
Save money and time by having a metal roofing system installed over your existing shingle roof, and know what is involved in the process to help you make informed decisions when hiring a contractor for the job.
Not knowing what to look for when installing a metal roof over shingles or hiring a contractor ill-equipped to complete the job can lead to catastrophic roof damages, loss of valuable resources, and potentially severe structural damage.
Sources:
lib.niu.edu/1999/ic990720.html
scalar.usc.edu/works/ibusiness/can-metal-roofing-be-installed-over-shingles
tdi.texas.gov/wind/prod/rc/rc191.pdf