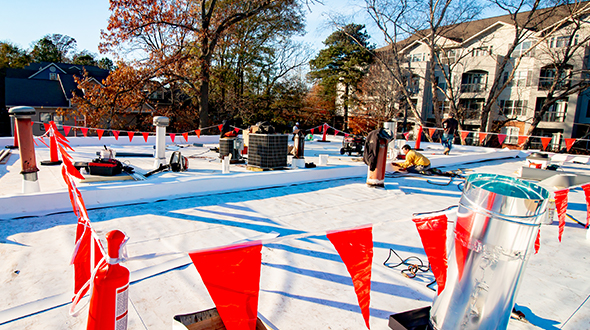 Prevent unscrupulous roofers from talking you into something more expensive that you may not need. Knowing the differences between reroofing and roof replacement can help you make informed decisions and better communicate with your roofer.
atlantacommercialroofingcontractors.com gathered the following information about the differences between reroofing and roof replacement and some of the pros and cons with each one.
Reroofing vs. Roof Replacement
When the time comes to fix your commercial or residential roof (structurally or cosmetically), you will often face the choice to have either a reroof or a roof replacement. Consider the following information about each one:
What Is Reroofing?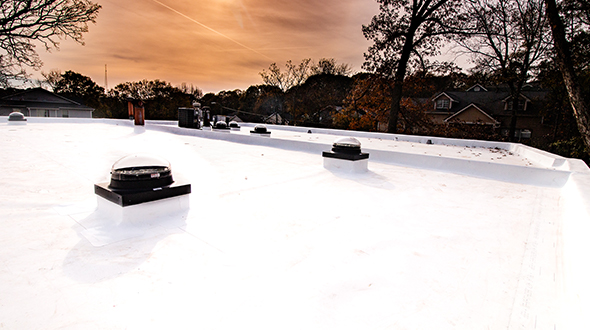 Reroofing is the process of layering one roofing material over an existing one. This process can only be done once, so if there are two layers of roofing already in place, reroofing is not an option for you.
Because there is no tear-off, reroofing can go much faster and be much less expensive than a complete roof replacement.
Reroofing Pros
Here are some of the advantages of reroofing:
Stronger Support – Since you're adding a second protective layer, it's also adding strength to your roof. The extra material strengthens the roof and makes it more difficult for water to get into your house or structure.
Less Expensive – Unlike a full roof replacement, reroofing does not involve the same labor, materials, and time (making it a less expensive option).
Faster Process – Reroofing does not require removing your original roofing material, making this process the fastest way to restore your roof. Reroofing is quick and easy to do.
Cosmetic Improvement – Many roofing systems end up discolored or dirty over the years. Reroofing can give your structure a total roof "makeover" without fully replacing it.
Reroofing Cons
Here are some of the disadvantages of reroofing:
Hidden Damages – Reroofing only works to cover the current roofing material. A roofer would be hard-pressed to know or detect any existing damages underneath, like sagging or rotting in the substrate. A new layer of shingles will not fix potentially significant issues.
Two Layer Limit – If you already have two layers of roofing material on your roof, you are prohibited in most municipalities from adding a third layer.
Metal Roofing – If you have a metal roofing system, reroofing is not recommended.
Roof Lifespan – Reroofing may not last as long as completely replacing the roof (existing problems can go unnoticed and cause premature roof failure).
Note: Roofing systems come engineered to support the weight of two layers of roofing. However, they are not typically constructed to support a third layer, and for this, there is a two-layer limit.
What is Roof Replacement?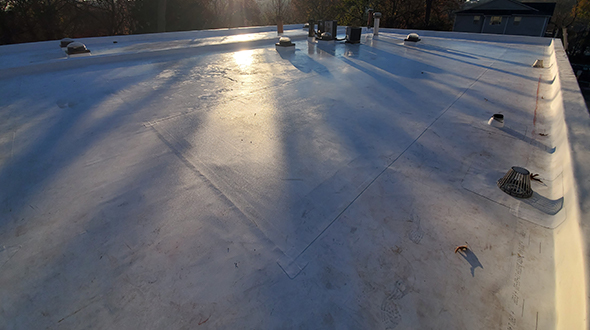 Roof replacement involves tearing off everything down to the deck then installing new insulation and roofing. Unlike reroofing, a roof replacement can be done no matter how many layers of roofing material are already on the roof, so a replacement can be done even when reroofing is not an option. Because of the extra labor involved, it can be significantly more expensive than reroofing.
Roof Replacement Pros
Here are some of the advantages of a roof replacement:
No Layer Limit – Roof replacements can be done no matter how many layers of roofing are on the substrate.
Early Problem Detection – A replacement enables you to identify early signs of trouble like rot and sagging from water damages to the deck, which can eventually allow water to leak and drip down inside walls where it can cause significant structural damage resulting in costly repairs.
Roofing System Lifespan – Completely replacing the roof makes it last longer than reroofing.
Safer Alternative – Unlike reroofing that may cover up any issues with the deck, like rot, which can eventually cause catastrophic roof failure, a fully revamped roof addresses all issues for a safer and sturdier roofing system.
Roof Replacement Cons
Here is the primary disadvantage of a roof replacement:
Cost – Entirely replacing a roofing system requires more materials, time, and labor than reroofing. It is a significantly more costly project.
Reroof and Roof Replacement Cost Differences
The same cost factors of reroofing apply to roof replacement, but the average cost to replace a roof is significantly higher than reroofing. This is due to the extra labor to remove all of the old roofing system, as well as prepare the substrate for a new roofing system installation. These tasks significantly increase your costs.
Reroof or Replace
In this article, you discovered the differences between reroofing and roof replacements and their pros and cons.
Knowing what is involved with a reroof and a roof replacement will allow you to have eye-to-eye conversations with your roofer when it comes time to make decisions about your roofing needs.
Ignoring the differences between reroofing and roof replacement can leave you vulnerable to sneaky roofers out to make a fast buck with minimal effort.
Sources:
manufactureredhousing.org/what-is-a-complete-roof-replacement
sites.udel.edu/csweeny/2021/08/16/roof-restorations-and-replacement-is-it-time/