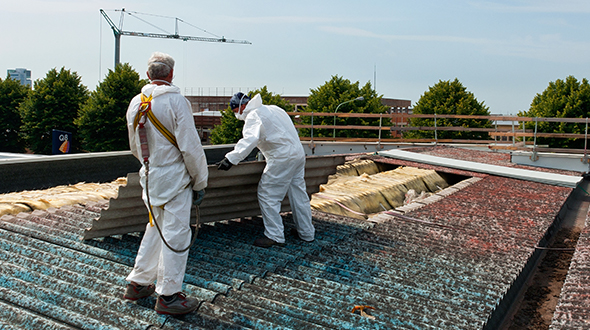 Avoid dangerous exposure to carcinogens when your asbestos roofing system needs replacing. Knowing what to look for, then how to test and safely remove a residential or commercial roofing system that contains asbestos will offer an enormous peace of mind, and reduce your risk or liability.
atlantacommercialroofingcontractors.com gathered the following information about what to do when your roofing system containing asbestos gets damaged or fails, the dangers of asbestos exposure, and resources to help you protect your personal and/or workplace safety.
How Do I Know If My Roofing System Contains Asbestos
The most reliable way to tell if some material contains asbestos is to have a certified asbestos inspector collect samples of suspect asbestos-containing roofing materials and submit them to an analytical laboratory for analysis. Remember, all layers and parts of a roof should be sampled. Asbestos may be in one layer or part and not in another.
Tip: The older your roofing system is, the more likely for asbestos to be present.
What is Asbestos
Asbestos is made up of groups of mineral fibers naturally occurring in rocks and soil. Known for its strength, durability, and resistance to fire and water, asbestos was used commonly in various construction applications for the greater part of the 20th century. Asbestos is a thermal and acoustic insulator. It was used to make combustible objects flame retardant. Asbestos fibers are flexible and elastic, long-lasting, and can be spun or woven.
Asbestos Testing
Before starting any demolition, restoration, or repair work on material suspect of being treated or contaminated with asbestos, testing will help you determine how to proceed. Testing can be accomplished by:
Using a commercially available asbestos testing kit
Hire a professional, certified asbestos inspector
Tip: The National Voluntary Laboratory Accreditation Program (NVLAP) has an online tool to help you locate an accredited local testing laboratory; access the tool for a local testing lab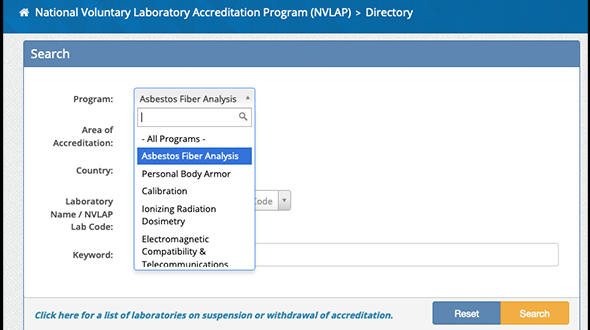 What Roofing Materials May Contain Asbestos?
Before public awareness of asbestos hazards and Federal regulations/restrictions, asbestos was added during the production of roofing materials to strengthen them, increase their durability, and provide some insulation and fireproofing. The use of asbestos in roofing has declined rapidly since the early 1980s.
The following common roofing products may contain asbestos:
Adhesives
Coatings
Decking
Felts
Shingles (asphalt and concrete)
Underlayment
Vapor retardants
Flashing
Mastics
Sealants
Why Remove Asbestos Roofing
Several decades ago, asbestos came with a number of construction "conveniences" before awareness of its dangers; it is now accompanied by feelings of concern and terror, as People exposed to the toxin having developed lung cancer, malignant mesothelioma, asbestosis, and other lung diseases and issues.
Why Is Asbestos Bad for My Health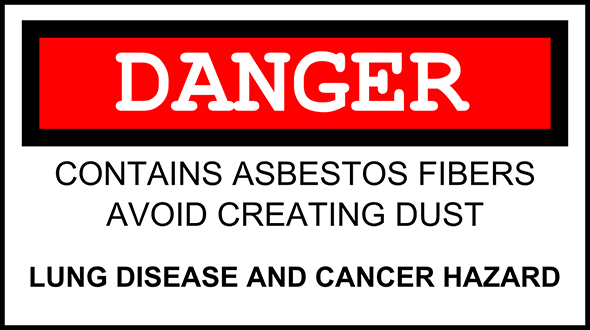 The risk of asbestos depends on the type of product in which it has been incorporated and its state of degradation. Asbestos can be hazardous to human health because microscopic particles persist long after being introduced and can be inhaled when released into the air. Asbestos exposure is linked to higher rates of cancer and incurable asbestos-related illnesses.
Asbestos is released into the air in the form of tiny fibers and lodges itself in the lungs. Its indestructible nature makes it difficult or impossible to expel. Lethal diseases, like asbestosis, lung cancer, or mesothelioma (pleural cancer) can develop. The most harmful effects of asbestos and all its symptoms on the human body sometimes do not manifest for 20 years or more after exposure. Asbestos is one of the leading occupational causes of death.
How Can I Be Exposed to Asbestos
Asbestos fibers may be released into the air by the damage or disturbance of asbestos-containing material during product use, demolition work, building or home maintenance, repair, and remodeling. In general, exposure may occur only when the asbestos-containing material is disturbed or damaged in some way that releases particles and fibers into the air.
Adverse Health Effects from Asbestos Exposure
Exposure to asbestos increases your risk of developing terminal lung disease. That risk is exacerbated by smoking. In general, the greater the exposure to asbestos, the greater the chance of developing harmful health effects.
Asbestos-related medical conditions may be challenging to identify. Healthcare providers usually identify the possibility of asbestos exposure and related health conditions like lung disease by thoroughly evaluating one's background. This includes looking at the person's medical, work, cultural, and environmental history.
If a doctor suspects an asbestos-related condition, he or she can use multiple tools to help make a more accurate or pinpointed diagnosis. Some of these tools may be a physical examination, chest x-ray, and pulmonary function exams. Your doctor may also refer you to a specialist who treats diseases caused by asbestos.
Three of the significant health effects associated with asbestos exposure are:
Lung cancer
Mesothelioma, a rare form of cancer that is found in the thin lining of the lung, chest, the Abdomen, and heart
Asbestosis, a severe progressive, long-term, non-cancer disease of the lungs
Note: Asbestos treatment specialists may include surgeons, oncologists, and other experts who specialize in treating pleural or peritoneal mesothelioma.
Asbestos Safety Resources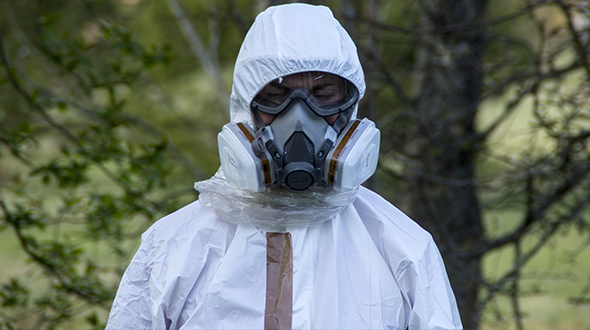 The following federal resources can help you further understand and adhere to accepted asbestos safety protocols:
Asbestos Roofing Material
In this article, you discovered critical information about how to deal with a damaged or failing roofing system containing asbestos.
Taking swift action to remove or contain damaged asbestos materials will help you protect the health of your visitors, tenants, or neighbors within close proximity.
Neglecting the hazard of damaged asbestos in your roofing system can lead to the inhalation of asbestos fibers and the eventual development of life-threatening respiratory illnesses and/or cancer.
Sources:
epa.gov/asbestos
scdhec.gov/disaster-preparedness/hurricanes-floods/asbestos-removal-safety-homeowners-businesses-after-severe
ehs.msu.edu/enviro/asbestos/asbestos-factsheet.html
ehs.oregonstate.edu/asb-when
cedars-sinai.org/health-library/diseases-and-conditions/m/mesothelioma.html