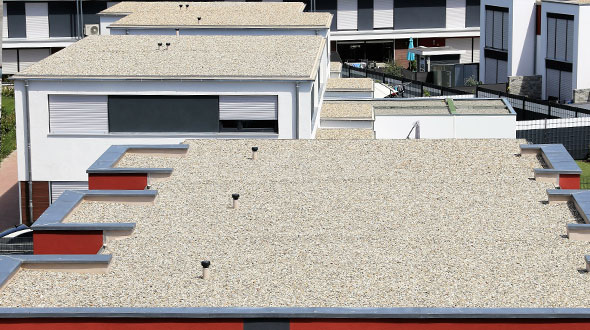 Don't invest your resources in an inadequate roofing system for your commercial property. Uncovering the benefits and properties of a built-up roofing system can help you make informed decisions when installing a new roof or replacing your existing roofing system.
atlantacommercialroofingcontractors.com gathered the most helpful information about built-up roofing, its installation process, warranty, associated costs, frequently asked questions, and potential problems with built-up roofing systems.
Built-up Roofing – Production Process & Properties
Built-up roofing systems, referred to as BUR, have been in use in the U.S. for over a century. This roofing system is also known as a "tar and gravel" roof. BUR systems are typically composed of alternating layers of bitumen and reinforcing materials that create a membrane.
This roofing system gains its waterproofing and durability from its layered structure, consisting of a "built-up" or layered combination of components, including:
Substrate or Decking
Roof Insulation
Roofing Asphalt
Venting Base Sheet (Cover Board) with Roofing Asphalt
Ply Sheet with Roofing Asphalt
Slag or Gravel in Asphalt or a Modified Bitumen Cap
Note: When a modified bitumen membrane is used to cap a BUR system, this combination is referred to as a "hybrid" system.
Roofing asphalt (bitumen) commonly used in BUR systems includes:
Asphalt – Asphalt (a petroleum product refined from crude oil) requires heating before application with a mop or spreader
Coal Tar – Coal tar (derived from the distillation of coal) also requires heating before application with a mop or spreader
Cold-Applied Adhesives – These adhesives are solvent-based asphalts that don't require heating prior to application
Surfacings used on BUR systems may be (or a combination of):
Aggregate – Gravel, slag, crushed stone, and/or mineral granules are common aggregates
Cap Sheets – Commonly made with glass-fiber or mineral surfacing
Asphalt – Hot Asphalt spread or mopped over the entire surface
Alternative Coatings – Aluminum and elastomeric coatings are commonly applied as surfacing for BUR systems
Benefits of Built-up Roofing
In use for over a century in the U.S., properly installed BUR systems provide the following benefits:
Well-installed, a BUR system can last more than 30 years
Provides excellent waterproofing protection
Creates a continuous sealed surface
Seams are very well sealed (in some cases, many times over)
Provides exceptional UV protection
Once installed, the system is extremely low-maintenance
Excellent impact resistance
Excellent fire resistance
Along with these benefits is traction. Often overlooked, if your roof has foot traffic, a BUR system may be ideal due to gravel providing an excellent grip. This becomes evident during severe weather.
Built-up Roofing Installation and Warranty
The installation of your built-up roofing system, when properly installed, is a moderately fast and non-intrusive process.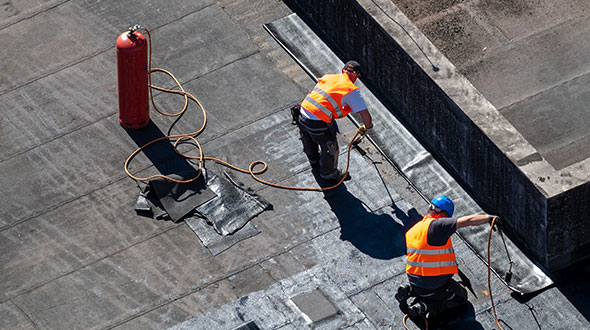 A built-up roofing system can be installed using hot asphalt or cold adhesives. A standard built-up roof system is a multiple layered system applied in such a way that creates a seamless roof. The following can influence the end result of the roofing system's installation:
Proper roof slope for efficient draining
Correct installation and fastening of insulation
Correct application of cold adhesives when used in place of hot asphalt
Proper placement and overlapping of material
Drip edge seamlessly connected around the perimeter of the roof
In addition to high-quality installation, a warranty is valuable when the installation or components of your roof fail. There are two types of warranties to consider when installing or replacing this or any other roofing system:
Contractor's Warranty – This warranty covers the workmanship and installation of your roofing system by the contractor. The contractor guarantees their work for a set period (3, 5, 10-year period, etc.), or for the lifetime of the roofing system. A contractor's warranty should include the following:
A list of all covered items
Actions or events that may void the warranty
When/If the warranty expires
The above installation and warranty information underscore the absolute necessity to thoroughly vet contractors before starting a roofing installation or replacement.
Note: There is no established industry standard for the duration of a contractor's workmanship warranty.
Manufacturer's Warranty – This warranty covers defects in the roofing material used in your roofing system. Once installed, your contractor should provide you with manufacturer's warranty certificates.
An example of material failure would be premature alligatoring (small cracks in the roofing surface from shrinkage). Unless it is determined to result from poor or improper installation, a claim can be leveraged against the manufacturer's warranty.
Built-up Roofing Cost
Collecting estimates for a roofing system can be a tedious experience. There is often a significant disparity from one quote to the next, which reinforces the necessity to collect at least three bids from three reputable roofing contractors.
Prices for installing a built-up roof system may vary with the size/complexity of the roof, time of year, material brand and quality, method of installation, and the amount of labor required taken into consideration. You can expect to see pricing in the following ranges:
Tear-off – Unless your new roof is installed over your current roof, the old one will be removed.
This process can range between $100 and $200 per square (1 square = 100 square feet).
Tip: If this cost gets bundled in material and installation pricing. Request that it be detailed separately in your estimate(s).
BUR Material – will fall between $100 and $175 per square
BUR Installation (Labor) – can range from $300 to $525 per square
Maintenance Contract – Commercial roofing maintenance program prices vary from contractor to contractor
Using the price ranges above, you can expect to see bids, including tear-off, material, and installation for a 1,000 square foot roof between $5,000 and $9,000.
Consumer Tip: In the roofing industry, installations are typically more expensive in late spring and summer months. If possible, schedule your installation for the off-season (early spring and fall).
Disclaimer: The above pricing is in no way intended to represent actual bid values and only serves as an estimated market price range.
Built-up Roofing Problems
With new materials, installation methods, and technology, BUR systems are becoming less popular. That said, a built-up roofing system may still be the best option for your commercial building. Before making any decision, consider the following potential problems sometimes associated with a BUR system:
High wind may cause rocks or gravel to be blown off the roof (potentially damaging nearby structures or persons)
While leaks are easily repaired, finding them may be a laborious and costly process
This roofing system is heavy in comparison to others. Your commercial roof load should be verified before installing a BUR system
BUR installation is slower than that of other less complex roofing systems. Increased labor costs can make BUR systems more expensive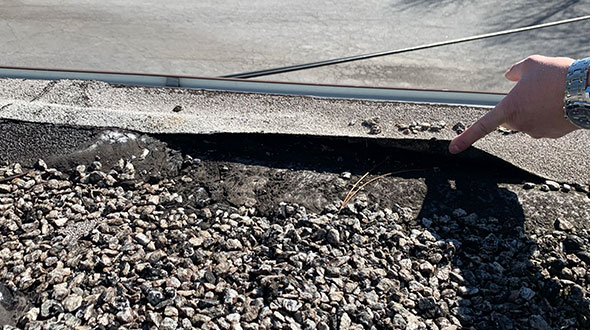 You must do your research to see if the pros outweigh the cons of this or any other roofing system. You can check out and compare the alternative options to a built-up roof system to find something better suited for your property's needs.
People Also Ask
Can built-up roofs be repaired?
Yes. BUR roofing systems are easily and reliably repaired.
How long do built-up roofs last?
A well-installed and maintained built-up roofing system can exceed a 30-year lifespan.
Can built-up roofs handle foot traffic?
Yes. Due to the gravel or slag used in the roof's finishing, BUR systems are slip-resistant, even in severe weather.
Built-up Roofing Information Revealed
In this article, you discovered essential information on the definition, installation, cost, warranty, and potential problems with built-up roofing systems.
Knowing how BUR systems are installed and maintained will help you make informed decisions on a roofing system for your commercial property.
Allowing yourself to be duped into an inadequate roofing system by an unprofessional roofing company can have very costly repercussions when the roof fails.
Sources:
asphaltroofing.org/bur-multi-ply-built-up-roofing/
everybodyneedsaroof.com/built-up-roof-BUR-membranes
homeadvisor.com/cost/roofing/flat-roof/
porch.com/project-cost/cost-to-install-built-up-roofing