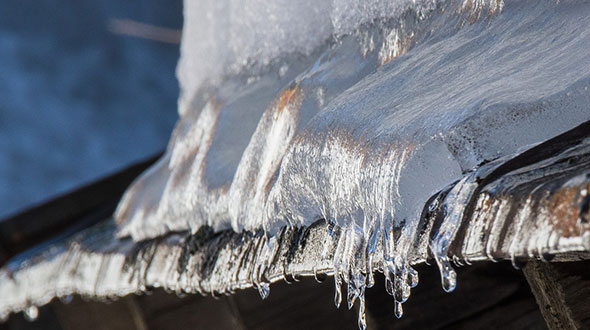 Don't let ice dams cause expensive damages to your commercial roofing system and building. Preventing ice dams will save your company from dealing with annoying leaks, structural damages, and significant roof repair costs.
atlantacommercialroofingcontractors.com gathered information about ice dams, how they form, the damage they can cause, and what you can do to prevent them.
Ice Dams on Commercial Roofs
Ice dams are ridges of solid ice that form along the edge of a roof and prevent water from draining off of it. Water backed up behind the ice dam can leak into the structure, causing damage to ceilings, walls, insulation, electrical wiring, etc.
We cannot control the weather, but we can control the engineering used to construct/protect buildings and the roofing systems that cover them. The first step to preventing ice dams is to understand the process by which they form.
How Ice Dams Form
Ice dams form when a series of four conditions coincide. The following are those conditions:
1. There must be snow or ice on the roof
2. The higher elevated portion of the roof must be above 32 degrees Fahrenheit
3. The lower elevated surface (along the edge of the roof) must be below 32 degrees Fahrenheit
4. The outside temperature must also be below 32 degrees Fahrenheit
The snow or ice accumulated on the higher part of the roof will melt. As the water descends, it will reach the portion of the roof below 32 degrees and refreeze. As this process repeats, the ice dam grows in size until water begins to back up on the roof.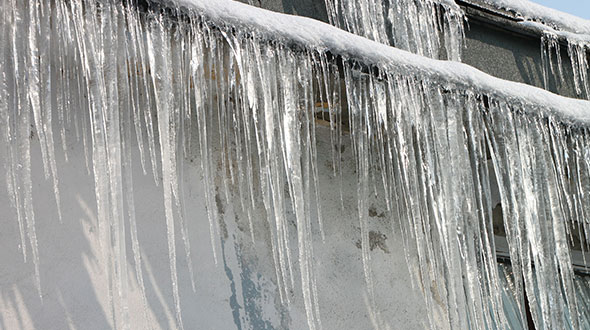 You may be asking how your roof can be two different temperatures. The answer to this lies in the inefficiencies of your roofing system's insulation. When your roofing system lacks proper insulation beneath it, heat from your structure rises to warm the higher portion of the roof by one of three ways:
Conduction – Heat moving through material. An example of conduction is heat moving from the bottom of a cast-iron skillet to the handle.
Convection – Rising air carries heat upward. If you put your hand above the skillet, you can feel the heat rising.
Radiation – Electromagnetic waves also carry heat. We see this process (on a grand scale) every time we stand outside on a sunny day and feel the warmth of the sun.
This temperature variance can also occur due to the following:
Heat Loss – Poorly installed ceiling fixtures, wire penetrations, and panels allow warm air to flow upward.
Chimneys – Poorly insulated chimney or stove stacks will carry heat directly to the ceiling, exacerbating this temperature variance.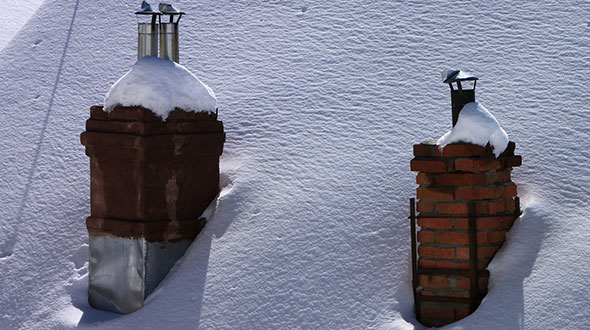 Exhaust Systems – When exhaust systems that terminate just above the roof, they can contribute to snow and ice melting.
While the above factors raise the temperature of the roof, the extremities of the roof remain fully exposed to freezing temperatures. As the edge of the roof remains below 32 degrees, melting snow or ice refreezes and forms an ice dam.
How to Prevent Ice Dams
Ice dam prevention is straight forward and begins by making your building more heat efficient. Make the ceiling airtight to prevent warm air from rising to the roof by convection. After resolving warm air leakage, contract a trusted roofing company to increase or replace the ceiling/roof insulation to reduce heat loss by conduction.
Temporary solutions include the following:
• Remove snow from the roof using a roof rake or push broom. This solution may result in damages to roofing materials.
• When pooled water is entering your building, use a hose to create channels through the ice dam, allowing the backed up water to escape. This solution is temporary and becomes ineffective within a day or two.
Damage Caused by Ice Dams
There are two ways ice dams damage your roof:
Freezing Water – When water freezes, it expands. As water descends to the extremities of your roof, it gets inside crevices and between layers of roofing material.
When that water freezes, it tears seals apart and loosens fastening points along the edge of the roof.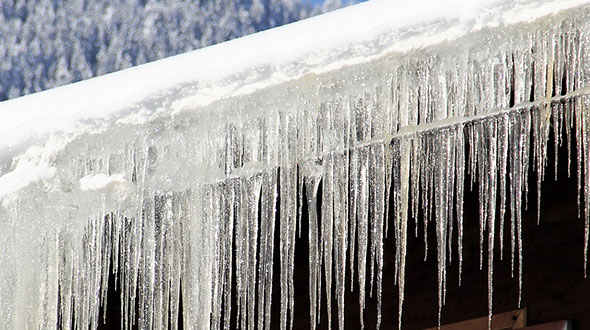 Pooling Water – Water that pools up behind an ice dam will eventually make its way through the roofing system and into your building. This moisture can cause the following:
• Building structural damage
• Insulation damage
• Drywall/ceiling damage
• Electrical system damage
• Flooding (in extreme cases)
• Mold and mildew growth
• Roof leaks/damage
Whatever course of action you decide to take, focus on the factors that cause ice dams. Repairing your building after it has been damaged, can be far more costly than taking measures to prevent ice dams.
Ice Dam Prevention
In this article, you discovered how ice dams form, the damages they cause, and how to prevent them.
By taking action to correct the cause of ice dam formation, you will prevent substantial roof damage, structural damages, and make your building more heat efficient in the process.
If you choose to ignore the formation of ice dams on your roofing system, you are exposing yourself to costly roof and building repairs.
Sources:
extension.umn.edu/protecting-home-rain-and-ice/dealing-and-preventing-ice-dams
bct.eco.umass.edu/publications/articles/preventing-ice-dams/
canr.msu.edu/news/tips_to_prevent_ice_dams_from_forming_on_your_home