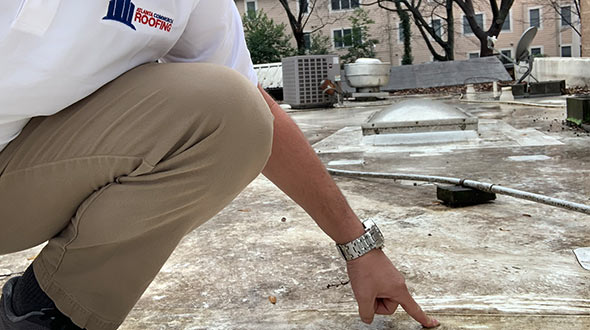 Prevent roof failure, business interruption or a forced closure of your commercial property. Knowing how to inspect your roof will help you detect issues before they can interrupt operation or cause property damage.
atlantacommercialroofingcontractors.com gathered information on how to inspect your commercial roof, what to look for, and what actions to take when potential problems are detected.
Commercial Roof Inspection
Regular roof inspections, maintenance, and cleaning can minimize costly emergency roof repairs and significantly extend the life of your commercial roof. Commercial roofs should be inspected at least twice a year (late winter and early fall). If your commercial property has been subjected to high winds, severe storms, tornadoes, hail storms, or hurricanes, it is of the utmost urgency to inspect your roof and/or contract a roofer to inspect it for you.
The following are the primary things to look for when inspecting your roof. Print this roof inspection checklist, then mark the center box with a checkmark for "good" or an X for "needs attention or repair":
| | | | |
| --- | --- | --- | --- |
| 1 | Dirt and debris on roof or in drains/gutters | | Clear debris with a leaf blower or power washer |
| 2 | Visible weather or impact damage | | Document damage with photos and/or video |
| 3 | Pooling water (ponding) or water stains | | Clear any obstructions from drains |
| 4 | Flashing | | Note damaged or improperly installed sections |
| 5 | Penetrations, skylights, and vents | | Note damages in the seal around the protrusion |
| 6 | Equipment anchoring | | Correct any loosening or damaged anchors |
| 7 | Vegetation growth | | Remove vegetation and note any damages |
| 8 | Mold and mildew growth | | Remove and treat to prevent regrowth |
| 9 | Signs of vandalism | | Document damages and report to authorities |
| 10 | Color fading or chalking | | Call a professional roofer to evaluate the roof |
| 11 | Alligatoring or shrinkage | | Call a professional roofer for repairs |
| 12 | Damaged seams or seals | | Call a professional roofer for repairs |
| 13 | Animal infestation or damage | | Call animal control then a roofer for repairs |
| 14 | Sagging or blistering | | Call a professional roofer for repairs |
| 15 | Corrosion of metal components | | Call a professional roofer for repairs |
| 16 | Damage from foot traffic | | Limit foot traffic and contact a roofer for repairs |
| 17 | Firmness/stability | | This may indicate a failing deck/support system. Have the roof professionally inspected |
| 18 | Downspouts | | Clean or replace if clogged or damaged |
| 19 | Signs of leaks on external walls | | Inspect the edges of the roof |
| 20 | Signs of leaks on internal walls and/or ceiling | | These indicate the general area of a problem in the roofing system |
Note: Repairing damages on your own may void the warranties covering both workmanship and materials. You can avoid such problems by purchasing a commercial roofing maintenance program from a trusted commercial roofing company.
Tip: The notes you take from multiple roof inspections should be shared with your professional roofer. Your notes may provide valuable insight into the issues you are experiencing.
Commercial Flat Roof Inspections
Commercial flat roofs may be composed of TPO, EPDM, Modified Bitumen, or Built-up (BUR) roofing. These roofing systems should be inspected a minimum of twice a year (late winter and early fall). These inspections will help catch developing damages from summer heat and winter freezes.
These roofing systems should also be inspected after significant or severe weather. Strong, sustained wind and heavy rain can exacerbate even the most innocuously appearing damages or defects. Pay special attention to the following:
Membrane wear
Stretching
Ponding
Punctures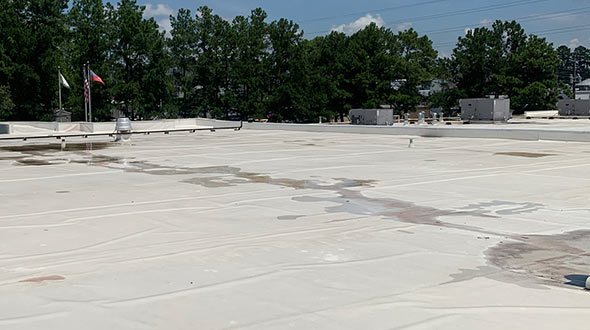 Commercial flat roof systems can last for decades with proper installation and continuous care.
Tip: While rare, leaks in a BUR system may be challenging to locate. It is highly recommended to bring in a professional roofer to identify and repair such leaks quickly.
Commercial Metal Roof Inspections
Among the various roofing systems, a commercial metal roof may have the longest lifespan. However, without proper maintenance, these roofing systems can quickly develop serious problems. Watch for the following:
Corrosion
Damaged Panels
Damaged fasteners or washer seals
While extremely durable, metal roofing systems still require periodic inspections and occasional repairs.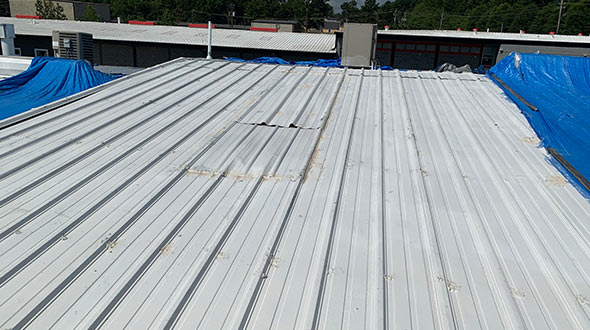 Commercial Sloped Roof Inspections
Commercial sloped roofing systems may be composed of slate, metal, tiles, or asphalt shingles. Like other roofing systems, sloped roofs can wear out over time or suffer significant damages from severe weather. For shingled roofs, consider calling a roofer when:
Shingles lose grain
Shingles start curling
When extensive wear and tear become evident on asphalt shingles, the roofing system may be nearing the end of its lifespan. For tile or slate roofs, pay attention to:
Chips and cracks
Missing tiles
Tile and slate roofing systems can be hazardous when cracks occur, or other problems arise. Leave these inspections or repairs to a professional roofing company.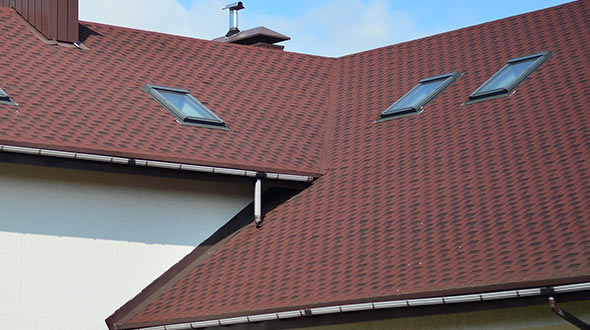 Inspecting a Commercial Roof
In this article, you discovered what to look for during a commercial roof inspection and how to address problems when they arise.
By knowing how to inspect your roof, you can stop minor issues before they develop into expensive problems.
When you neglect taking care of your roof through inspections and a maintenance program, you are risking expensive damages and potential disruption of business activities.
Sources:
inf.gov.nt.ca/sites/inf/files/roof_inspection_checklist.pdf
nachi.org/documents2012/How_to_Perform_Roof_Inspections_THIRD_EDITION-revd-Dec-2013.pdf