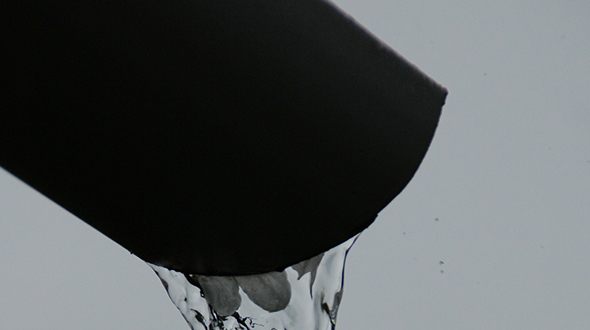 Avoid structural damage to your building due to your flat roof drainage system failing to do its job. Knowing how flat roofing systems drain will help you determine a course of action when yours stops working.
atlantacommercialroofingcontractors.com gathered the following information about flat roof drainage systems, their pros, and their cons.
How Do Flat Roofs Drain?
Flat roofs don't benefit from sloped roofing systems and gravity to assist them with water removal. They require a drainage system to help remove and channel the water. There are three flat roof drainage systems that work in perfect harmony with flat roofs, and each one has its pros and cons:
Scuppers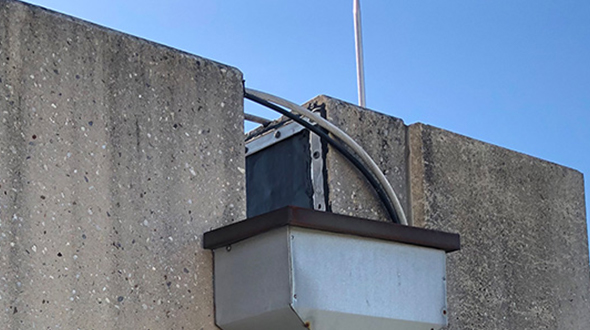 Scuppers are found on many commercial and residential flat roofs. Scupper drains are equally effective and important as other drain systems. Special attention should be given to their location and installation on flat roofs.
What is a scupper? Scuppers are drain openings placed in low-lying areas on the side of a roof for water drainage. A scupper can be installed through a side wall or a parapet wall.
Scupper Pros:
No leaf or debris build-up, everything washes away from or blows off the roof
Water shoots away from the building instead of down the side
Can add architectural/curb appeal to the roofline with custom-built or molded scuppers
Minimal cost
Easy to almost no maintenance required
No clogging issues if the scupper is large or wide enough
Scupper Cons:
If downspouts are installed below your scuppers, they will need to be checked and cleaned regularly since they can easily clog.
Scuppers may not be as effective in severe downpours and seasonal snowmelt.
Scuppers can be easily installed and maintained by your roofing company.
Gutters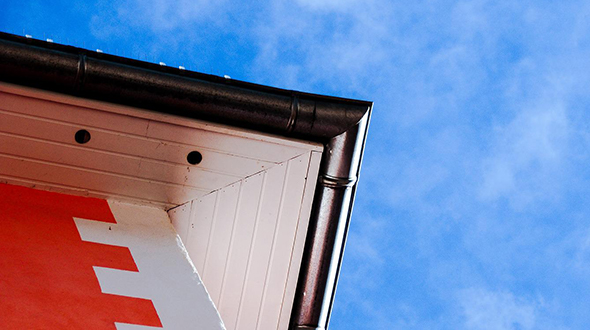 The majority of roofing systems are installed with a gutter system for water drainage. This is the most popular drainage system with the goal of draining water from the roof, moving it to the ground, and ejecting it away from the structure's foundation.
Don't be misled to think that gutters are not effective for a flat roofing system. Though flat roofs are nearly level in comparison with pitched roofing systems, they are not entirely flat.
They do possess very low slopes that help them drain water. Gutters can collect the water that naturally falls off your roof into an open gutter system. They then channel the water off and away from the home or commercial building. Gutter systems are by far the most cost-effective drainage solution for flat roofs, but they require regular cleanings and periodic maintenance for the best results.
Gutter Pros:
Inexpensive and common, gutters are the easiest drainage system to find, customize, and install.
This system helps divert water from inconveniently pouring off the roof in heavier rains, protecting walls, doorways, and windows.
Gutters, with their downspouts, work wonders in keeping water away from the structure, preventing severe water damage.
Gutter Cons:
Gutters typically pull away from fascia boards with time.
Gutters are highly susceptible to debilitating damage from ice, heavy debris, and severe weather.
Gutter drainage systems should be maintained and cleaned multiple times per year (especially prior to and after the rainy season in your region).
Interior Drains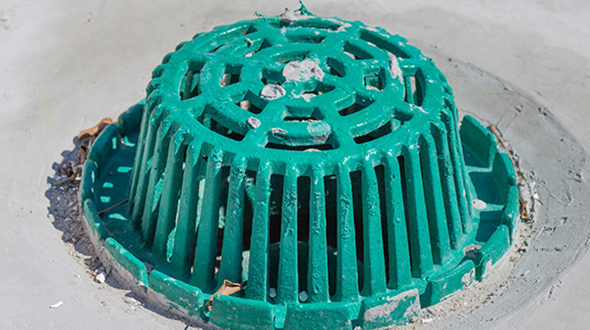 This type of drainage system is often found on the roofs of large buildings, but it may also be used for residential homes. These drain systems are typically built into the structure before the roofing system is installed on it. In this respect, they are like a sink or shower drain. They use an interior system of pipes, are typically found below the roof, and carry water away from the home's foundation. These drains are commonly located in the center of the roof.
Interior Drain Pros:
The pipe system is protected by the roof and walls of the building. This minimizes risks of pipe bursts, failure, cracking, or freezing.
This flat roof drainage system effectively protects your walls and foundation from suffering any severe water damage.
This drain system is somewhat customizable and can easily boost your curb appeal with custom fittings.
Interior Drain Cons:
Interior drain installation is the costliest of all flat roof drainage systems.
While these drains are less susceptible to damage or clogging, you will need to have a professional roofing technician or a certified plumber make any repairs to damage that may occur.
You'll need to remain cautious since debris can easily clog up the system. Installing strainers/filters and routinely checking the system can help prevent blockages. If ignored, you may have to deal with standing water on your roof.
The Right Drainage System for Your Flat Roof
Any of these systems can effectively divert water from your flat roof, provided it is correctly installed and properly maintained. It's important to strongly consider each drainage system's strengths and weaknesses before making your decision, including cost, durability, and maintenance requirements. When in doubt, consult your roofer and consider your building type and location to help you come up with the best drainage system for your flat roofing system.
Flat Roof Drainage
In this article, you discovered three of the ways flat roofing systems efficiently drain and expel rainwater and snowmelt.
Knowing how your roofing system drains water away can help you determine when your roof may need maintenance, cleaning, and even repairs.
Ignoring your roofing system's drains can lead to severe structural problems and costly repairs when they stop functioning correctly.
Sources:
web.mit.edu/parmstr/Public/NRCan/CanBldgDigests/cbd151_e.html
digitalcommons.calpoly.edu/cgi/viewcontent.cgi?referer=&httpsredir=1&article=1069&context=aen_fac
extension.psu.edu/rainwater-cisterns-design-construction-and-treatment