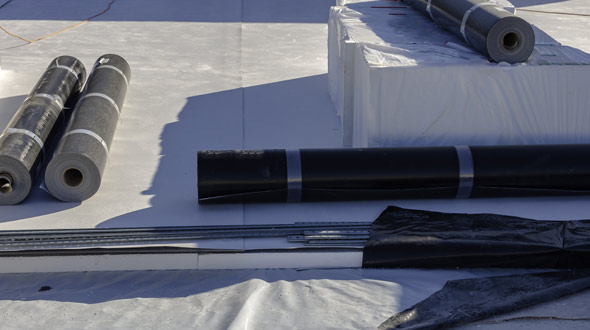 Is TPO the best flat roof system for your property? This question is frequently asked by property owners that need a new roof, and we have the answer.
As a relative newcomer to the roofing materials industry, TPO roofing systems have gained extraordinary popularity and are being used throughout the United States. Due to its durability and cost efficiency, TPO should be considered when re-roofing or installing a new roofing system.
atlantacommercialroofingcontractors.com takes an in-depth look at the definition, installation, warranty, cost, and problems associated with TPO roofing systems while answering some of the most frequently asked questions about it.
TPO Roofing Explained – Production, Properties, and Benefits
TPO is Thermoplastic Polyolefin, and it is one of several single-ply roofing systems.
The following will help you understand the composition, properties, and production of TPO membranes for both commercial and residential structures.
• A TPO membrane may be produced by calendering with lamination (this is the process of combining materials at high heat and pressure by passing them through rollers), extrusion with lamination (a process to make long shapes with constant cross sections, similar to squeezing toothpaste from a tube), or through extrusion-coating techniques.
• Sheet thickness is usually 40 mils to 100 mils. That's about the thickness of a heavy duty trash bag.
• Sheets are typically produced in widths ranging from 6 feet to 12 feet.
• The composition of TPO sheets is a blend of polypropylene, ethylene propylene polymers, and polyester reinforcement.
• Overlapping seams are sealed by heat welding which uses hot air.
• The majority of TPO membranes are white but can come in a variety of colors.
• TPO roofing is resistant to oils and chemicals carried by commercial exhaust vents.
• TPO roofing material contains flame retardants and UV absorbing elements.
• TPO roofing systems receive high wind ratings when properly installed.
• TPO roofing has a life expectancy of about 30 years, however, only having been in use for three decades, its full potential lifespan is still being evaluated. As time passes, production of the system and its method of installation have naturally worked out the bugs, thus improving the product and increasing its longevity.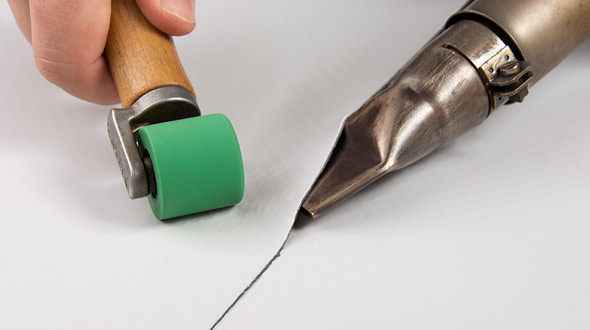 TPO Roofing Installation and Warranty
The installation of a TPO roofing system, when done by an experienced roofing company, is fast, clean, and virtually nonintrusive.
How your roofing system is installed will determine its ability to withstand the elements and ultimately its lifespan.
Affixing the TPO membrane is accomplished by making it fully adhered, and mechanically attached or ballasted; the following factors greatly influence the quality of the roofing system's installation:
• Proper roof slope for a efficient draining.
• Strategic installation and fastening of insulation (when used) to deter bulging or sagging.
• Proper application of adhesives.
• Proper use of a seam welder (to prevent future leaks in the seams).
• All welds checked using a seam probe.
• Drip edge seamlessly connected around the perimeter of the roof.
In addition to a quality installation, a strong warranty is advantageous and very valuable. There are two warranties to consider when installing any new roofing system:
Manufacturer's Warranty – This warranty covers manufacturing defects in the material used for your roofing system. Once the installation is complete, your contractor should provide you with a warranty certificate.
An example of material failure would be the separation of the lamination from the TPO membrane during hot weather. Unless it is determined to be a result of faulty installation, a claim should be made against the manufacturer's warranty.
Contractor's Warranty – This warranty covers the workmanship and installation of your roofing system.
While there is no industry standard for the duration of a contractor's warranty, it should contain the following:
• A list of what items are covered.
• What actions or situations would void the warranty.
• When the warranty expires.
The above installation and warranty information underscore the necessity to thoroughly vet contractors.
TPO Roofing Cost
Pricing any roofing system can be a daunting experience. Often there is a significant disparity from one quote to the next, validating the need to collect a minimum of three bids from reputable roofing contractors.
Prices for installing a TPO roof system will vary depending on the time of year, brand, quality of the materials, method of installation, and the amount of labor involved. You can expect to see price quotes in the following ranges:
Tear-off costs can run between $100 and $200 per square. In some cases, the contractor will bundle this into material and installation pricing.
A tear-off is when the existing roofing system is completely removed to install a new system. Depending on the type of roofing system being installed and the condition of the existing roof, the new system may be installed over the existing one.
TPO material will see a price range between $150 and $500 per square.
TPO installation labor costs will range from $500 and $900 per square.
Maintenance contract pricing varies from contractor to contractor.
Roofers and their suppliers price materials in terms of 'squares,' whereas
1 square = 100 square feet.
So as an example, the price range of the bids you receive, including tear-off, material, and installation for a 1,000 square foot roof may fall within $7,500 to $16,000.
Note: Across the industry, roofing installations are more expensive in the spring and summer time. To save money, try to schedule an installation for the off-peak season (early spring and fall).
TPO Roofing Problems
The majority of problems that arise with TPO roofing systems occur as a result of poor installation.
Here are some commonly reported issues:
• Roof slope is too low, resulting in pooling water. (which degrades materials faster)
• Insulation (under the membrane) not installed correctly and is causing bulges.
• Seam separation from improper welding, allowing water penetration.
• Torn membrane from debris striking the roof.
For proper installation, it is essential to hire a roofing company that has extensive training and experience with TPO roofing systems.
People Also Ask
Question: Is TPO better than EPDM?
Answer: Inconclusive. Depending on which aspect of the two roofing systems you wish to compare, and your roofing requirements, the answer may vary.
While EPDM and TPO offer very similar benefits, TPO with its stronger and more durable seams (adhered to the roof), make it a desirable option.
Question: What is the difference between PVC and TPO?
Answer: Visually, the two roofing systems are virtually identical.
Performance-based, the two systems produce similar results until puncture resistance, environmental impact, and eventual "known" problems are taken into account. In this scenario, the TPO system is a superior option. However, when price and warranty terms are considered, PVC edges out TPO. Both are great products that check different boxes and satisfy different needs.
Question: How long has TPO roofing been around?
Answer: Since 1989.
Question: What colors does TPO roofing come in?
Answer: Standard colors are white, tan, and grey. However, TPO can be found in different shades of grey, brown, green, red, tan, and gold.
Question: Is TPO roofing flammable?
Answer: Yes. However, as with all roofing systems, TPO roofing is required to meet FM and UL fire ratings.
A distinct difference and advantage of TPO is that it does not release dioxins when burned and contains flame retardants.
TPO Information Revealed
When being presented options and quotes for new roofing systems, property owners frequently ask "What is TPO?" As you've discovered, it's one of the most popular thermoplastic roof membranes in today's roofing industry.
In this article, you were presented valuable information about the installation, warranty, cost, life expectancy, problems associated with TPO roofing systems, and answers to frequently asked questions.
By asking the right questions and being informed when selecting a roofing system and the contractor to install it, you will benefit from getting the best roofing solution and warranty at the best available price.
Sources:
http://www.everybodyneedsaroof.com/thermoplastic-membranes
http://mrca.org/aws/MRCA/asset_manager/get_file/161617?ver=344
http://firestonebp.ca/roofing/tpo-roofing-systems/tpo-installation-methods/
http://www.nrca.net/
http://www.azsfb.gov/sfb/Performance%20Specifications/Roofing%2009202018/07%2054%2023%20-%20TPO.pdf
Atlanta Commercial Roofing Contractors
1075 Peachtree Street NE Ste 3650
Atlanta
,
GA
30309
(404) 220-9288
Atlanta Commercial Roofing Contractors
400 17th St NW Ste 2224
,
Atlanta
,
GA
30318
(404) 220-9288