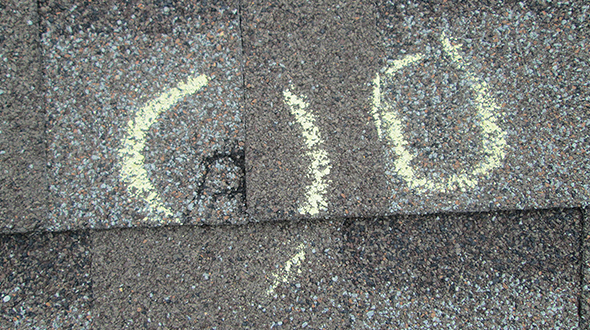 Prevent roof hail damage from developing into catastrophic structural damage. Knowing how to identify and get roof hail damage repaired will extend the life of your building and keep its occupants safe.
atlantacommercialroofingcontractors.com gathered the following information to help you identify roof hail damage on multiple roofing types, when to call your insurance company, and how to get it repaired.
What Roof Hail Damage Looks Like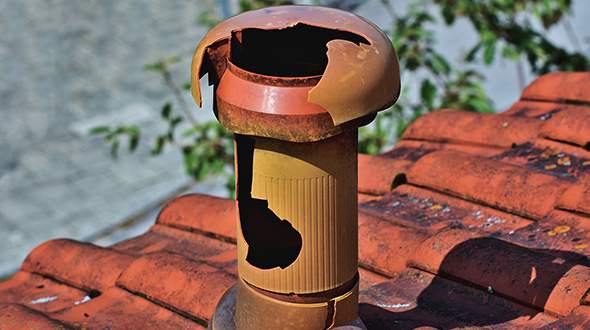 The first sign of damage you should look for is roof surface damage. If you have an asphalt shingle roof, you may notice some of the following signs of hail damage:
Round black areas
Small divots
Bruised shingles
Severe loss of protective granules
Missing or cracked shingles
If you have a metal roofing system:
Normal-sized hail will not likely dent your roof
Larger hailstones may dent your metal roof
With a textured metal roofing system, minor denting may go unnoticed
If you have wood shingles:
Shingles can get knocked off the roof
Undetectable cracks may occur from hail impact
Shingles may be knocked out of alignment
And if you have a membrane roofing system (EPDM, TPO, PVC):
membranes are highly puncture resistant. However, with large enough hail (3/4" or larger), the membrane can be fractured from the impact.
Where hail impacts the membrane, any damage will typically appear as a dark circular or star-shaped pattern.
Damage from smaller-sized hail on relatively new membrane installations can be challenging to detect.
Note: Not all hail damage is the same. Some damage can be easily seen on the surface. However, some damage may only be discovered through a detailed or more in-depth inspection.
Tip: When you suspect your roof has hidden hail damage, call a roofing professional to conduct an inspection. They can lift, examine, and re-seal shingles as needed. A professional roofer can also assess other roofing types and components for damage, like flashing, roof vents, skylights, gutters, and chimney caps.
What Factors Contribute to Hail Damage
The following four factors significantly contribute to or stifle the damage a hailstorm can cause to your roofing system:
Roofing System Age and Condition – A roof's age and condition are among the leading factors that determine the extent of the damage hail can do to a roofing system. This means a roofing system that has weakened with age or has been neglected has a higher risk of hail damage as compared to a newer, well-maintained roof.
Hailstone Size, Shape, and Density – Hailstones vary in size, shape, and density. The majority of roofing and weather experts find that hailstones three centimeters or larger cause the most damage. Large-sized hailstones expedited by high winds are known to puncture aging, weaker roofing structures.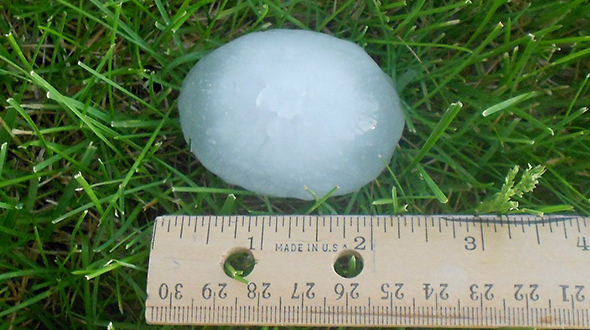 Wind – Wind is another prominent facet of hail damage. Its speed, intensity, and direction during a hailstorm event affect the seriousness of hail damage and the extent of emergency roof repair required after the storm. Additionally, gusts of fast-moving winds can inflict tremendous damage, if not the most severe damage.
Structural or Physical Barriers – There are physical barriers and structural obstacles in the environment that help block or slow down the movement of hail and subsequently shield a roof from intense hailstorm impacts. Some of these barriers include large, tall trees, landscaping objects, or neighboring structures, such as fences, privacy screens, and neighboring buildings.
Once the storm is over, it is vital to survey your home and investigate any form of damage potentially resulting from hailstones or high winds. It is worthwhile to be thorough with your roof inspection. Remember, any minor or major problems that go undetected will only worsen and become more expensive to fix as time goes on. A roofing professional will inspect the following areas and components:
Roof Shingles
Gutters
Chimneys
Skylights
Roof Vents
Tip: With so many roofing components to account for, hiring a roofing professional will help you avoid missing any difficult-to-detect damage.
What Conditions Are Commonly Mistaken for Hail Damage
Correctly identifying roof damage is vital to getting it repaired correctly. This is also vital when determining the necessity to activate any warranties or insurance claims. Your roofing professional should be able to differentiate hail damage from other types of damage, like: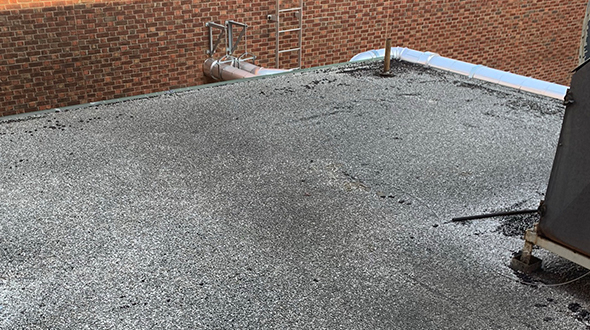 Blistering, alligatoring, or cracking caused by sun (UV) exposure
Scuffing damage from shingle installation, foot traffic, or equipment installation
Wind and/or debris damage
Wildlife activities
Worn-out shingles (normal wear and tear)
Once your roofer has identified the damage, they can provide an accurate estimate and advise you on getting your roof either repaired or replaced.
When To Call Insurance
If you suspect that your roofing system has suffered hail damage, you should call your insurance company first to begin the claim process and then your roofing contractor. Your roofing contractor can advise you but can't do any actual repairs or replacement until your insurance adjuster approves the hail damage claim. Read "Commercial Roof Storm Damage and Insurance Claims" to understand how storms damage commercial roofing, which will help ensure getting your maximum insurance payout.
Should I Replace My Roof after a Hail Storm?
Not necessarily. The majority of roof leaks occur due to poor installation practices or neglect, not hail damage. Older or poorly maintained roofing systems may require extensive repairs or replacement after hail damage.
What happens if I don't replace my hail-damaged roof?
If your roof is older and gets damaged by hail, neglecting it could lead to:
Extensive and severe water damage
Rotted or rusted roofing components
Complete roofing system failure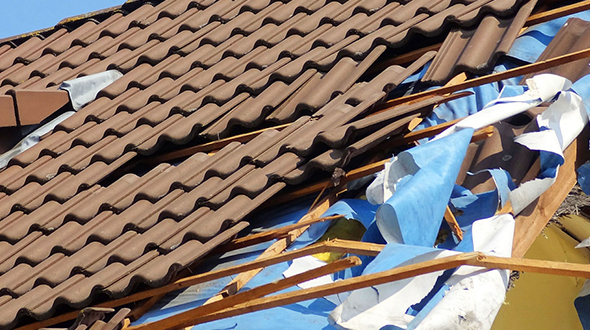 Tip: Keep a current roofing maintenance program that provides scheduled annual inspections and allows for emergency inspections following severe weather conditions.
Roof Hail Damage
In this article, you discovered how to detect hail damage on multiple types of roofing systems, when to call your insurance company, and when to repair or replace your roof.
Keeping a maintenance program for your roof and staying vigilant after severe weather events like hail storms will help you extend the life of your roofing system.
Neglecting your roof's maintenance needs and damages resulting from severe weather will significantly reduce its life expectancy and potentially lead to its failure.
Sources:
iibec.org/wp-content/uploads/2013-12-hogan.pdf
doi.nebraska.gov/files/doc/out01121.pdf
fema.gov/case-study/hail-hail-roofs-still-here
weather.gov/jetstream/hail