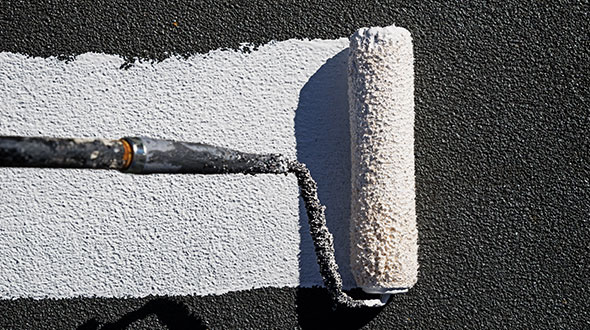 Prevent your failing commercial roof from shuttering your business, costing you valuable time and money. Commercial roof coatings can extend the life of your current roofing system by twenty years or more,
atlantacommercialroofingcontractors.com gathered information about commercial roof coating purpose, benefits, installation, types, and maintenance for you to make informed decisions when your commercial roof needs attention.
Commercial Roof Coating Purpose
The purpose of commercial roof coatings is to improve the performance of your roof and increase its lifespan.
Commercial roof coatings protect your property by creating a seamless layer of protection that self-adheres to your existing roofing system. The majority of these coatings are reflective and do not absorb UV rays, keeping your roof and property cooler (making your roofing system a "cool roof"), saving energy and money.
Commercial Roof Coating Benefits
As previously mentioned, commercial roof coatings can help you save money by reflecting UV rays. The benefits don't stop there, consider the following when determining if a roof coating is the right choice for your building:
No Leaks – Commercial roof coatings eliminate leaks from your roofing system. You may rarely wind up with a leak, but they are easy to fix.
Cool Roof – High solar reflectance (albedo) is the most critical characteristic of a cool roof as it reflects sunlight and heat away from a building, reducing roof and internal temperatures. A high thermal emittance also positively contributes to lowering heat-island temperatures in climates that are warm and sunny.
These properties help roofs to absorb less heat and remain up to 50–60°F cooler than conventional materials during the summer months.
Resistant To Ponding – When your roofing system's drains get partially or entirely interrupted, water will back up and settle in the lowest areas of the roof. Due to the coating's seamless application, water penetration is prevented until you can correct the problem with the drainage system.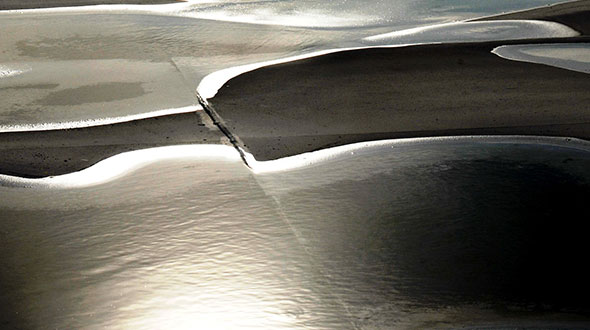 Low-Cost Solution – A commercial roof coating application is an inexpensive alternative to roof replacement that, when properly applied, can significantly extend the life of your roofing system, making its cost-benefit even greater.
$8,000 to $16,000 is the range you can expect to pay for a 1,600 square foot flat roof installation (materials and labor).
$1,040 to $8,000 is the range you can expect to pay for a 1,600 square foot roof coating application (materials and labor).
Longevity – Creating a watertight barrier over your original roofing material can extend its lifespan by as much as 20 years.
Versatility – Commercial roof coatings can adhere to a wide range of substrates. Occasionally, a primer is needed for the coating to adhere to the substrate (more on this below).
Easy Installation – When applying a commercial roof coating, contractors will save time and headaches. At the same time, building owners can get their roof revamped faster for less money and without interrupting operations within the building.
While there are impressive benefits associated with nearly every aspect of commercial roof coatings, if your roof has suffered catastrophic damages or has completely failed, it may be necessary to replace it altogether.
Read more about installing a new roof at atlantacommercialroofingcontractors.com/commercial-roof-installation/
Commercial Roof Coating Installation
A roof coating installation is a simple process. As mentioned above, it is one of the benefits. The following will bring into focus just how easy it truly is:
Roof Inspection – A roof inspection is the first step in this process, and the professional performing it will be looking for the following:
Storm, animal, or impact damages
Shrinkage (membrane roofing systems)
Damaged sheet metal (metal roofing systems)
Damaged flashing
Loose protrusions
Drain blockages
Pooling water
Previous or current leak damage
Structural integrity
These inspections are most effective when performed within 48 hours after rainfall.
Roof Repairs – Once your inspection is done, you'll have a list of damages or irregularities to fix. Before you can apply a roof coating, all problems must be halted and removed. If a roof coating is applied to a roof with wet insulation, loose protrusions, structural problems, etc., those problems will be sealed in and continue to cause problems.
Clean the Roof – Once all repairs are complete, the final activity before installation is to clear the roof of:
Tools and equipment
Debris
Dirt
Oil/Exhaust buildup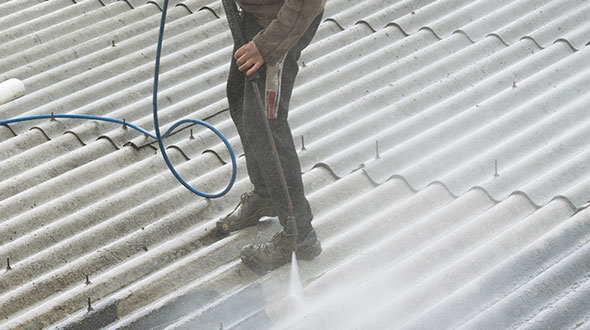 Remove everything that is not a part of the roofing system. Using a power-washer, brooms, and industrial vacuums are effective ways of cleaning your roof before coating application.
Install the Roof Coating – After the roof has been inspected, repaired, and cleaned, your roofer can properly apply your roof coating. Coatings can be applied by rolling them on or spraying them on the roof's surface. Done correctly, the coating will cure over 24 hours, leaving your roofing system rejuvenated and sturdy for up to 20 years.
Commercial Roof Coating Types
The following are common types of roof coating that can be applied to your existing commercial roofing system:
Acrylic Coatings – Acrylic coatings come in solvent and water-based formulas, and the qualities of the coating depend on the selected formula. Acrylic coatings have outstanding weathering properties and reflect UV rays. The selection of a formula depends on the type of the roof, adhesion, regional temperature fluctuations, etc.
Silicone Coatings – Silicone coatings are commonly applied in regions subject to an abundance of rain, leaving the roof wet for long periods. These coatings are also highly effective at reflecting UV rays, helping commercial structures stay cool.
Butyl Elastomeric Coatings – Butyl elastomeric coatings are made from butyl rubber and possess excellent flex properties, adhesion to multiple substrates, and resistance to most weather and temperature conditions.
Read more about butyl elastomeric coatings at atlantacommercialroofingcontractors.com/butyl-elastomeric-roof-coating-explained/
Polyurethane Coatings – Polyurethane coatings are solvent-based and come in either aromatic or aliphatic variations. Polyurethane coatings have high abrasion resistance traits and are preferred on roofing systems with high foot traffic or regions that experience frequent hailstorms.
Commercial Roof Coating Maintenance
Should you acquire a maintenance program to cover your roof coating and roofing system?
Yes. In the same way you would contract a professional roofing service to maintain your roof without a roof coating, you should acquire an equivalent maintenance program once your roof coating is installed. Some of the benefits include:
Bi-annual inspections
Emergency inspections after severe weather
Light maintenance and repairs
Preventive maintenance
Gutter and drain cleaning
Debris removal
For more in-depth information about maintenance programs and services, read atlantacommercialroofingcontractors.com/maintenance-programs-services/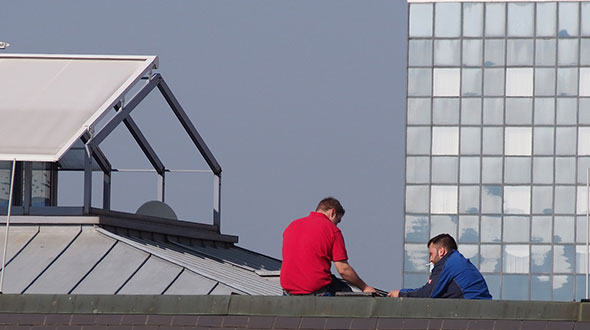 Commercial Roof Recoating
One of the added benefits to getting a roof coating is that once you near the end of its lifespan, you can have it recoated, adding another 15 to 20 years to the life of your roofing system.
Note: Some municipalities have codes that address commercial roof recoating and may limit the number of times a roof can be coated before requiring repair or replacement. Visit your city's website and search for "roofing codes" or call their "Office of Buildings/Construction" for more information.
Coating Your Commercial Roof
In this article, you discovered information about the purpose, benefits, installation, types, and maintenance programs associated with commercial roof coatings.
By informing yourself about commercial roof coatings, you can make well-informed decisions when it's time to address roofing issues, or take action to prevent them.
Allowing your roof to remain fully exposed to the elements can dramatically reduce its lifespan, leading to premature problems and failure. Significant problems or premature replacement can lead to you exceeding your roofing budget and costing your company capital that could be used in other areas.
Sources:
homeadvisor.com/cost/roofing/seal-a-roof/
roofcalc.org/flat-roof-calculator/
henry.com/fileadmin/pdf/current/tds/HE280DC_techdata.pdf
www2.epa.gov/heat-islands/using-cool-roofs-reduce-heat-islands