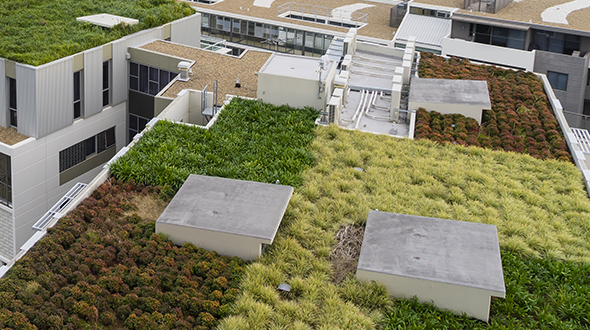 Prevent being overwhelmed with the installation and cost of converting your flat roofing system to a green roof. Knowing what a green roof is, what one does, and what investment to expect will help you make informed decisions.
atlantacommercialroofingcontractors.com gathered the following information about what a green roof is, where this concept/technology comes from, what a green roof does, What benefits you can expect from having a green roof, and what cost you can expect to have one installed.
What is a Green Roof?
A green roofing system is a vegetation layer planted over a waterproofing system installed on a flat or slightly–sloped roof. Green roofs are also commonly referred to as "vegetative" or "eco-roofs." They are typically grouped into three categories being extensive, intensive, and semi-intensive:
Extensive Green Roofing – An extensive green roof has an extremely shallow growing medium, usually measuring less than six inches. This green roofing has a modest roof load, limited plant diversity, minimal watering/care requirements, and is more often than not inaccessible.
Intensive Green Roofing – Intensive green roofs will have more soil and a deeper growing medium than extensive green roofs. This growing medium can often reach several feet and support a more diverse plant selection, sometimes including small tree species. These roofing systems possess a more substantial structural load and require more frequent maintenance and watering. These roofing systems are typically accessible.
Semi-Intensive Green Roofing – Semi-intensive green roofs will include features of both extensive and intensive green roofing. The depth of any green roof depends on the roofing structure (roof load), the plant species chosen, and annual rainfall.
All green roofs require specific layers of roofing materials typically not found on regular flat or sloped roofs. The basic anatomy of a green roof consists of:
Vegetation
Growing medium
Filter membrane
Drainage layer
Waterproof/root repellant layer
Roofing membrane support
Thermal insulation
Vapor control layer
Structural roof support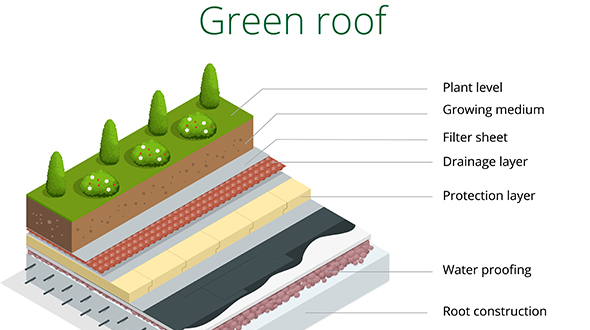 Note: Each of these layers performs an independent function to support the vegetation above and protect the building structure below.
Tip: Some green roofs may be installed in a single large integrated section, while modular green roof installations use small removable planting beds pieced together to create a more substantial green roof. These modular units may be made of plastic or metal and filled with a high-quality growing medium. Modular green roofing systems can be installed incrementally and are easily moved or removed for scheduled maintenance and periodic inspections of the roof layers beneath.
What Does a Green Roof Do?
Green roofing systems provide shade, reduce heat from the air, and lower both surrounding air and roof surface temperatures. Green roofs in cities or built-up environments with limited vegetation can significantly moderate the heat island effect. Green roofing systems' average temperatures can be 30 to 40°F lower than those of conventional roofing systems.
What are the Benefits of a Green Roof?
Green roofing systems offer multiple benefits, often varying by region, building design, and climate. The following are expected green roof benefits:
Reduced Air Pollution and Greenhouse Gas Emissions – By reducing a structure's air-conditioning and heating demand, green roofs are capable of decreasing associated air pollution and greenhouse gas emissions from typical power sources.
Reduced Energy Consumption – Green roofs remove heat from the air by evapotranspiration and can also act as insulators, reducing the energy needed to operate cooling and heating systems.
Improved Health and Comfort – Green roofing, by reducing heat transfer through the building's roof, can significantly improve indoor comfort, and lower the stress associated with heatwaves.
Improved Quality of Life – Green roofs provide a structure with aesthetic value and rich habitat for plant and animal species. They naturally improve human interaction with nature by introducing green space in a built environment.
Improved Stormwater Management and Water Quality – Green roofing systems can significantly reduce and slow stormwater runoff in an urban environment while filtering pollutants from rainfall.
How Much Does Green Roofing Installation Cost?
The cost of a green roofing system varies significantly depending on the type and architectural factors like its growing medium's depth, chosen plant species, the installation size, irrigation method, and the roof's accessibility on inaccessibility.
An installed extensive green roofing system may cost from $15 to $30 per square foot. While intensive green roofs will typically require a more significant installation investment ranging from $20 to $40 per square foot.
Initial costs are typically offset as the green system extends the life of the roof membrane and reduces your building's heating and cooling costs.
Green Roofing for Your Residential or Commercial Property
In this article, you discovered essential information about what green roofing is, what a green roof does, the benefits of a green roofing system, and the associated cost of green roofing installation.
Installing a green roofing system on your home or business will reduce your carbon footprint and save you money on heating your structure, furthering its benefits to the environment.
By not installing a green roofing system, you are contributing to your city's rising temperatures, turning away potentially significant energy savings, and missing out on a valuable opportunity to contribute to the environment.
Sources:
greenroofs.org/about-green-roofs
epa.gov/heatislands/using-green-roofs-reduce-heat-islands
nps.gov/tps/sustainability/new-technology/green-roofs/define.htm