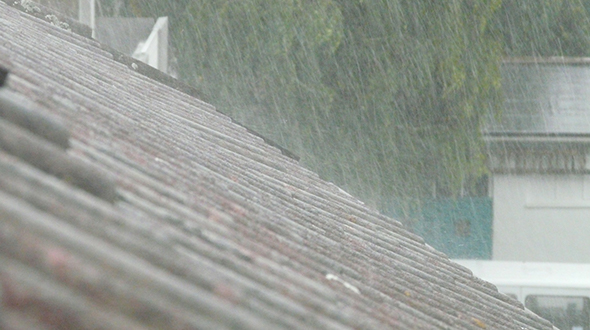 There is almost nothing worse than the frustration and costly damages that occur when a roof starts leaking in the middle of a rainstorm. Knowing how to fix a leaky roof in the midst of a rainstorm can save you from significant water damage and messy cleanup.
atlantacommercialroofingcontractors.com gathered the following information about steps to stopping a roof leak in the rain.
How Do You Stop a Roof Leak While It's Raining?
As with any type of commercial or residential roof leak, the following steps will help you get that leak temporarily under control until you can schedule a roofing professional to make permanent repairs.
Locate The Source of The Leak
Sometimes, the source of a leak is evident. However, there are times you'll have to follow a series of clues to positively identify the problem. Inspect your roof thoroughly to rule out: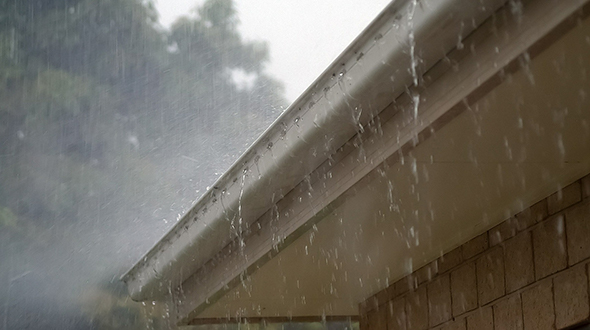 Clogged/Overflowing Gutters and Downspouts
Clogged Internal Roof Drains
Missing/Damaged Vent Covers
Ponding
HVAC units
Pest Infestation
Previous Storm/Structural Damage
Once you've identified the leak location, assess any damages it has caused and what material you will need to stop the leak. Tools and material used to stop a roof leak include:
Light Source (Flashlight)
Bucket
Sponge
Putty Knife
Tape Measure
Utility Knife
Hammer
Staple Gun
Plywood
Shingle or Other Roofing Material
6-mil Polyethylene Sheeting
4 4-foot segments of 2X4
Roofing Tar
Clear Out Your Work Area
Give yourself enough physical space to do this job. Once you have determined where the leak is coming from, do the following:
Remove any soaked insulation
Use a mop or wet vac to extract as much water as possible
Place buckets/pails beneath the leak
Move furniture and appliances out of the way
Place tarps over any furniture or appliances too large or difficult to move
Note: Avoid placing any weight on ceiling tiles or drywall from inside the attic. Instead, place plywood or boards across the joists and work from that.
Tip: Double-check the origin of your leak. Water will often enter at one point and travel along rafters or the underside of the roofing deck to another.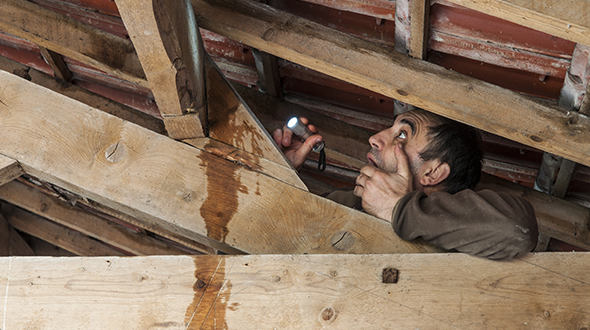 Stop The Roof Leak
This repair should be made from the rooftop. If you feel it is not safe to be on the roof for any reason, capture as much of the water from the leak as you can and wait for conditions to improve.
Once it's safe to climb on your roof, secure a ladder at its base and again at the fascia or eaves of the roof. Once your ladder is secure, here's what to do:
Put on rubber-soled, well-treaded shoes.
Take measurements made from inside the attic to determine precisely where the leak is on the roof's exterior (vertically from the roof's ridge and horizontally from the gable to the leak).
Apply roofing tar to the leaking area with a putty knife.
Build an emergency roof patch by placing a spare shingle or piece of plywood on the roofing tar.
Add roofing tar over and around the patch to seal it and make it stay in place.
If you cannot find the leak's location, build an emergency roof covering:
Use the vertical and horizontal measurements from within the attic to find the leak's approximate exterior location.
Unroll enough 6-mil polyethylene (PE) sheeting to reach from the eave to the ridge plus about 4 extra feet and cut the piece with your utility knife.
Unfold the cut piece of sheeting to reveal an 8-foot-wide strip.
Roll one end of sheeting around a 2 x 4 and staple it to the board.
Nail or screw a second 2 x 4 over the first one to secure the plastic between the boards.
Set the 2 x 4 plastic sandwich along the eave.
Secure the opposite end of the sheeting to the remaining 2 X 4's and pull it over the ridge.
Note: These repairs are temporary and should be followed up by a permanent repair by a professional roofer.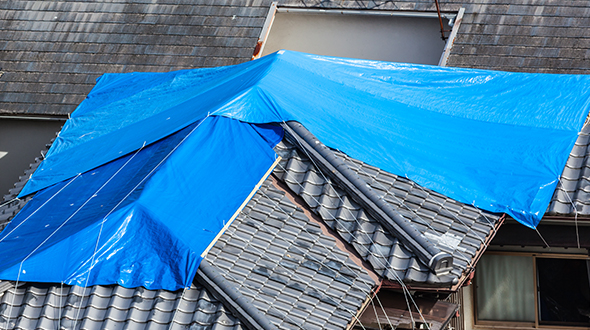 Tip: Before climbing on your roof, verify your roofing system warranty, insurance policy, and maintenance agreement.
How To Prevent Roof Leaks
Regardless of the roofing system you have installed, it will likely spring a leak within 5 to 7 years. This occurs because roofing systems are generally composed of various materials, including plastics that can constrict, crack and metal that can rust. You can prolong the life of your roofing system by:
Maintaining a maintenance program with a reputable roofing company
Preventing ice dams from damaging your roofing material
Periodically cleaning out drains, gutters, and downspouts
Caring for (including pruning) trees surrounding your structure
Preventing excess or unnecessary foot traffic on your roof
Keeping objects secure that could come loose and fly during severe weather
Tip: Keep your roof-bound equipment in top operating conditions. Excessive condensation, vibrations, or heat emissions can all damage your roofing system.
Stopping Roof Leaks
In this article, you discovered steps and tips on how to locate and temporarily stop roof leaks when it's raining or during the rainy season.
Knowing how to take fast and safe action when your roof springs a leak during the rain will help you save your structure from severe and costly damages.
Allowing a roof leak to go unaddressed can lead to severe structural damages, including your roofing system's failure.
Sources:
extension.umn.edu/protecting-home-rain-and-ice/dealing-and-preventing-ice-dams
kenosha.extension.wisc.edu/files/2010/06/Leaky_roofs.pdf