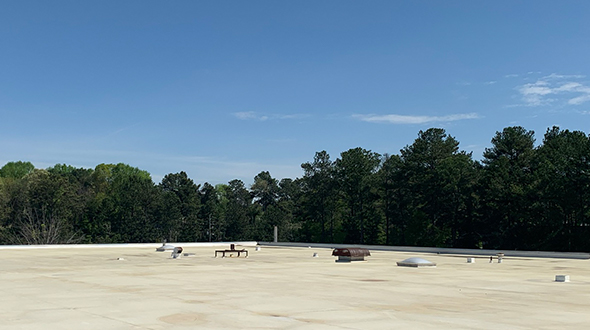 Avoid making uninformed decisions about your roofing system and its components. When it comes time to replace your roofing system, quote it confidently and get your questions answered.
atlantacommercialroofingcontractors.com gathered information to help you define TPO roofing, access further information about its installation, and address some of the questions associated with a TPO roofing systems.
What is a TPO Membrane
Made from thermoplastic polyolefin, TPO is a single-ply roofing membrane that is currently one of the fastest-growing commercial/residential systems in the roofing market. TPO roofing systems are composed of a single layer of synthetics and reinforcing scrim used to cover flat roofs.
Where did TPO Roofing Originate?
TPO membranes can be traced back to Europe in 1991, under the name FPO (Flexible Polyolefin). Also, in the early '90s, TPO roofing came to the US market. In subsequent years, TPO became a popular selection because of its durability, and energy efficiency.
What Are Common TPO Roofing Problems
Punctures – While this single-ply roofing system can be walked on and is both flexible and lightweight, the membrane itself can easily suffer punctures.
With commercial roofs, one of the more common problems is a higher volume of foot traffic when compared to other types of buildings or roofing structures. Unless reinforced, this single-ply membrane roofing system won't have a hard-top/protective layer that is meant to protect the layer of synthetic rubber from things like gravel, dropped/misplaced tools, or loose screws.
TPO roofing problems like this often find those materials pushed into or through the rubber membrane, breaking or tearing it. This leaves the roofing system more vulnerable to leaks and failure as it ages.
Degrading Adhesives – Being exposed to the elements 24 hours a day, 7 days a week, leads to roofing problems in specific components, if not the roofing system in its entirety.
Overexposure can occur when UV rays degrade the adhesives that attach the membrane and insulation to the substrate. Those adhesives are also used to seal the seams of the membranes together, producing the waterproof seal that keeps your roof safe in even some of the harshest of weather conditions. Without that seal, your roofing system can fail.
The following are also commonly reported problems and in most cases may be traced back to the roofing system's installation:
Roofing substrate poorly prepared
The roof slope is too low, resulting in pooling water or poor runoff. (which degrades materials faster)
Improperly installed insulation, resulting in bulges
Seam separation/failure from improper welding, allowing water penetration
Torn membrane or punctures from debris striking the roof
Find more information about TPO roofing systems at atlantacommercialroofingcontractors.com/tpo-roofing-system-explained/
TPO Roofing System Lifespan
TPO Roofing îs a relative newcomer on the roofing market. With a traceable history of just over 30 years, multiple material improvements, and continuous system betterments, a definitive lifespan cannot yet be determined.
Note: All roofing systems can benefit from a proactive maintenance program. For TPO, these benefits include:
Early problem detection
Preemptive repairs
Storm/Severe Weather damage inspections and repair
These benefits translate to a longer lifespan with fewer occurrences of material or component failure.
Frequently Asked Questions
Which is better, TPO or EPDM?
TPO. EPDM is more likely to shrink or alligator, causing a variety of problems on your roof
Can you walk on TPO roofing?
Yes. However, walkways and Paths to equipment should be reenforced for this increased traffic.
Is TPO roof glued down?
A TPO roof can be installed fully-adhered (glued down), mechanically-attached or ballasted. When a TPO system is fully-adhered, it means that the membrane was glued to the substrate using a special adhesive that chemically bonds with the membrane.
How do PVC and TPO Roofing compare?
These two similar roofing systems have more in common than what divides them, as demonstrated at atlantacommercialroofingcontractors.com/difference-between-pvc-tpo-roofing-systems/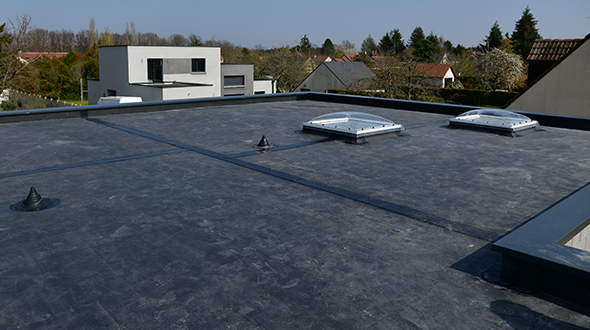 TPO Roofing System Installation and Maintenance
In this article, you discovered what TPO roofing is, revealed further information about its components and installation, and answered some frequently asked questions about it.
Knowing how TPO roofing compares to other roofing systems will help you make well-informed decisions when determining which roofing system to install on your structure.
Not knowing how roofing systems compare to each other can lead to poor decisions when selecting a roof to protect your building and business.
Sources:
firestonebpco.com/us-en/roofing/tpo-roofing-systems
vinylroofs.org
citeseerx.ist.psu.edu/viewdoc/download?doi=10.1.1.11.78&rep=rep1&type=pdf