Are you looking for a roofing solution that combines durability, energy efficiency, and resistance to fire? PVC roofing systems might be the answer you've hoped to find. In this blog post, we'll uncover the benefits of a PVC roofing system, compare it to other roofing systems, and guide you through the process of choosing and installing a PVC roofing system for your commercial or industrial building. Let's dive in!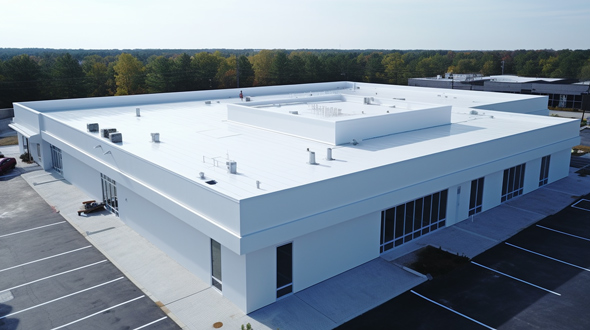 PVC Roof Summary
PVC roofing offer increased durability, chemical and fire resistance, and improved energy efficiency – resulting in a less costly cooling bill.
Some drawbacks of PVC to consider are that the membrane degrades as it ages, colder climates can cause cracking, and membrane incompatibility can make repairs harder.
Installation methods for PVC roofs vary. The replacement cost must be considered in conjunction with maintenance & repair costs to make an informed decision.
When selecting a commercial roofing contractor, it is important to consider their PVC experience, overall reputation & customer service.
Understanding PVC Roofing Systems
PVC roofing systems, or polyvinyl chloride roofing systems, have been gaining popularity as a durable and reliable choice for commercial roofing system applications in commercial and industrial buildings. These PVC roof systems consist of single-ply PVC membranes that offer high durability and resistance to fire, chemicals, and hurricane-level winds, making PVC roofs an excellent option for a roof system.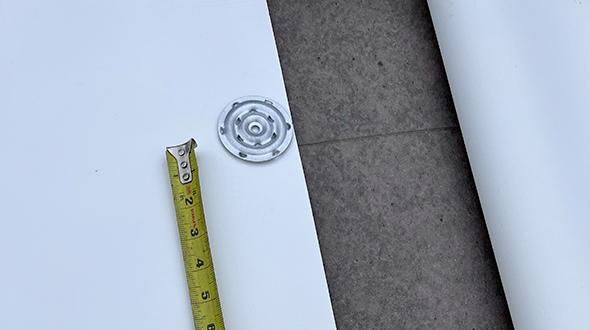 Invented in the 1960s by Sika Sarnafil, PVC roofing has come a long way since its initial use for shoe heels and shower curtains.
Components of PVC Roofing Systems
PVC roofing systems are comprised of three primary components: the top sheet, reinforcement scrim, and base sheet. The top sheet is a performance layer that is exposed to the environment. It can be affected by various things, such as wind-borne dirt, airborne contaminants, UV radiation, and foot traffic. Sandwiched between the top sheet and the base sheet is the reinforcement scrim, a weft-inserted, anti-wicking fabric.
The base sheet serves as the foundation, providing strength and stability to the PVC roofing system.
Common Applications
PVC membranes are widely used in low-slope roofs for commercial and industrial buildings. They are one of the two most popular single-ply roofing system options for commercial white roofing membranes alongside TPO membranes. As a roofing membrane, PVC roofing membranes have been praised for their recyclability and environmental product declarations.
Their performance has been assessed based on product design, product manufacturing, membrane durability, corporate governance, and innovation according to the NSF/ANSI 347 standard.
PVC Roofing Membrane, Installation, and Cost
Comparing the available options is wise when considering a roofing system for your commercial or industrial building. Outside of TPO, PVC is a single-ply roofing system that property owners and commercial roofers install due to their material properties, ease of installation, and fair cost.
In this section, we'll delve into these factors to help you make an informed decision.
Material Properties of PVC Membrane
The PVC membrane consists of two PVC plies that sandwich a polyester reinforcement sheet. The PVC roofing material consists of polyvinyl chloride, a form of plastic, and other additives that strengthen and give it a high tear strength rating. PVC is known for its durability, long service life, and resistance to chemicals, fire, wind, and water.
PVC Installation Method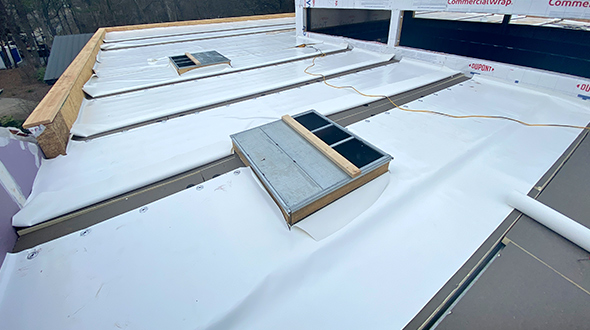 The installation methods for PVC roofing are similar to that of other single-ply, flat roof membranes. PVC roofing systems and membranes can be installed using fully adhered, mechanically fastened, or ballasted methods. The seams of PVC membranes are joined together through heat welding, resulting in strong and durable connections.
The choice of installation method will depend on factors such as the specific needs of the project, as well as the expertise and preferences of the contractor.
Cost Considerations
The cost is a significant consideration when comparing PVC and other roofing systems. Generally, TPO roofing systems can have a lower initial cost than PVC ones. The price of PVC roofing typically ranges from $4.00 to $12.00 per square foot when installed, depending on the quality and thickness of the membrane.
However, it's important to consider other factors, such as maintenance and repair costs, as well as the expected lifespan of the roofing system, when making a decision.
Advantages of PVC Roofing Materials
There are several advantages to using PVC roofing materials. First and foremost, PVC systems offer durability and longevity thanks to their robust construction and resistance to weathering, UV rays, and other external conditions.
Second, PVC membranes are highly resistant to chemicals and fire, making them an excellent choice for areas prone to chemical spills or fires. Lastly, PVC roofing materials contribute to improved energy efficiency due to their high reflectivity, reducing the amount of heat the roof absorbs.
Durability and Longevity
PVC systems are known for their high tear and break strength, contributing to their durability and longevity. With proper maintenance, single-ply PVC roofing systems can last between 20 to 30 years, with an average lifespan of 25 years.
This extended service life means that building owners can enjoy peace of mind knowing that their investment in a PVC roofing system will provide long-lasting protection and performance.
Chemical and Fire Resistance
PVC offers exceptional resistance to chemicals and fire. They can withstand exposure to grease, fuels, air conditioning coolants, and other harsh chemicals. The PVC roofing membrane is also inherently fire-resistant and does not facilitate combustion. This combination of chemical and fire resistance makes PVC roofing membranes a safe and reliable option for various industries and environments – such as restaurants.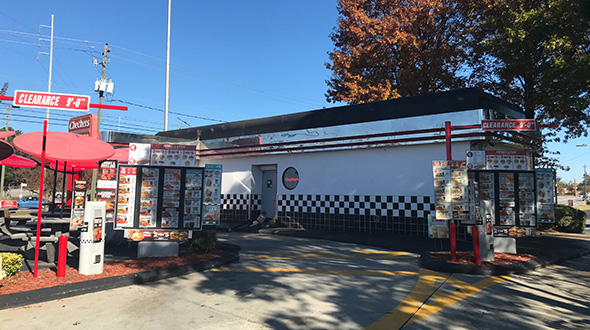 Energy Efficiency
One of the standout features of PVC roofing is its energy efficiency. PVC roofing materials exhibit high Solar Reflectance Index (SRI) values, which measure the ability of a roofing surface to inhibit heat transfer into a building when exposed to full sun. The higher the SRI value, the better the roofing material's energy efficiency.
As a result, PVC roofing systems can help reduce energy costs by decreasing the energy needed to cool the building.
Disadvantages of PVC Roofing Materials
The PVC roofing system has some disadvantages to be mindful of before deciding. The geographic region of your property, the length of time you will own the property, and the type of other materials and exposures your roof may have are considerations you will want to make. Below, we discuss these factors.
Climate Challenges
For those in colder climates, PVC might not be the best option, as the frigid and icy conditions can make your PVC susceptible to shrinking, cracking, and punctures. Hence, avoiding walking on your PVC roof is recommended when the temperature drops below 45 degrees. To deal with the cracking, try to schedule all your maintenance and repair tasks for a warmer winter day, or better yet, postpone them until the spring or summer season.
Also, PVC roofing membranes can shrink over time, leading to issues such as pulling at the seams and flashings. This can potentially lead to leaks if not addressed promptly.
Problems Can Occur With Age
While PVC roofs are built to last up to two decades, it's important to factor in repairs once the roof hits the 10-year mark. Older PVC can be challenging to mend, and the hot air welds used for application and repairs don't work as effectively on aged roofs, and newer sealants tend to degrade more quickly. However, if your roof is still in overall great condition, skilled contractors should be able to overcome and navigate these issues effectively.
Compatibility and Repair Issues
PVC roofing materials can react negatively with certain types of roofing products, such as asphalt-based products. This can limit the types of materials that can be used with a PVC roofing system. Moreover, PVC is produced by a variety of manufacturers, each using its unique mix of plasticizers to create distinct compounds. This results in difficulties when attempting to weld one brand's PVC membrane to another's, leading to potential complications during repair work on PVC membranes.
Factors to Consider When Choosing a PVC Roofing System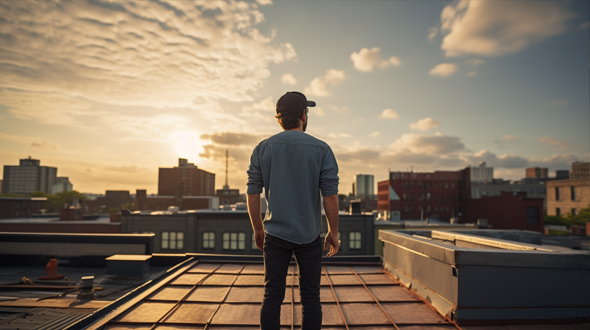 To select the right PVC roofing system for your building, it's crucial to consider several factors. These factors include assessing your current roof, considering location and climate, and planning for future usage.
By carefully evaluating these aspects, you can make an informed decision and ensure that your new PVC roofing system will meet the specific needs and requirements of your building.
Assessing Your Current Roof
Before deciding on a PVC roofing system, it's important to evaluate your existing roof. Factors such as age, condition, and your current system should be considered. Inspecting your current roof for any signs of wear and tear, such as missing shingles, cracked tiles, or other damage, is also advisable.
If your current roof is in satisfactory condition and is suitable for a PVC roofing system, you may be able to install a PVC roofing system without needing to replace your current roof.
Location and Climate
The location and climate of your building play a significant role in determining the most suitable PVC roofing system. Factors such as local weather patterns, the amount of sunlight the roof will be exposed to, and temperature extremes should be taken into consideration. Accounting for location and climate will ensure that your PVC roofing system operates at its best and has a long lifespan.
By considering the local climate and weather conditions, you can ensure that your PVC roofing is installed correctly.
Future Usage Plans
Finally, it's essential to consider your future usage plans for the building when choosing a PVC roofing system. Factors such as the anticipated lifespan of the roof, the anticipated maintenance requirements, and the potential for future modifications should be considered.
Considering these factors, you can make a more informed decision and select a PVC roofing system that will meet your current and future needs.
Hiring a Commercial Roofing Specialist
Once you've decided on a PVC roofing system, hiring a qualified commercial roofing specialist is crucial to ensure proper installation and maintenance. A commercial roofing specialist will assist you in selecting the appropriate roofing system for your building and guide its installation and upkeep.
They will also have the knowledge to guide you toward the most suitable roofing materials and methodologies for your specific needs.
The Role of a Commercial Roofing Specialist
A commercial roofing specialist is responsible for inspecting, repairing, replacing, and maintaining the roofs of commercial properties. A roofing professional's expertise enables them to identify and address potential issues before they become significant problems, saving money on costly repairs.
Additionally, a commercial roofing specialist can ensure that your PVC roofing system is installed and maintained correctly, resulting in a longer lifespan and compliance with building codes and safety regulations.
Selecting the Right Contractor
When selecting a commercial roofing contractor for a PVC roof, it's essential to evaluate their PVC experience, overall reputation, and customer service. Additionally, it's advisable to verify that they are partnered with prominent manufacturers.
Scheduling a consultation with a commercial roofing specialist can provide valuable insight into the installation process and help you choose the most suitable roofing system for your building. By carefully considering these factors and asking the right questions, you can ensure that you select the best contractor for your PVC roofing system installation.
PVC Summary
In conclusion, PVC roofing systems offer a durable, energy-efficient, and chemically resistant solution for commercial and industrial buildings. By carefully considering factors such as your current roof, location and climate, and future usage plans, you can select the right PVC roofing system for your building. Partnering with a qualified commercial roofing specialist will ensure proper installation and maintenance, providing peace of mind and a long-lasting roofing solution.
Frequently Asked PVC Roof Questions
Is PVC roofing any good?
PVC roofing is an excellent choice due to its durability, chemical and fire resistance, and its efficient installation. You could find it the perfect option for your cool roof system.
What are the issues with PVC roofing?
PVC roofing can often have issues such as separating seams and loose fasteners, leading to leaks and water penetration.
We recommend hiring a professional roofing contractor for a proper PVC roof installation.
Does PVC roofing need underlayment?
Yes, PVC roofing requires underlayment to prevent condensation from getting trapped beneath the roofing material and is necessary for proper protection and ventilation.
How long does clear PVC roofing last?
Clear PVC roofing has an impressive lifespan of up to 30 years, depending on the installation and maintenance practices. Most PVC roofs last around 20-25 years.
What are the primary components of PVC roofing systems?
PVC roofing systems are composed of a top sheet, reinforcement scrim, and base sheet, forming the primary components of this roofing system.