Avoid severe injury and death from falling off a roof. Knowing how to use a safety harness when on a roof can save you from catastrophic injuries.
atlantacommercialroofingcontractors.com gathered the following information and tips about using safety harnesses and other life-saving equipment.
What is a Roofing Harness?
A safety harness is a roofer's best protection from deadly falls. Selecting the correct fall protection harness and properly using it will protect you from falls and serious injuries. Fall protection harnesses are only one option among several fall protection systems. However, they are widely used by residential and commercial roofers.
How To Use a Roof Safety Harness
The following are the main steps to properly use a roofing safety harness.
Check Your Harness – Before using any safety harness, make sure the webbing is in good shape and not frayed.
Fall Clearance Calculation – One of the most critical safety factors is verifying that you have an adequate fall clearance distance (typically three times your height).
Attach Your Harness – Attach thigh, hip, waist, chest, and shoulder straps and clip onto an anchor point that will hold you from falling off the roof.
Hook on Your Lifeline and Rope Grab – The lifeline and rope grab are different ropes. A lifeline is a line connecting your lanyard and rope grab to the harness and anchor point. The rope grab helps you keep yourself stable on the roof.
Lanyard (Fall Protection) – Your lanyard is the fall protection that's required to ensure you stay safe on the roof. It's a simple shock-absorbing system that helps reduce the severity of a fall.
Tip: All commercial and residential roofing companies must have their crews trained in fall prevention and the proper use of Personal Protective Equipment (PPE).
How Does a Safety Harness Work?
Similar to a repelling harness, the adjustable buckles and straps are strategically located in body areas that will easily support the wearer's weight. These key areas of the body include the shoulders, chest, pelvis, and upper thighs.
Safety harnesses work by distributing the force of a fall over a large area of the body, ensuring that the roofer remains suspended in an upright position after a fall has occurred. In short, safety harnesses are designed to catch a person in case of falling while working at height.
Do Roofers Have to Wear a Harness?
Where OSHA is concerned, there is NO SAFE DISTANCE from a roof's edge. To protect roofers and roofing maintenance workers, you must have rails, fall arrest systems, or a warning line/safety monitor, no matter where you are working.
What is the Difference Between a Harness and a Safety Belt?
A safety or body belt fits only around a person's waist, whereas a safety or body harness fits around a person's legs, arms, and torso.
Note: Per OSHA, Body or safety belts are not acceptable in a Personal Fall Arrest System (PFAS) because they can cause severe injury during a fall.
Are Safety Harnesses Considered PPE?
Yes. Personal Protective Equipment (PPE) includes anything used or worn (including clothing) to minimize risks to a person's health and safety. This can consist of respiratory protective equipment, hearing protection, eye protection, protective clothing, and safety harness systems.
Fall Protection Training (OSHA)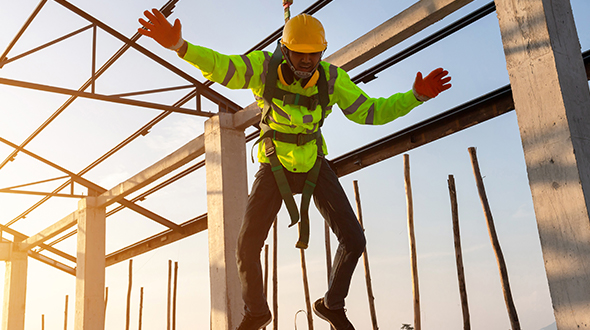 According to the Occupational Safety and Health Administration (OSHA), employers must provide fall protection training for all workers who may be exposed to fall hazards. Such training must be conducted by a trained/qualified person and include information on recognizing fall hazards and on what procedures to follow to minimize them.
Training must address how to properly inspect, erect, disassemble, and maintain the fall protection equipment used in an installation, repair, replacement, or inspection job. Retraining is required when:
Previous training becomes obsolete (changes in work conditions, fall protection systems, or equipment)
When worker performance indicates a need for it
Employers must certify that workers have been trained by documenting it in accordance with OSHA's Certification of Training.
Can Roofers Fall Through a Roof?
Yes. While many more roofers fall off the eaves and rakes than fall through the decking of a deteriorating roof, roof opening, or skylight. However, the Bureau of Labor Statistics (BLS) notes that the recent number of employees falling through roof openings and failures is on the rise.
Roof Safety Harness
In this article, you discovered essential information and tips on proper safety harnesses usage for any roofing activities.
Knowing how to properly use and attach a safety harness will minimize or prevent the possibility of severe injury resulting from a fall off a roof.
Ignoring the requirement for safety harnesses while working on a roof can result in catastrophic injuries, hospitalization, and death from a fall.