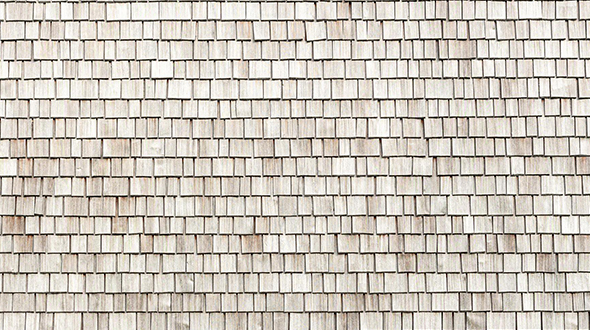 Avoid catastrophic structural damage and loss of revenue from an improperly installed shingle roofing system. Knowing how a shingle roof is installed will help you do it or get it done right the first time.
atlantacommercialroofingcontractors.com gathered the following information and tips about how to properly install a shingle roofing system on your residential or commercial building.
Laying Shingles
Shingles protect sloping roofs and the structure beneath from the effects of rain, snow, and hail while providing an attractive covering for the structure. Installing an impermeable roofing layer of shingles is an efficient way to avoid leaks and structural water damage. Proper shingle installation will provide you with 20 to 30 years of unwavering protection. Consider the following steps and tips:
1. Remove or "Tear Off" Your Old Roofing System – Removing your old roofing system allows you to thoroughly inspect the structural integrity of the roof deck and make any necessary repairs before moving forward. For new construction, the roof deck should be inspected before installing a roofing system on it.
Do not proceed with any roofing activities (Tear off or installation) until all applicable permits have been acquired by you or your roofing company. Failure to obtain these permits may result in the forced removal of any and all unpermitted work performed.
2. Verify or Instal Insulation – This component is not actually on your roof but underneath it. In your structure's attic is or should be installed a crucial layer of insulation. This insulation minimizes internal heat loss and protects the multiple layers of your roof from extreme temperatures that can quickly damage and break down roofing materials.
3. Verify Attic Ventilation – Ventilation allows hot, moist air to escape from your attic instead of being trapped underneath your roof. Ventilation problems can result in mold and severe damage to your roofing frame and deck.
4. Inspect or repair the Roof Deck – Resting on the structure's framing is the roof deck. Sheets of plywood typically make up the deck, connecting and stabilizing the trusses and joints of the framing, providing a solid and secure surface to layer the rest of the roof onto.
5. Instal a Water Barrier (Underlayment) – There needs to be a protective waterproofing layer between the roof deck and shingles. This water barrier is an adhesive layer applied directly to the roof deck, which protects against water infiltration from melting ice or wind-driven rain.
6. Instal a Starter Strip – A starting layer or strip of shingles lines the edge of every shingle roofing system. This component is laid down beneath the underlayment to seal the roof's edges. This layer is meant to defend the rest of the roofing system against strong winds and reduce or eliminate shingle blow-off.
7. Shingle Installation – Shingles protect your structure from the sun, water, and other weather conditions. The granules on shingles are typically made up of fiberglass, providing form and strength. Here's how to install or "lay" them:
Lay the first row of shingles directly covering the narrow starter strip
Lay the second row of shingles offset to facilitate drainage and provide structure
Shingle around stacks, vents, and chimneys as necessary
Interlace the flashing and shingles around the chimney
Repeat this process, moving up the roof deck until reaching the roof ridge.
Note: Shingles can be made from wood, slate, flagstone, metal, plastic, and composite materials like fiber cement, fiberglass, and asphalt.
8. Instal Flashing – Flashing is typically made from sheet metal and is installed where seams are located (valleys, walls, chimneys, etc.). Flashing is installed to prevent water from penetrating and damaging your roof.
9. Instal the Ridge Cap(s) – This is a shingle (or series of shingles) that runs along the ridge line of a sloped roofing system. It's installed over the joint of two edges and keeps rain and snow from seeping or running into the roof. Ridge caps also allow heat and moisture to escape from the attic space.
Tip: Inform yourself about the shingle manufacturer's installation requirements (spacing, attachment method, underlayment, and inspections) to preserve material and installation warranties.
Roofing System Installation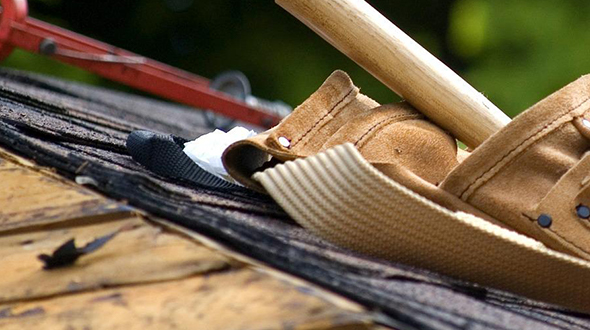 When quoting a roofing installation, repair, or replacement (assuming you will not do the work), be sure to thoroughly vet the bidding roofing companies. Consider asking the following questions:
Are they licensed to operate in your area?
Is the company bonded?
Are they insured?
How long have they been in business?
Does the roofer have references?
What warranties are available?
Tip: Read and consider customer reviews and complaints, then inquire about how the company handled or resolved them.
Shingle Roof Installation
In this article, you discovered shingle roofing system information and tips to help you properly install a shingle roof on your structure.
Proper roofing installation is essential to protect your building and ensure that the roof has the longevity to reach its full potential lifespan.
Prevent poor or incorrect shingle roof installation that leads to leaks, costly structural damage, and eventual catastrophic roofing system failure.
Sources:
et.byu.edu/~bcc32/CM211/notes/roofing/ShingleInstallation.pdf
pages.drexel.edu/~kms35/roof_components.htm
rmrc.wisc.edu/ug-mat-roofing-shingle-scrap/
checkbook.org/v2/docs/roofers/all-areas-roofers-parts-of-a-roof.pdf