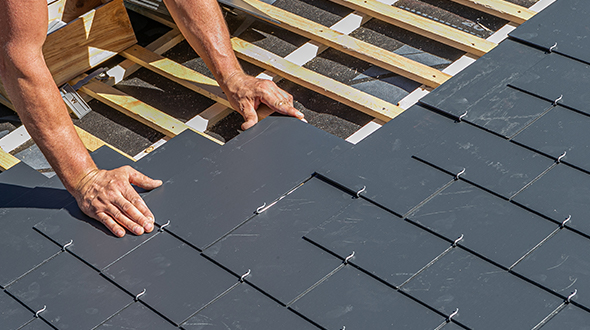 Need help determining if a slate roofing system is a suitable choice for your structure? Understanding the advantages and disadvantages of installing a slate roof will help you select the right roof for your structure and circumstances.
atlantacommercialroofingcontractors.com gathered essential information about slate roofing systems, their advantages, and disadvantages and answered some frequently asked questions.
What is Slate Roofing?
A slate roof is a premium roofing system made from natural slate tiles and other slate roofing components (slate is a fine-grained, metamorphic rock derived from a shale-type of sedimentary rock composed of clay and volcanic ash). Slate is among the most beautiful and long-lasting roofing systems available on today's market. Because of its aesthetics, shingle manufacturers make asphalt or composite shingles to mimic the appearance of a slate roof.
Slate Roof Advantages
There are many excellent reasons for selecting a slate roofing system for your structure. Consider the following advantages:
Fire Resistance – As a stone product, slate is entirely fire resistant, unlike asphalt or composite shingles and other roofing materials. A slate roof naturally resists intense heat and fire. Slate roofing systems are ideal if wildfires and bushfires are a significant concern near your structure.
Multiple Color Availability – Slate comes in a variety of colors. The more common are grey, black, various green shades, deep purple, brick red, and other shades. The presence of carbonaceous matter (decaying marine organisms on ancient sea floors produces black-colored slate). Iron compounds generate red, purple, and green hues.
Low Maintenance – Beyond inspecting for broken or loose tiles and cleaning valleys and gutters, a slate roof requires no other significant maintenance.
Long Lifespan – With proper installation, care, and maintenance, a slate roof can last over 100 years; some roofs can exceed 150 years. In contrast, asphalt shingle roofs must be replaced every 20 to 30 years, wood shingles may only last 15 to 25 years, and even most metal roofs will not last over 50 years.
Minimal Waste – When a slate roof must be replaced, the slates can often be re-used. Rather than discarding them, they may be recycled on another roofing project, used in flooring, building garden pathways or driveways.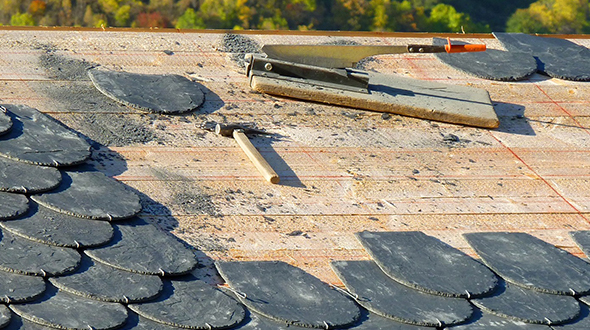 Energy-Efficient – Slate is a naturally energy-efficient material. It is very dense and can keep your structure cooler in the summer (prevents hot air from invading the attic space. The heavy, dense slate material in winter prevents warm air from escaping. Slate helps you save on your heating and cooling bills throughout the year.
Note: According to energy.gov, light-colored polymer slate shingles are considered a "cool" roofing option. Slate (metamorphic rock) tiles are not typically considered cool.
Cost Effective – A slate roof installation or replacement is expensive. However, the material superiority and craftsmanship will provide years (potentially generations) of continued service. Over the long term, natural slate tends to be a significantly better investment because several roofing systems (using other materials) will have to be installed during the lifespan of a single natural slate roof.
Slate Roof Disadvantages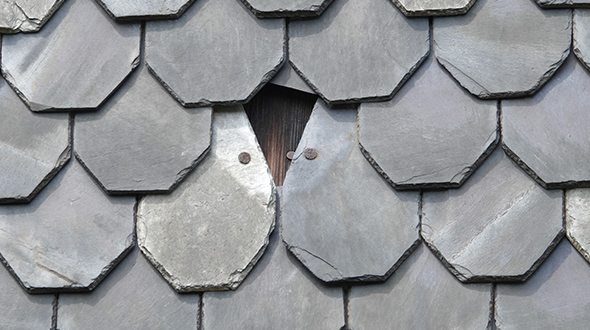 While slate roofing systems are superior to other roofs in several ways, some drawbacks must be taken into account, including the following:
Roof Weight – Slate shingles weigh approximately 650 to 1,800 pounds per square (1 square equals 100 square feet). Lighter-weight asphalt shingles typically weigh only about 200 pounds per square. Slate's increased weight means some structures may require significant reinforcement before a slate roofing system can be installed, which increases project costs.
Foot Traffic – While slate is exceptionally durable, it does not hold up well to foot traffic. This means someone hired to service your external A/C unit or clean out your gutters walking on your roof can cause extensive damage to tiles.
Note: Professional roofers use hook ladders, jacks, and planks on slate roofing, allowing them to walk on the roofing system without damaging it.
Installation Requires Specialized Roofers – Typically, the average roofing contractor is not qualified to install a slate roofing system. Slate roofs require specialized installation from master slaters. Hiring a specialized roofing contractor means you'll pay significantly more for your roof.
High Cost – Slate is among the most expensive roof material. That doesn't mean it's not a good investment. While it's significantly more costly than other roofing materials, slate will easily last 100 years or more, making it a more equitable investment over its lifespan.
Note: The elevated up-front cost of a slate roof may make it too costly for some property owners, particularly those who will occupy the structure for a brief period.
What is the biggest problem with slate roofs?
The biggest problem with slate roofing systems is their excessively heavy weight. Except for clay tiles, no other "conventional" roofing product is as heavy. Per roofing square (or 100 square feet), slate weighs from 650 to 1,800 pounds.
Do you need to vent a slate roof?
Providing adequate attic ventilation is fundamental for all roofing systems, even when using a breathable underlay.
Can You Walk on a Slate Roof
No. While slate is durable, it can crack under direct pressure. Professional roofing technicians use hook ladders, jacks, and planks for weight distribution on slate roofing. Even when properly installed, foot traffic, falling tree branches, or sudden impacts can cause slate roof tiles to crack. Damaged slate tiles can result in leaks and costly repairs.
Slate Roof
In this article, you discovered what a slate roofing system is, its advantages and disadvantages, and answers to several frequently asked questions.
Knowing the pros and cons of a slate roofing system will help you select the most appropriate roofing system for your structure.
Your failure to understand the benefits and potential consequences of installing a slate roofing system can result in structural damages or personal injury.
Sources:
nps.gov/articles/should-i-replace-my-slate-roof-with-a-synthetic.htm
energy.gov/energysaver/cool-roofs
usenaturalstone.org/installing-a-slate-roof/
Atlanta Commercial Roofing Contractors
Atlanta
,
GA
(404) 220-9288