Don't let the wrong roofing system or a poorly installed one cripple your business. Knowing what goes into installing or replacing a commercial roof will help you make informed decisions when it is time to act.
atlantacommercialroofingcontractors.com gathered information about commercial roof installation, replacement, and answers some common commercial roofing FAQs.
Commercial Roofing System Installation
Installing a roof on a new commercial building or replacing an old one may seem procedurally simple enough. However, some roofing system installation differences should be addressed.
TPO, PVC, and EPDM Membrane System Installation
Also known as single-ply roofing systems, these systems require fewer steps and are installed with a relatively straightforward process:
The roof is cleared of any material that may damage the membrane
The membrane is rolled out onto the roof (single-ply roofing material typically comes in rolls)
The membrane is then adhered to the roof using tape, glue, or heat (for thermoplastic material)
The membrane is also adhered to itself where its edges overlap
Protrusions are sealed
The time it takes to install a membrane or single-ply roofing system will also depend on the width of the material. The wider the material is, the fewer seams in the roofing system, which also translates to fewer opportunities for leaks and roof failure.
Elastomeric Coatings and Spray Polyurethane Foam (SPF) System Installation
Both Mesh Reinforced Elastomeric Coatings (MREC) and SPF coatng systems are intended to extend the life (up to 20 years) of an existing roofing system. Their installation includes:
Mesh Reinforced Elastomeric Coatings (MREC) – Composed of acrylic, elastomeric, and polyester reinforcing mats, MREC mats are applied in multiple layers until the desired thickness is reached.
Sprayed Polyurethane Foam (SPF) – SPF coatings may be acrylic, polyurethane, silicone, aggregate, or mineral granules. SPF coatings are sprayed onto a roof and should be applied by skilled workers.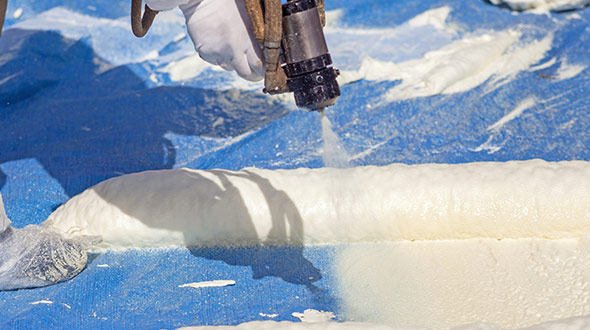 SPF can be applied directly to the roof deck or existing roofing system
An SPF membrane is created by spraying a two-part liquid material onto the substrate
The mixture expands and solidifies creating a waterproof polyurethane foam
Besides the protective nature of SPF coatings, the thickness and slope of the roof can be controlled during application.
BUR/Asphalt System Installation
Built-up roofing systems are among the oldest roofing processes in modern times. BUR systems are durable, they look nice, and are effective at resisting leaks and repelling water. The installation process occurs in four steps:
Base sheets are laid down and attached to the roofing deck
Felt is glued to the base sheets using adhesive, concrete, asphalt, or tar
Gravel or cap sheets are then installed over the felt
A final layer of asphalt completes the installation process
A properly installed BUR system creates a virtually impenetrable roof, able to keep severe weather and the elements from getting into the building it protects.
Modified Bitumen System Installation
Modified bitumen is an evolution of asphalt roofing that is a form of membrane flat roofing. The roofing system can sustain substantial foot traffic without wear. The following are the installation processes of torch-down and peel-and-stick modified bitumen roofing systems:
Torch-Down Modified Bitumen
The roof is cleared of debris
Heavy roofing felt is installed and nailed down
Flashing and primer are installed
The first sheet is rolled out along the edge of the roof (trimmed and fitted)
The sheet is rolled back up
A torch is used to slightly melt the bitumen as the sheet is rolled back out
Overlapping sheets are applied in the same manner until the roof is covered and sealed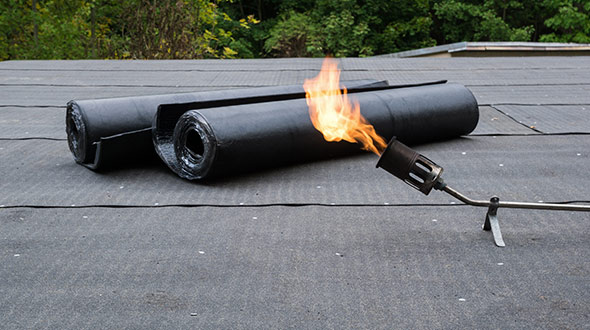 Peel-and-Stick
The roof is cleared of debris
Heavy roofing felt is installed and nailed down
Flashing and primer are installed
The first sheet is rolled out along the edge of the roof (trimmed and fitted)
The sheet is rolled back up
The protective film is removed to expose the adhesive and rolled into place
Sheets are overlapped by about six inches until covering the entire roof
The system is pressed into place using a weighted roller
The roof edges are sealed with roofing cement and rolled again to seal the layers together
Before installing modified bitumen, verify that the existing material on the roof is compatible (previous systems using rubber can be eaten away, causing weaknesses and potential failure of the new modified bitumen system).
Metal Panel Roofing System Installation
One of the most durable roofing options (up to forty years), metal roofing is also one of the more expensive options. The following detail how a metal roofing system is installed:
The existing roof may need to be removed (depending on municipal codes and/or roof load capacity)
The roof deck is prepared (framework and insulation installation)
Flashing and eaves are installed
Metal panels are laid out and fastened to the roof (how they are fastened depends on which material the panels are composed of; aluminum, copper, steel, etc.)
Metal roofing can be installed using panels or steel shingles. Steel shingles are installed the same way as slate, clay, or concrete shingles.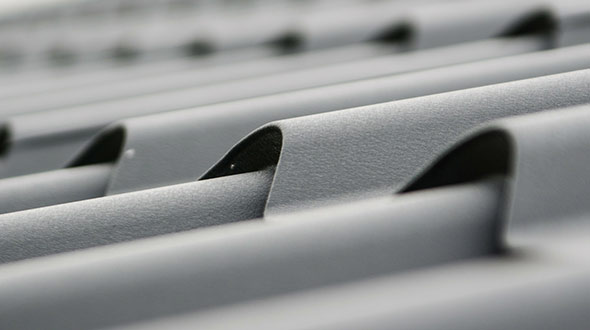 New Commercial Building Roofing System Installation
A commercial building's roof is its primary defense against damaging weather and natural hazards. Architects, builders, and building owners decide early in the designing stages which roofing system will be installed. Some of the factors that lead to a decision are:
What equipment will be installed on the roof
What is the needed roof load
What type and how many protrusions will be needed (vents, exhaust pipes, skylights, drains, etc.)
How and where will the roof shed water
What is the expected foot traffic on the roof (walkways and reinforcements may be required)
What is the anticipated lifespan of the roofing system
Which commercial roofing system offers the best performance for future building activities (the roof used for an office building may not serve that used for a restaurant)
Regional weather patterns (wind, rain, snow, hail, ice, and heat)
Natural disasters (tornadoes, hurricanes, wildfires, earthquakes, etc.)
Many regions across the country experience one sort or another of natural disasters or recurring weather events. In many cases, these regions have developed laws or ordinances that require specific materials to be used when installing a new commercial roofing system.
Read more about what a commercial roof load is at atlantacommercialroofingcontractors.com/what-is-commercial-roof-load-why-you-need-to-know/
Replacing A Commercial Roofing System
For building managers, replacing a commercial roofing system is a rare event to see in one's career. A well-installed and maintained roofing system can last decades before needing replacement.
When it comes time to replace the roof on your commercial building, the following steps will help you hire the right contractor to install the right roof for your building's needs.
Bidding Process: Request bids from at least 3 contractors. By doing so, you can compare their prices, suggestions, more importantly, their work history, quality, and online reviews.
Roofing System Selection: The roofing system you select should accommodate the structure and purpose of your commercial building. An honest, professional roofer will help you determine which roofing system will serve your building best and advise you whether or not replacement is necessary.
Selecting a roofing system for your commercial building will require you to determine the best fit for your building, which system fits within your budget, which one offers the best protection and durability, and which maintenance program makes the most sense.
Roofing System Tear Off: If your current roof has reached the end of its life, it must be removed before installing a new one. This process exposes any flaws or defects in the roofing deck, which must be addressed before installing a new roof.
Roofing System Installation: Since every roofing installation is unique, a definitive installation timeline is difficult to project. The following should be taken into consideration when determining how long your installation will take:
Roof deck repair (if required)
The type of commercial roofing system
The size of the roof (the larger the roof, the longer it will take)
Unexpected weather events
Sometimes, when a permit is required to replace your roof, there may be stipulations that affect how and when the work can be done. To avoid delays, fines, and further punitive measures, permit requirements must be adhered to at all times.
Roofing System Guarantees, Warranties, and Maintenance Programs: Once your roofing system installation is complete, you should receive a:
Guarantee covering the installation of your roof
Warranty covering parts and materials
Maintenance program proposal from your roofer to periodically perform inspections and minor repairs
Read more about what goes into a commercial roofing maintenance program at atlantacommercialroofingcontractors.com/maintenance-programs-services/
Commercial Roofing System FAQs
The following are answers to common FAQs based on general roofing information. Since no two commercial roofing systems are exactly alike, your specific situation may require further investigation for a more accurate response.
Question: How long will a commercial roofing system last?
Answer: A well-installed and maintained commercial roofing system can last from 30 years to the life of the structure it protects. The longevity of a roof depends mostly on the quality of its materials, installation, and maintenance program.
Question: My roof is leaking, what should I do?
Answer: Immediately contact your roofer. Whether you have a maintenance program or not, leaks must be addressed immediately to prevent structural damage to the roofing system and building.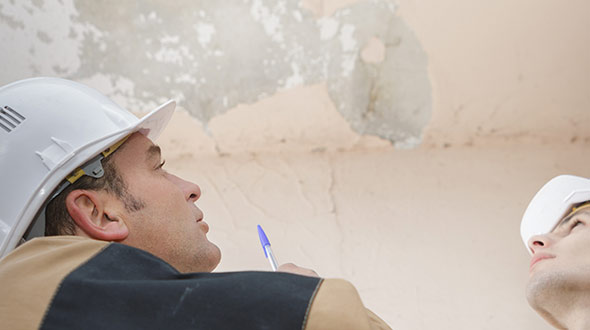 Question: What is the difference between a commercial and residential roof?
Answer: Similar roofing systems can be applied to both commercial and residential structures. However, most commercial roofs will require a higher roof load to support HVAC and other equipment. They may appear very similar but are structurally different.
Read more about why you need to know your commercial roof load at atlantacommercialroofingcontractors.com/what-is-commercial-roof-load-why-you-need-to-know/
Commercial Roofing System Installation Process
In this article, you discovered information about new commercial building roof installation, commercial roofing replacement, and answers to common roofing questions.
By knowing what is involved in the commercial roofing installation or replacement process, you can make informed decisions when it's time to select a roofing contractor and the best roofing system for your commercial building.
Not knowing what to do when you need a new roof can lead to the wrong roof installed, possible municipal code violations, expensive fines, and continuous roofing maintenance problems.
Sources:
wbdg.org/guides-specifications/building-envelope-design-guide/roofing-systems
buildings.com/article-details/articleid/4937/title/the-basics-of-roof-maintenance
asphaltroofing.org/bur-multi-ply-built-up-roofing/
whysprayfoam.org/spray-foam/roofing-systems/
amtrustfinancial.com/getmedia/7d774cf7-d8f4-455f-8b0d-a0d03a1c23fb/IBHS-Commercial-Roof-Best-Practices-Guide.pdf